Two wanted flyers are circulating on social media, seeking information on the whereabouts of 24-year-old Priscilla Espinosa and 24-year-old Ramiro Vera, both suspects in the burglary of a building that occurred earlier this month.
The suspects were recently named by a LIVE! reader, who suggested she believed the two were guilty of burglarizing her storage unit on Bell St. Now that police have issued wanted flyers of the suspects, Espinosa has vocalized her apparent disappointment in the department on Facebook, by commenting below the Police Department's post of Vera's wanted flyer.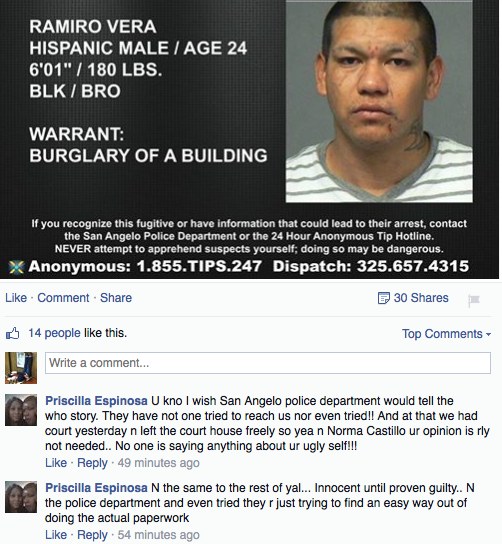 Espinosa's comment does not indicate whether or not she plans to turn herself in, and as of yet neither she nor Vera has appeared on the jail logs. Commenting on one's own wanted poster or tagging a friend or family member is not that uncommon, and actually occurs with shocking frequency. 
If you are aware of the whereabouts of either Espinosa or Vera, contact the San Angelo Police Department tip line at 1-855-TIPS-247 or dispatch at 325-657-4315.
Priscilla Espinosa is a 24-year-old Hispanic female with brown hair and brown eyes. She is approximately 5'5" tall and weighs 175 pounds.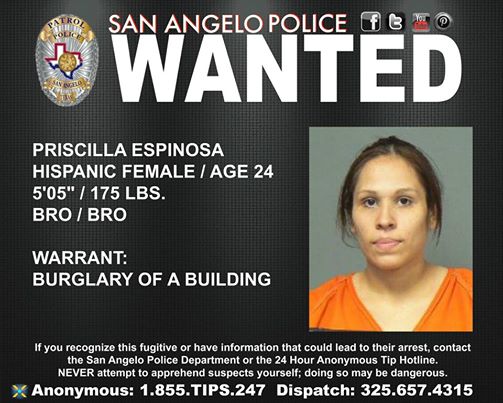 Ramiro Vera is a 24-year-old Hispanic male with black hair and brown eyes. He is approximately 6'1" and weighs 180 pounds.
[[{"fid":"8007","view_mode":"default","fields":{"format":"default","field_file_image_alt_text[und][0][value]":"","field_file_image_title_text[und][0][value]":""},"type":"media","attributes":{}}]]