SAN ANGELO – A bizarre crash on Bell St. Tuesday afternoon took out a signal light and power lines when a bobtail truck with the bed raised hit them and the driver apparently fled the scene. 
Details are sketchy at this time, but reporters on the scene say it appears a bobtail truck with the lift bed raised hit the signal light line at the intersection of Bell St. and the Houston Harte access Rd. by the Stripes Convenience store.  
The rig traveled north and also snagged power lines and snapped power poles between Houston Harte and Beacon St. causing major damage.  
San Angelo Police issued Nixle alert warning drivers to avoid the area from Houston Harte to Beacon St. 
Apparently, the driver fled the scene but was later captured by San Angelo Police.  See the photo below. 
Watch video from the bizarre crash scene below: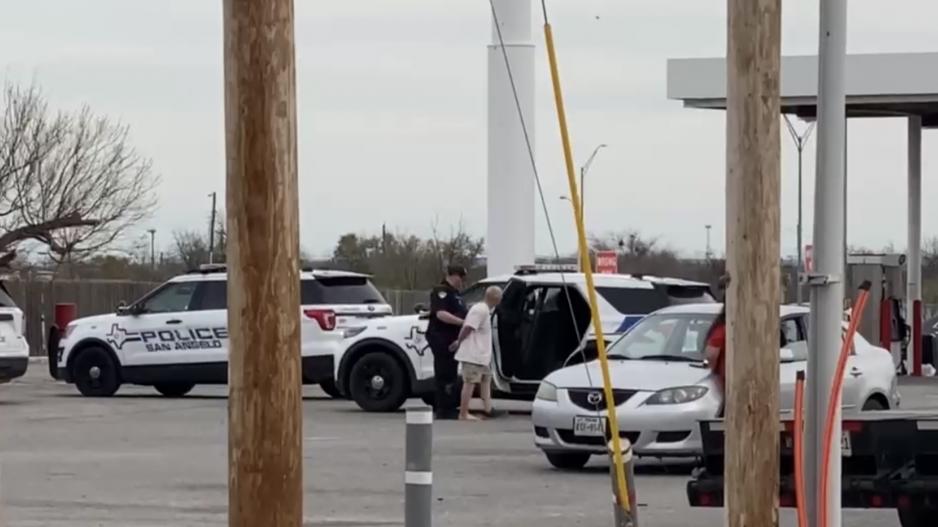 The driver apparently attempted to turn off Bell St. onto Beacon St. and wretched the trailer from the truck.  The bobtail trailer landed on its side.  
Then, according to witnesses, the driver fled the scene.  San Angelo Police were observed behind the convenience store apparently taking an individual into custody.  
This is a developing story.  
See photos below:
Most Recent Videos