ABILENE, TX — On Sunday, at approximately 6:15 pm, Detectives Elise Ybarra, Chris Milliorn, and Robert Collins were enroute to the Crimes Against Children Conference in Dallas. As they approached Mile Marker 296 east bound on Interstate 20, they encountered traffic moving at a slow pace, as there had been a vehicle crash ahead.
An Abilene Police Department (APD) press release stated that, Detective Ybarra, who was driving an unmarked detective's vehicle, had entered a line of slow moving traffic when an eastbound white Chevrolet Pickup came upon the slow moving traffic and collided with the Detectives' vehicle. 
Sadly Detective Elise Ybarra, age 33, sustained fatal injuries in the crash and was pronounced dead on the scene. Detectives Chris Milliorn and Robert Collins were transported by ambulance to Hendrick Medical Center where both are still being evaluated by medical staff. At this time their injuries are not believed to be life threatening.
"This loss impacts everybody. I can't imagine what these families will have to go through," APD Chief Stan Standridge said during a news conference late Sunday evening. Standridge emphasized that Ybarra died in the line of duty, the seventh such death in APD history.
Detective Ybarra began her career in Law Enforcement with the Sedalia Police Department in Missouri. She started her career with the Abilene Police Department on June 2, 2014. After graduating from the Abilene Police Academy, she was sworn in as an Abilene Police Officer on November 21, 2014.
Ybarra served as a patrol officer for two years and then transferred to the Special Victims' Unit (SVU) as a Child Abuse Investigator on December 14th of 2016. According to local news sources, Ybarra's SVU unit was created in 2010-2011, to address the prevalence of child and domestic abuse in Abilene. Ybarra was one of seven SVU detectives and was equipped to do a difficult job.
Ybarra is survived by her husband of eight years, Adam Ybarra, and their 10 month old daughter.
The Texas Department of Public Safety is investigating the crash. 
To those who would like to help the Ybarra family during this difficult time can make a donation by going to abilenepolicefoundation.org or by calling Joy Ellinger at 325-669-7500 to make a contribution to the Ybarra family. Donations can also be sent to the following address: Abilene Police Foundation, P.O. Box 3553, Abilene, TX. 79604.
Update: Wednesday, August 9 @10:50 a.m.
The funeral service has been scheduled for an Abilene police detective killed in a two-vehicle crash Sunday on Interstate 20 in Clyde. 
Services for Elise Ybarra, 33, will be held this Friday at 10 a.m. at Beltway Park Church, 4009 Beltway South, in south Abilene.
Detective Ybarra's remains will be cremated. There will be no visitation, no traditional police funeral procession, and no graveside services, according to an Abilene Police Facebook post. 
The family will be escorted to the service by the Abilene Police Department's (APD) Traffic Division, to include police motorcycles and marked units. The escort will begin at 9:00 am.
APD is inviting people to show support and honor the family by lining the route to the service.
APD will perform a three volley salute at the conclusion of the church service.
The following is the route for the funeral:
Beginning at South 14th and Sylvan, the escort will drive west on South 14th, through Texas Avenue to the intersection of Highway 277 South and Dub Wright Blvd. The procession will then drive south on Dub Wright to the intersection to Rebecca Lane and Buffalo Gap Rd. The route will turn south on Buffalo Gap Rd at Rebecca and travel south to Beltway South. The escort will then turn east on Beltway South and proceed to Beltway Park Church.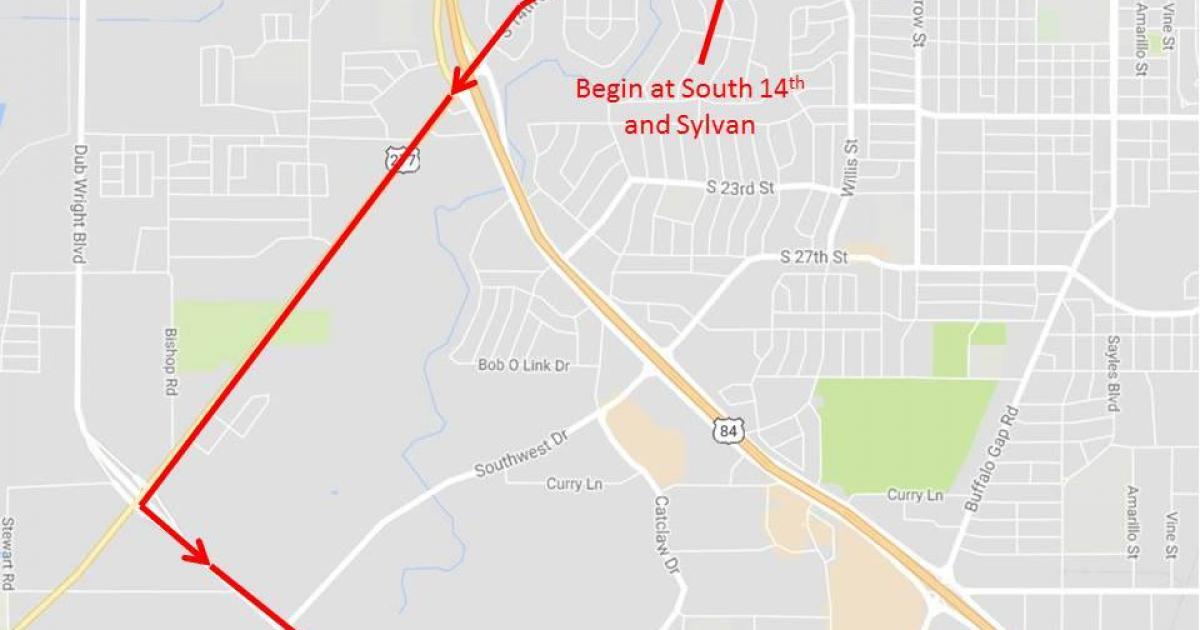 Above: Route to the funeral service (Photo courtesy of Abilene Police Department). 
*Cameron Niblock contributed to this article
Update: Monday, August 14 @ 1:15 p.m. 
Hardin-Simmons University is dedicating an upcoming concert in the memory of fallen Abilene police officer Elisa Ybarra. 
On Aug 6, Ybarra and two other detectives were traveling to attend a conference in Dallas when a fatal two-vehicle crash occurred on I-20 in Clyde. The two other detectives have since been discharged from the hospital. 
At the concert, students will perform songs from various musical eras from the 70s to present. Some of the notable artists include The Beatles, Journey, Chicago, and Blink 182.
One of the songs will be dedicated to Ybarra with a portion of the proceeds being donated to her husband and 10-month-old daughter. A candlelight vigil will take place after the concert. 
The concert is scheduled to begin at 8 p.m. on Saturday, Aug. 26 at Behrens Auditorium. Tickets cost $10 at the door. There is the option to reserve tickets for $8 by emailing your name and number of tickets to [email protected]
Most Recent Videos