One Hospitalized After Tom Green County Road Crew Convoy Crash
A black pickup rammed into the back of a water truck in a Tom Green County work crew convoy about seven miles from the northern county line near Water Valley on U.S. 87 at 9:28 a.m. Wednesday morning.
According to DPS Trooper Hoy, who investigated the crash, the black Ford F-150 pickup truck pulling a livestock trailer was northbound on U.S. 87 behind the slow moving convoy. Hoy said the convoy was travelling at approximately 30 mph.
Another vehicle was between the black pickup and trailer and the convoy. At the last minute, the car in between swerved to miss hitting the convoy, but it was too late for the tailing black pickup and trailer.
Upon impact, the front end of the pickup was severely damaged and the trailer was pushed off the hitch and rammed into the rear of the pickup. In the county water truck, the driver's head shattered the rear windshield. He was rushed to the hospital.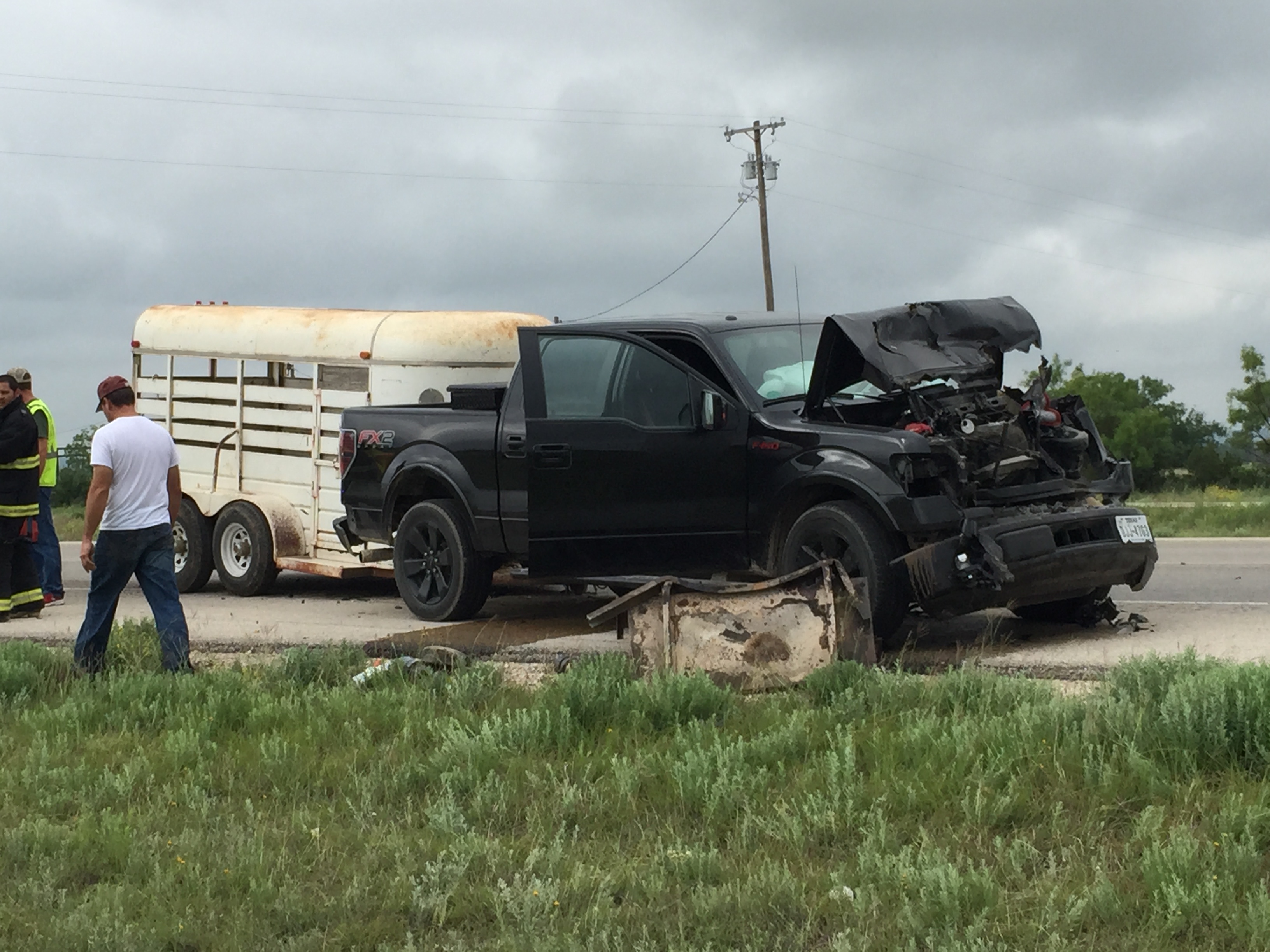 Above: The black pickup and trailer after the crash. (LIVE! Photo/Amanda Henson)
Trooper Hoy said that the driver of the black pickup and trailer was cited for failure to control speed. 
Update 6:15 p.m.
Commissioner Rick Bacon called and gave an update. He said that the crewmember who was injured when his head broke the back windshield during the crash is recovering well. He said he and everyone in the county are praying for a quick and successful, full recovery. After the crash, the rest of the crew in the convoy continued to the job site where they were seen picking up debris on county roadways left behind by Monday night's storm.
Get more stories like this by signing up for our daily newsletter, The LIVE! Daily.