Vehicle Fire Driver Maintains Comedic Disposition During Arrest
A vehicle has caught fire at the intersection of Lake Drive and Bryant. 
The San Angelo Fire Department and the SAPD have responded to the scene, and are advising motorists to avoid the area. Traffic has been blocked at 4100 block of east frontage road in front of Solitaire Factory Direct Outlet homes. 
The vehicle appears to be a red Ford Ranger. No injuries have been reported as a result of the fire, and the driver is up and walking around. 
Update 11:21 a.m.
The fire has been extinguished and traffic is flowing as usual on Bryant headed north. The frontage road is still blocked off. 
Update 11:30 p.m.
The driver of the car, Gerald Bell, who was in surprisingly good spirits after the fire, said over the phone that he was driving along when the truck started smoking. "It was smoking so bad you couldn't even see three blocks behind me," he said.
Bell said he just bought the truck yesterday from someone off of Craigslist for $600, and the ad didn't mention any problems aside from a need for a tuneup. 
Bell has at least one active warrant for driving without a license out of Odessa, and said over the phone, "I probably got a couple of 'em. Just stupid stuff. You know how us roughnecks are."
Despite his pending arrest, Bell remained cheery, stating. "It is what it is. I guess God wanted this to happen today. At least the cops are cool. They're letting me smoke and stuff."
Bell said that if anyone wants the truck he'll give it to them for free. "Look me up! I need money for commisary! I'm a good guy," he said. He declined to give his phone number, however, stating, "I'll be in jail. I can't answer it anyway."
Bell is from Odessa and works as a roughneck in the oilfield. He said he came to San Angelo because the rent is a lot cheaper and he works two on, two off, so it makes more sense than living in Odessa where the rent in sky-high.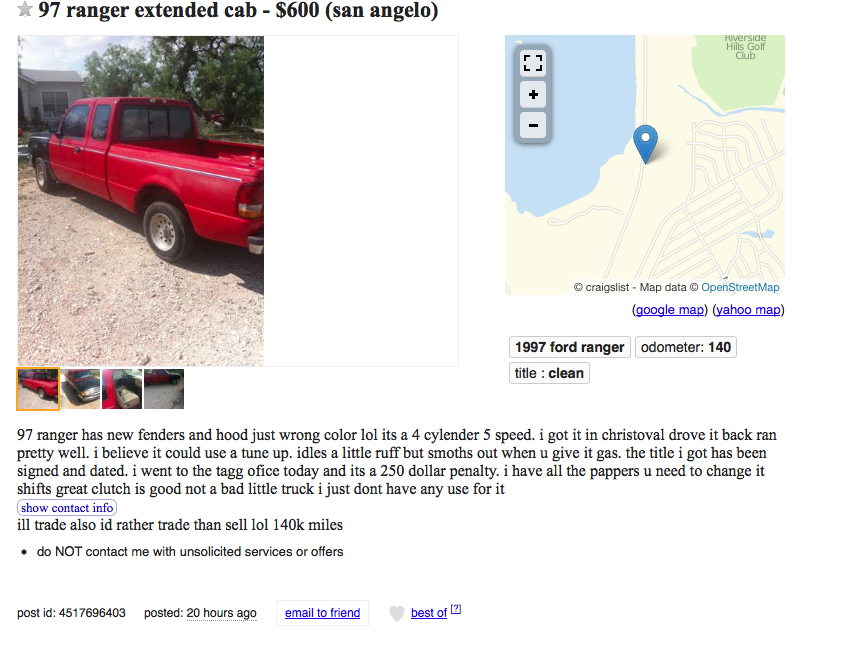 Update 11:45 p.m.
Amidst the roadside humor, we've learned that Bell has warrants in Florida, Odessa and San Angelo.
Update 12:01 p.m.
Officer Charles Barker responded to the scene and said when he arrived the vehicle was fully engulfed in flames. The vehicle is a complete loss, he said. 
Remarking on the positive and cheery attitude Bell exhibited, Barker said: "We like people like that, that are real cooperative."
Barker said the vehicle has been bought and sold three times in the last 24 hours. "Obviously the two people before him said 'I'm not buying that'. I guess they figured out it was a lemon or something."
Get more stories like this by
signing up for our daily newsletter, The LIVE! Daily
.