Community Rallies Around Family After Pets Perish in Blaze
SAN ANGELO, TX — A Grape Creek family lost all their belongings is a house fire Wednesday afternoon as well as a good number of dogs and cats.  
Evelyn Hutcherson is coordinating efforts to help the family.  Hutcherson said Thursday that the family needs a storage unit or a place to store all the donated items.  
"People have donated a refrigerator, furniture, beds, clothing and dog and cat food," Hutcherson said.  "What they need now is a place to store it all.  I can pick it up, but we don't have a place to put it."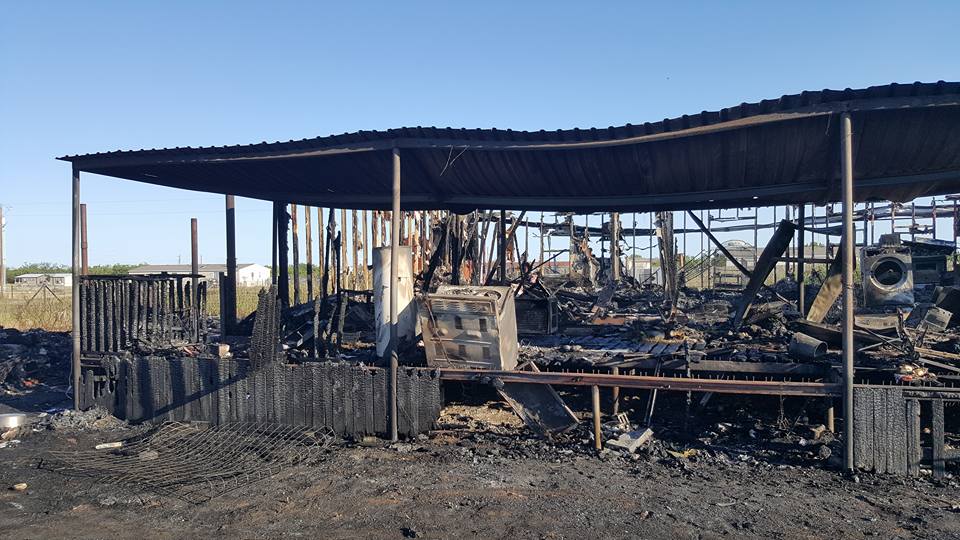 Above: The house has been declared a total loss after yesterday's fire 
Hutcherson was vague about how many pets perished in the blaze as there were cages of pets in the line of the fire. However, she did confirm five dogs and three cats survived.  The family has gone back out to the scene in Grape Creek to retrieve the pets which were too traumatized to be moved yesterday. 
Hutcherson says the family will stay at the Pearl on the Concho Hotel for a week while they look for another home. The hotel room was donated because the family hasn't been able to find a place to move into during the Independence Day holiday. 
Fire fighters from Grape Creek, Carlsbad, Water Valley and Forest Service personnel along with the Tom Green County Sheriff's office responded to yesterday's fire which totally destroyed the house on Indian Creek Road. 
Anyone who can donate a storage unit or a place to store the donated items is asked to call Evelyn Hutcherson at 325-212-2344.
Get more stories like this by
signing up for our daily newsletter, The LIVE! Daily
.