For This San Angelo Homebuilder, San Angelo is a Great Block To Be The New Kid
SAN ANGELO, TX — Chad Meeks left his home in San Angelo to attend school at Midwestern State University in Wichita Falls. He came back with a degree, a wife, and a career. 
Meeks met his wife Lindsey while both were playing on the college tennis team. During that time, Chad began to tag along with soon to be father-in-law, Eddie Holcomb, of Harmon and Holcomb Homes.  While riding job to job with his new mentor, Meeks saw a career and way of life that appealed to him greatly. "I had tried a few office jobs between then and now." says Meeks today, "Working nine-to-five behind a desk just wasn't for me."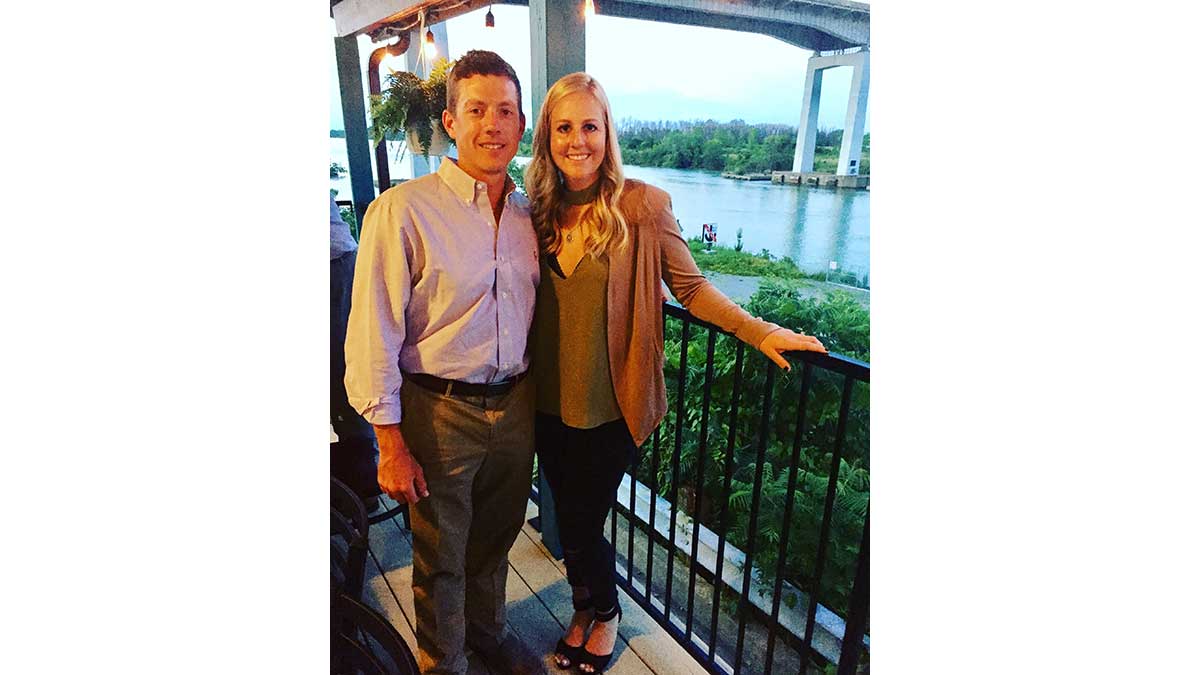 Above: Chad and Lindsey Meeks.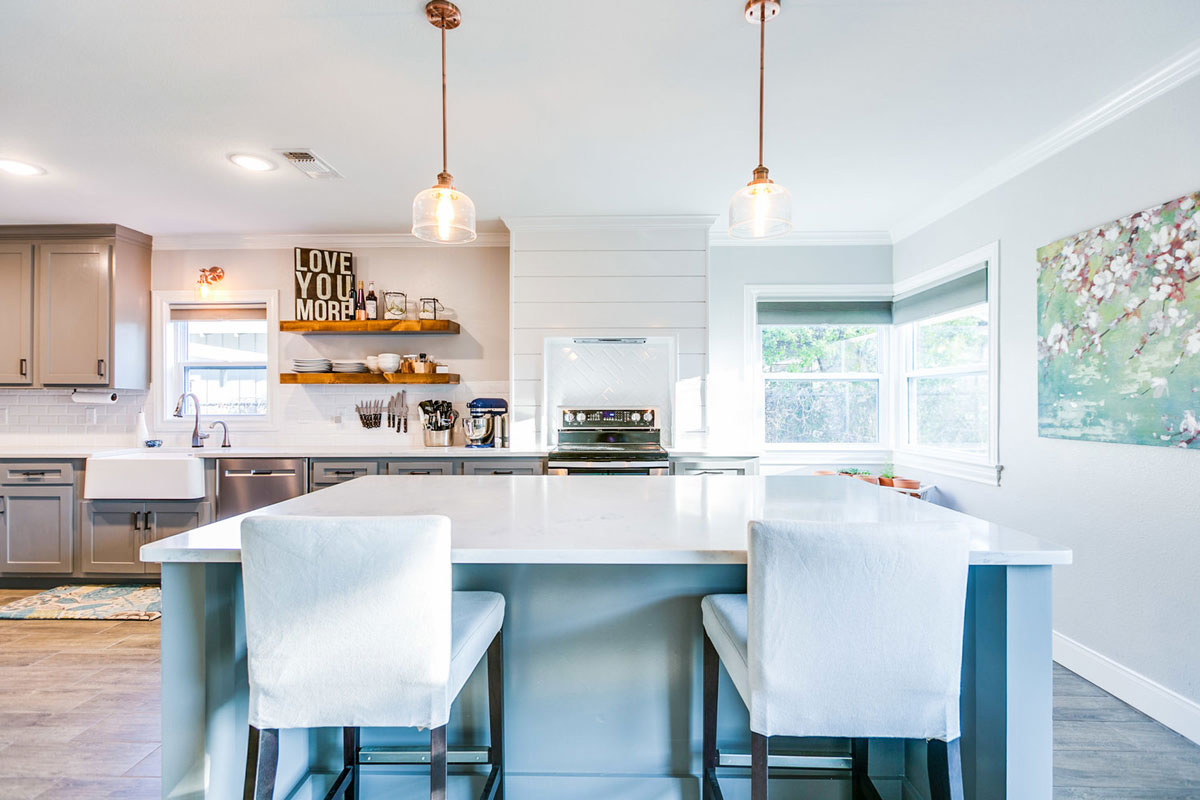 A kitchen design by Circle M Custom Homes, LLC, 
Still, owning his own business wasn't in his immediate plans when the young couple moved back to San Angelo.
While working for a supply company in town, he and Lindsey first decided to build a home for themselves. They secured land, and confident in what they had learned from the family business, decided to use the opportunity to build two adjacent houses at once.
They never lived in their home-to-be.  It sold before completion, and the second home sold soon thereafter.  The strength of the local market and the reaction of San Angelo homebuyers to Chad and Lindsey's aesthetic was too evident to ignore.
"Being younger than most other builders may have something to do with it.  I tend to incorporate some specific elements that are a little more modern." Meeks says about what makes his designs different. "I like seeing clean lines throughout the house, using lighter colors and incorporating more grays rather than browns.  I like alternate textures on the exterior of the house: incorporating wood shutters, stucco, or rock accents along with brick, sometimes all three at once.  I'm like everyone else these days.  I spend a lot of time on Pinterest and Houzz trying to incorporate something new into every house I build or remodel."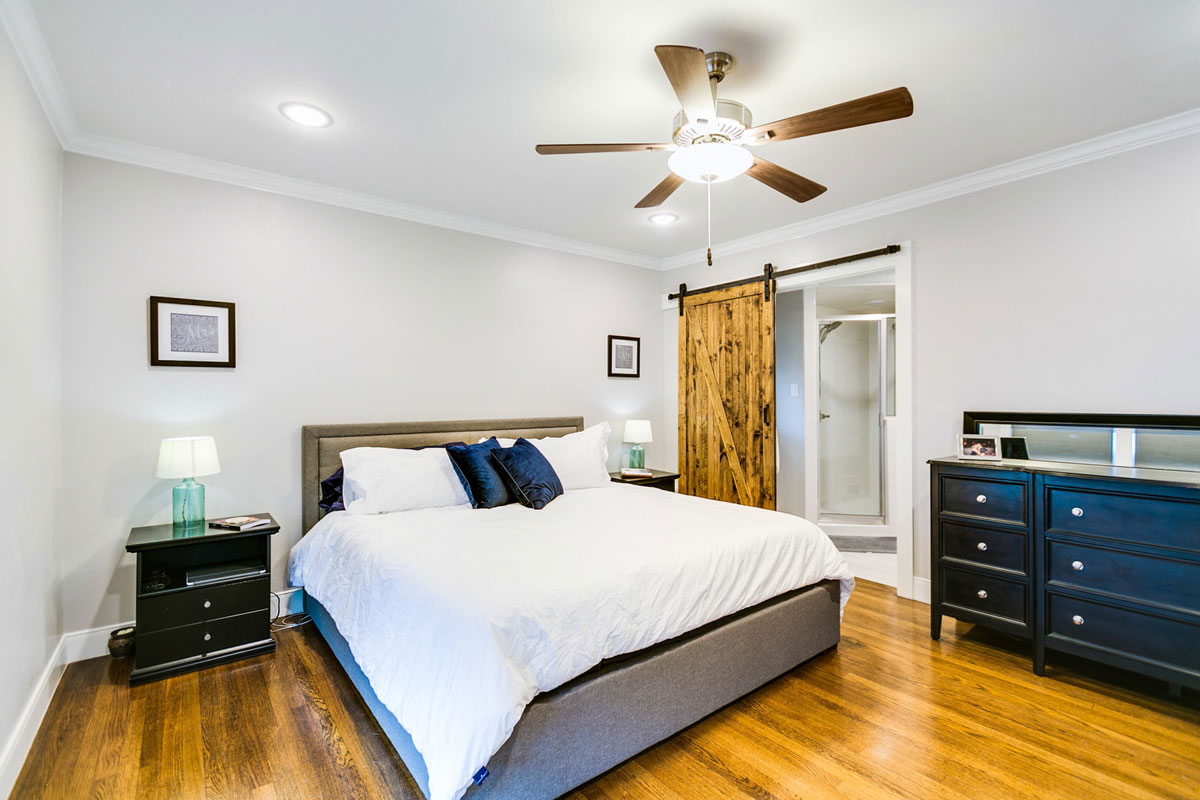 Bedroom design by Circle M Custom Homes, LLC.
Fast-forward a few years, and now, with a dozen homes built and sold, and numerous remodels to his credit, Chad is able to say that including that first pair of houses, they have all finished as custom homes for the new buyers. 
He attributes his success to the tutelage of mentors.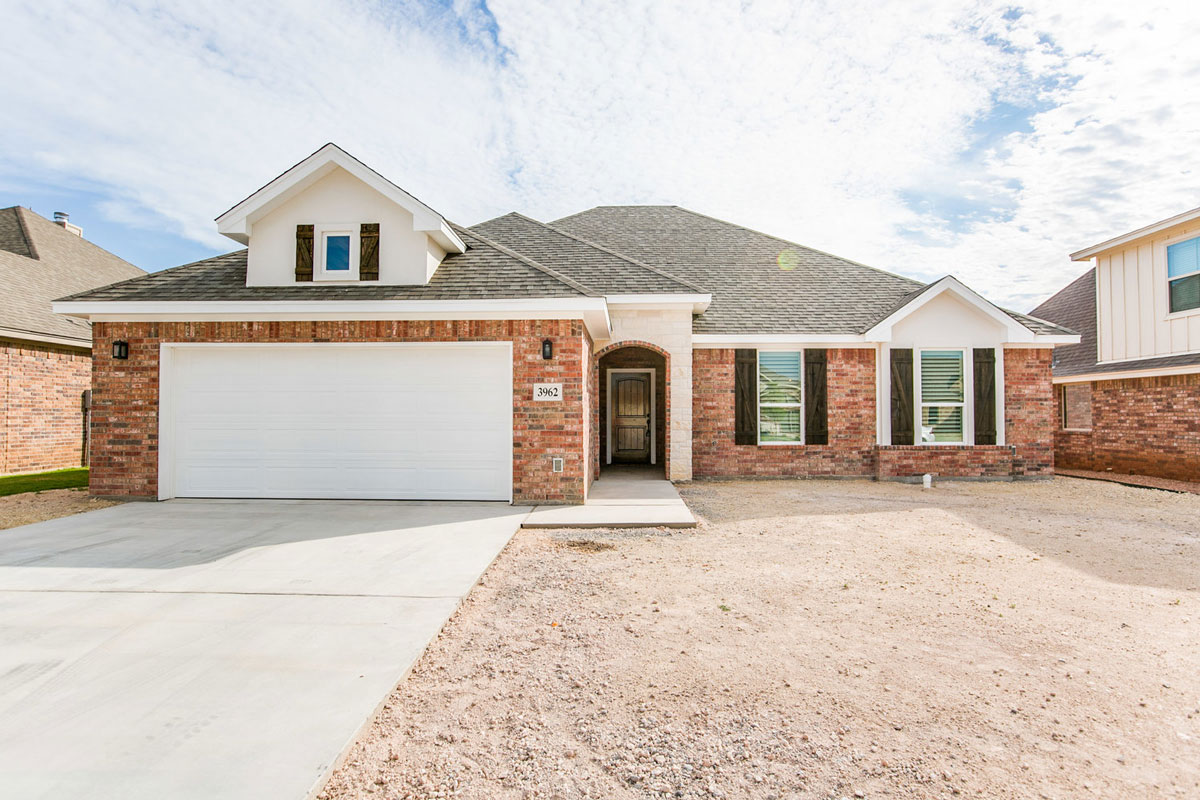 Home design and construction by Circle M Custom Homes, LLC.
"Well, it starts with my father-in-law, Eddie. I continue to learn so much from him. I wouldn't be where I am today without his help." Meeks lists three best practices as being important lessons that he learned directly from Holcomb: Continuous improvement in everything that you do; Make every home as energy efficient as possible, "Like an Igloo cooler with windows and doors." Lastly, great general contractors and homebuilders work with a team of the very best subcontractors.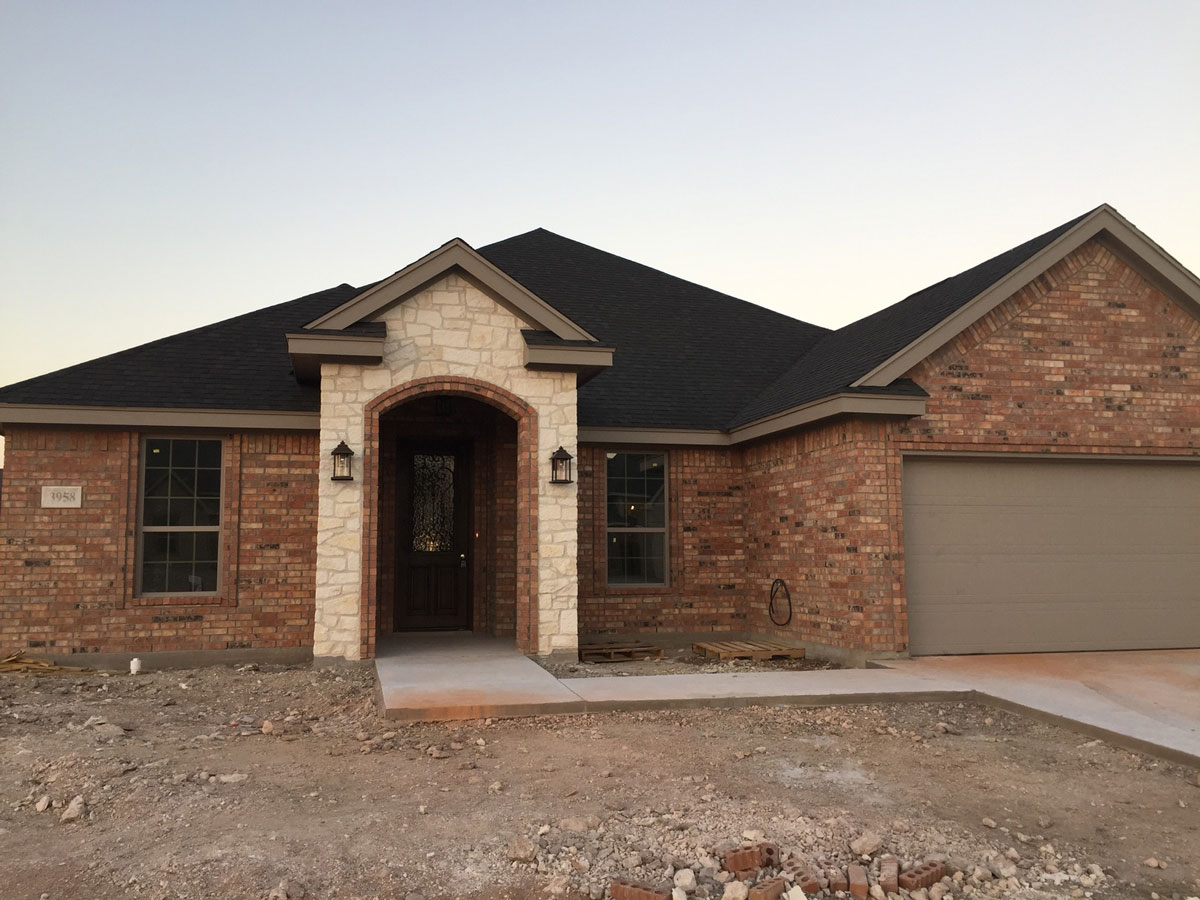 New home design and construction by ​Circle M Custom Homes, LLC
In addition to receiving his degree at Midwestern, he also learned to draw blueprints.  "I'm developing a good eye for design, and I can draw a project from start to finish.  Utilizing the blueprint software, I'm able to take a hand drawing from a customer and turn it into a one of a kind house plan. That part of the building process is something I enjoy, but it's also where the customer gets involved and that is so important. Their participation guarantees that they will end up with the layout they really wanted. That is what it's all about."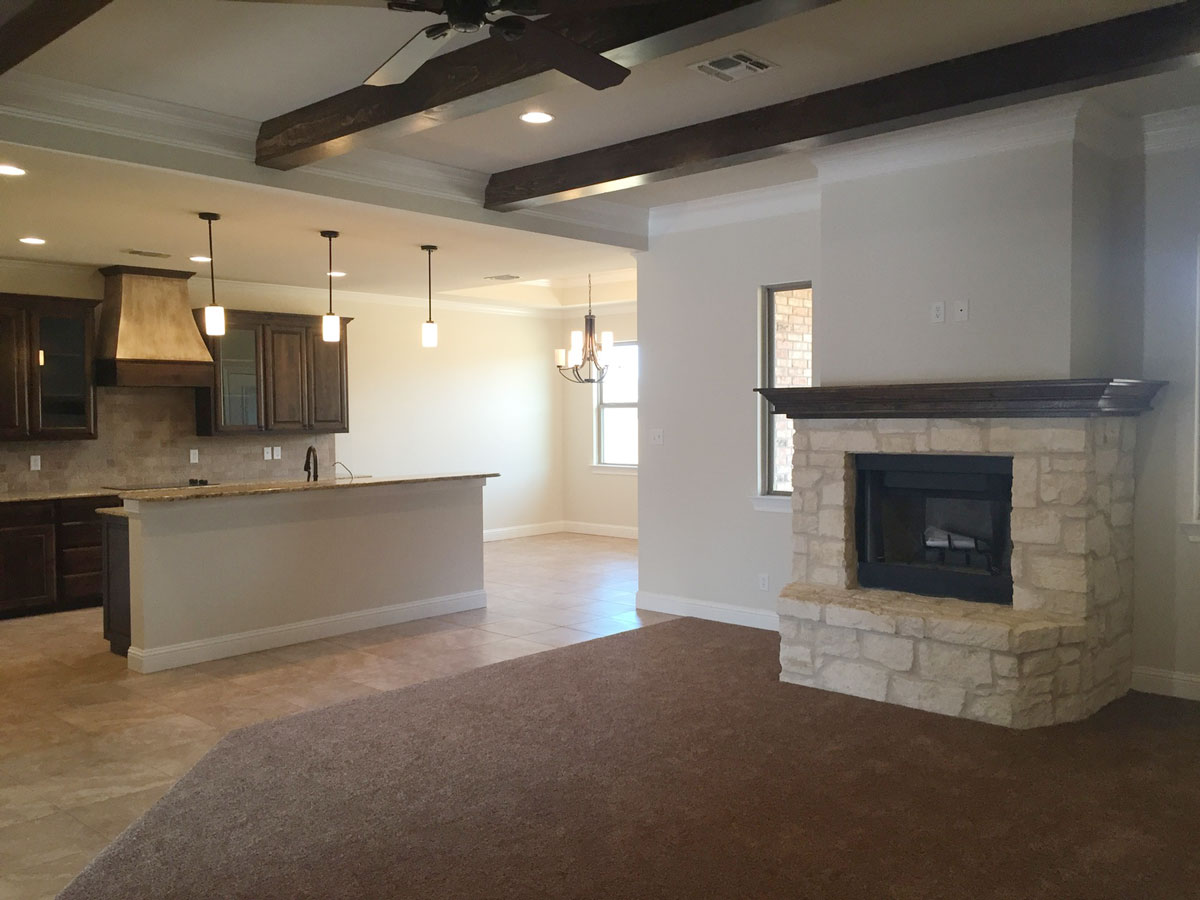 Family room and open floorplan designed and constructed by Circle M Custom Homes, LLC.
Further, he acknowledges his appreciation to one vendor, as well as fellow local homebuilders who not only welcomed him but also offered their help and expertise when he first started. 
"I definitely want to recognize Jessica Currie at "Knobs & More Design". She handles most of my lighting and hardware and helps with interior design ideas. I can't recommend her highly enough. Her father-in-law is David Currie with Cornerstone Builders. He, Eric von Rosenberg and Michael Biggerstaff are some of the builders in San Angelo who were always willing and able to lend advice when I got started. Their doors were always open, and now I am proud to serve on the board of the HBA and begin to pay that kindness forward."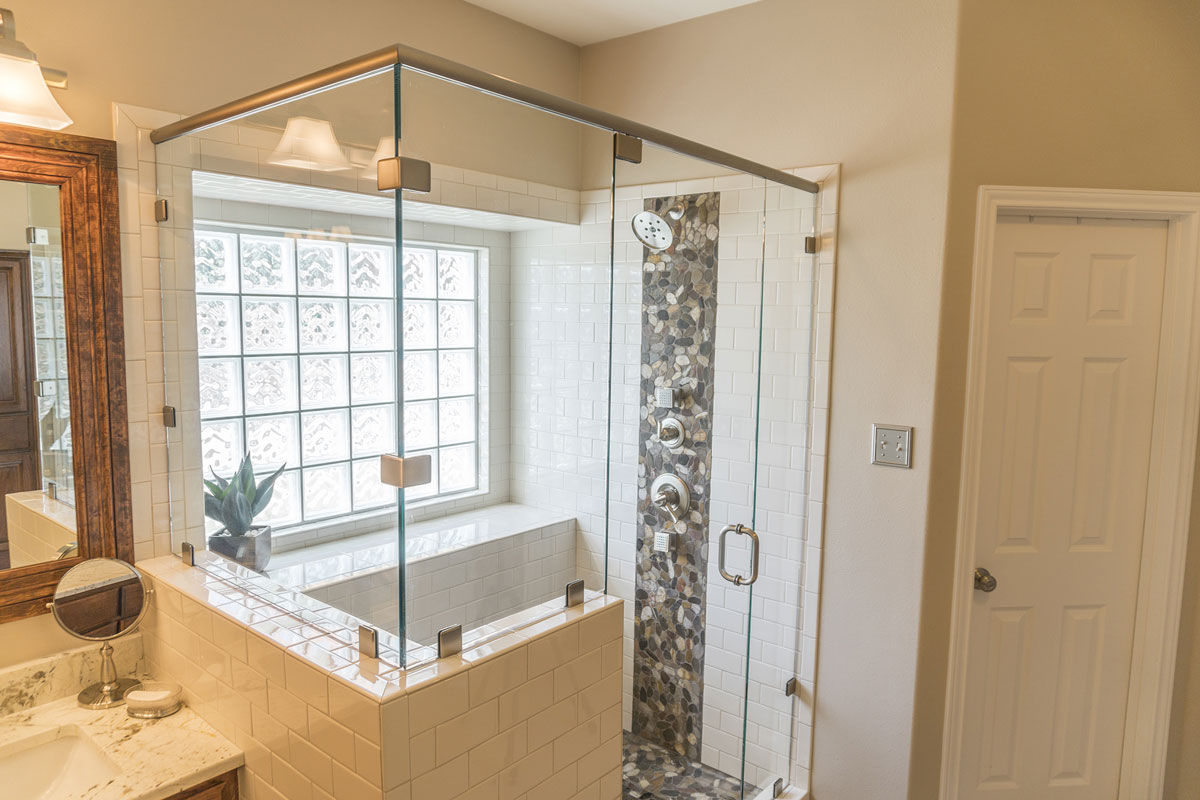 Master bath design and construction by Circle M Custom Homes, LLC.
For future generations of homebuilders, he is enthusiastic about Howard College's soon-to-open trade school citing a real need for more skilled people in our local work force. "There are a number of fields right here in San Angelo in which a person graduating from that program could begin working in from day one.  This is not only great for our local education system but it will be a tremendous benefit to the local building industry as well."
On working with City Lumber, Meeks says, "I work closely with JD, Cooper, and Jackson. They are always easy to get in touch with. They will get you what you need and are ready to help you work through whatever idea you are trying to bring to life."
Finally, asked about where he sees his position now and in the future, Meeks says, "I am happy with our progress, but we are still working towards our full potential. I am very happy that our reputation is growing all the time, and I am always honored to hear the kind words people say about the company."
Get more stories like this by
signing up for our daily newsletter, The LIVE! Daily
.