San Angelo Builder Clark Construction is Built on a Strong Foundation
At the base of any one of the large-scale custom homes Clark Construction is known for, you'll find a foundation with steel rebar footing thirty inches deep. That is almost twice the minimum 18 inches required by city and federal codes. It is also reinforced with an eight-inch caliche pad to stabilize the weight of the construction in the wide variety of soils to be found in West Texas.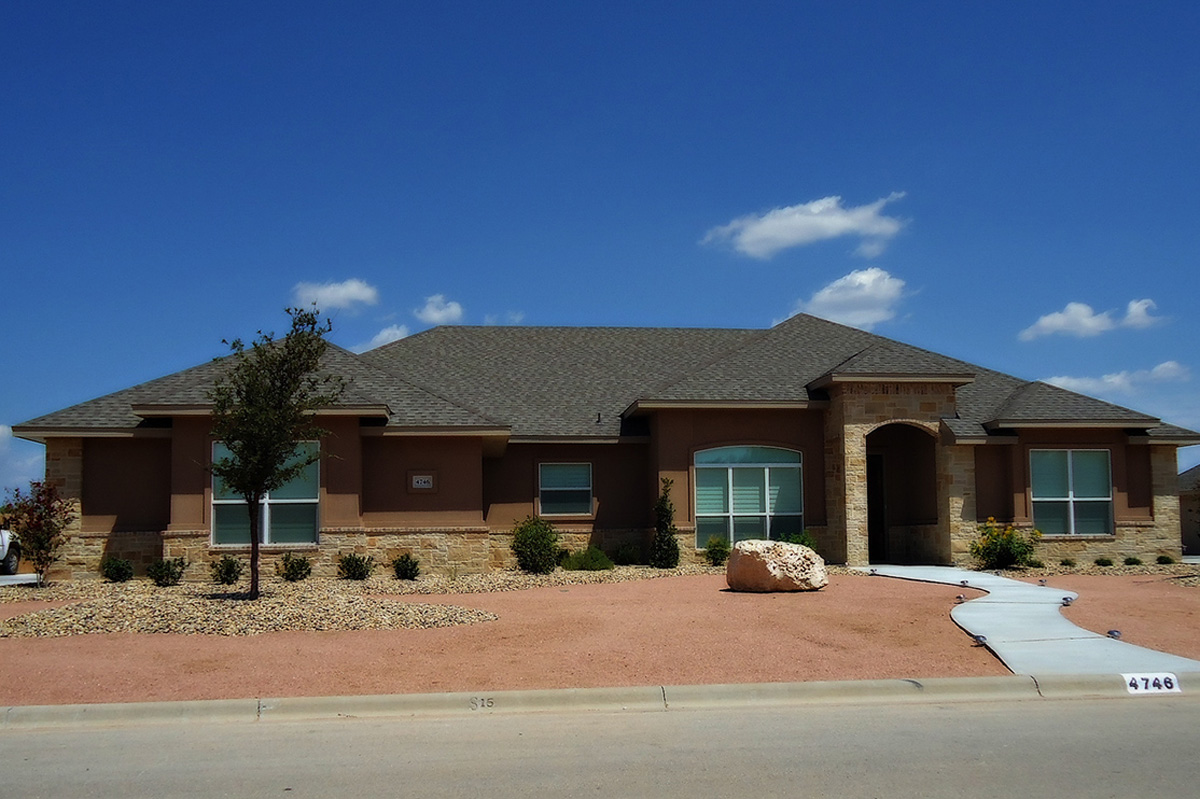 Above: A Clark Construction residential home built in San Angelo at 4746 Murifield Dr. 
To the average layperson, this probably just sounds like a piece of home construction trivia. But to Jim Clark and Wesley Doss, their foundations are one of their greatest points of pride. That's because the story of Clark Construction is a story about roots. Jim Clark's grandfather made his living building houses, his father did as well, and Jim carries on the tradition with pride. Now, his grandson Wesley does too.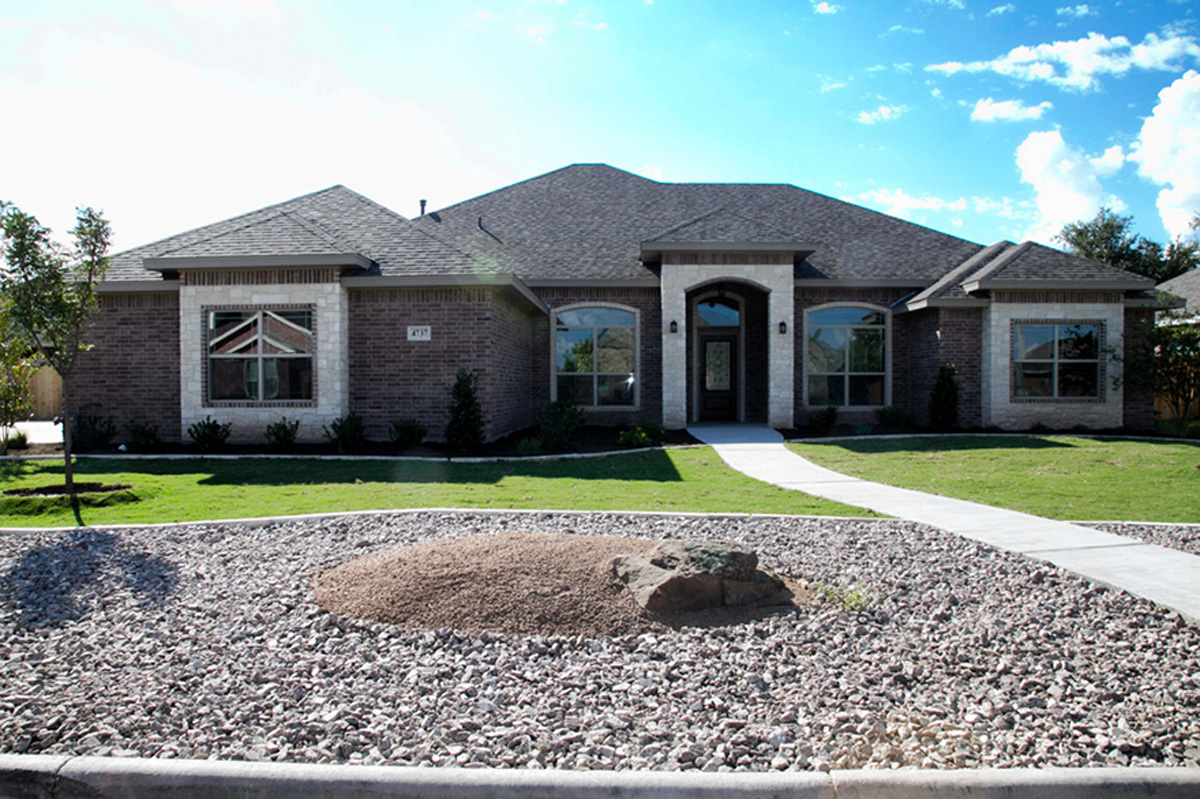 Above: A Clark Construction residential home built in San Angelo at 4737 Murifield Dr.
Jim's own foundations can be traced back to the age of 16, when he first began doing mason work part-time. From this first job laying cinderblock, Jim built himself brick by brick, working up to a position as a carpenter and home builder. As a young man, Jim made his way from the East Coast to San Angelo, where some friends of his lived, in search of a warmer climate. In 1981, Jim, at the time 40 years old, founded Clark Construction in San Angelo, his new home.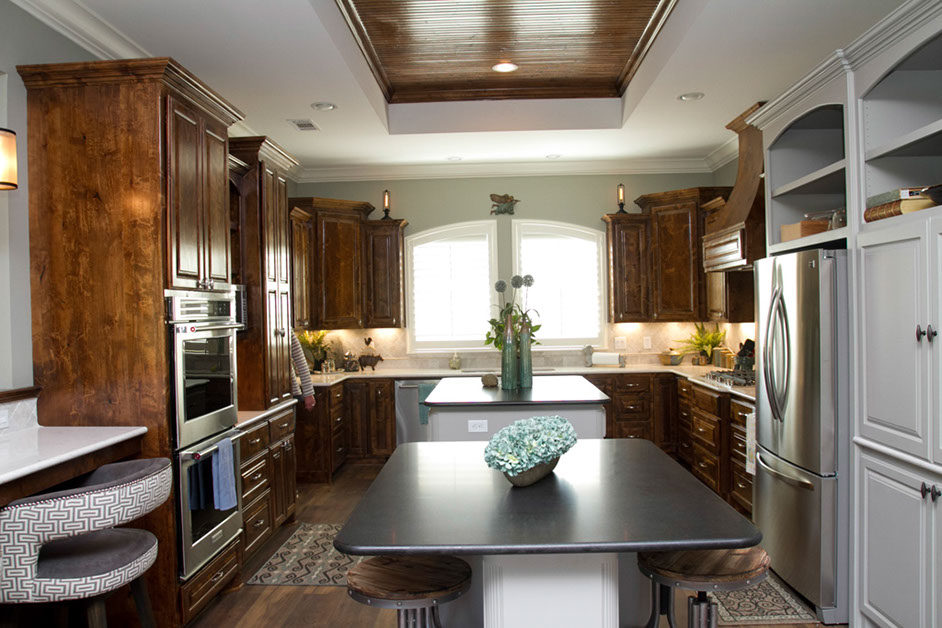 Above: New home construction at 1942 Overhill, built in 2016. 
By then, he had already worked in every job the industry had to offer. To this day, he approaches each new project with the same hands-on approach: he and Wesley visit every site at least once a day, no small feat for a company that builds 15 to 20 houses every year.
Since its foundation, Clark Construction's firm belief in keeping a strict eye on every phase of a project down to the individual nails kept them equipped for the ever-changing business of building.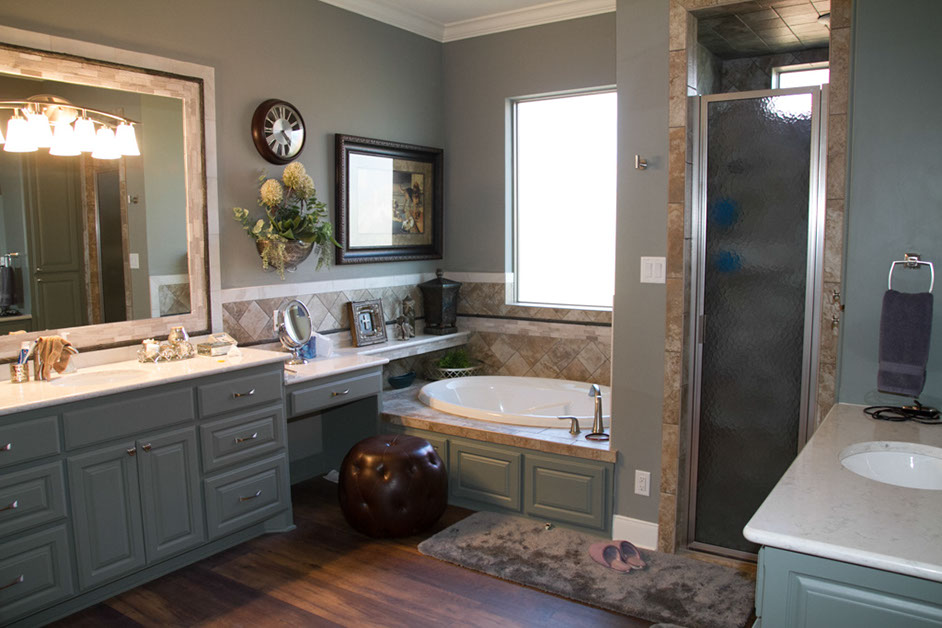 Above: New home construction at 1942 Overhill, built in 2016. 
What started as a team of thirty employees constructing concrete commercial buildings and basements from scratch, including framing, AC, plumbing, and electricity, evolved into a modern and efficient company specializing in high-end custom houses and quality renovations operated primarily by Jim, his office manager and wife of 54 years Fayne, and his grandson and right-hand man Wesley.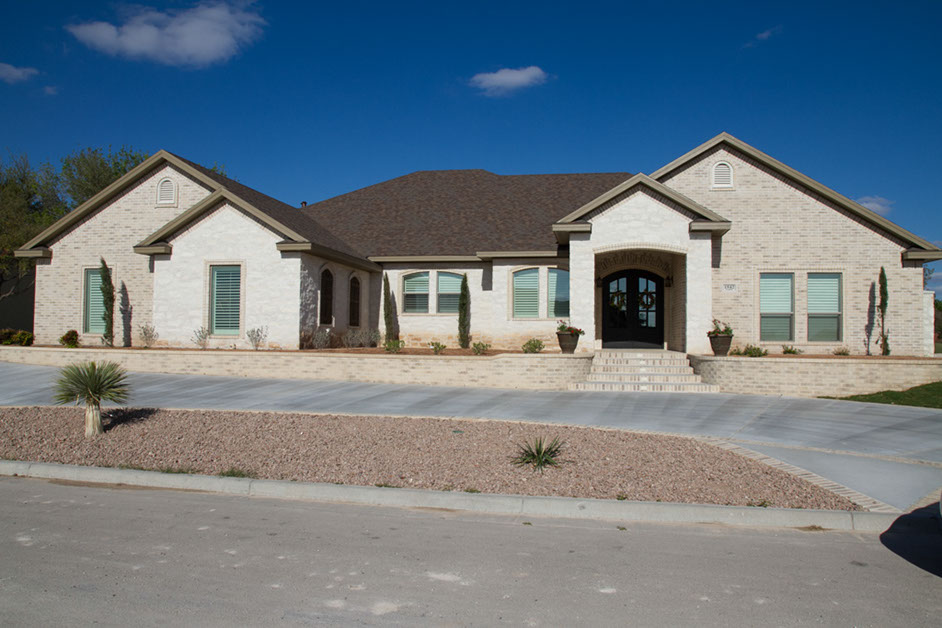 Above: New home construction at 1942 Overhill, built in 2016. 
Together with a highly professional group of subcontractors personally screened by Jim, some of whom have worked with Clark Construction for over 15 years, the company is responsible for building over 600 houses within a 90-mile radius of San Angelo. And the projects have only gotten bigger.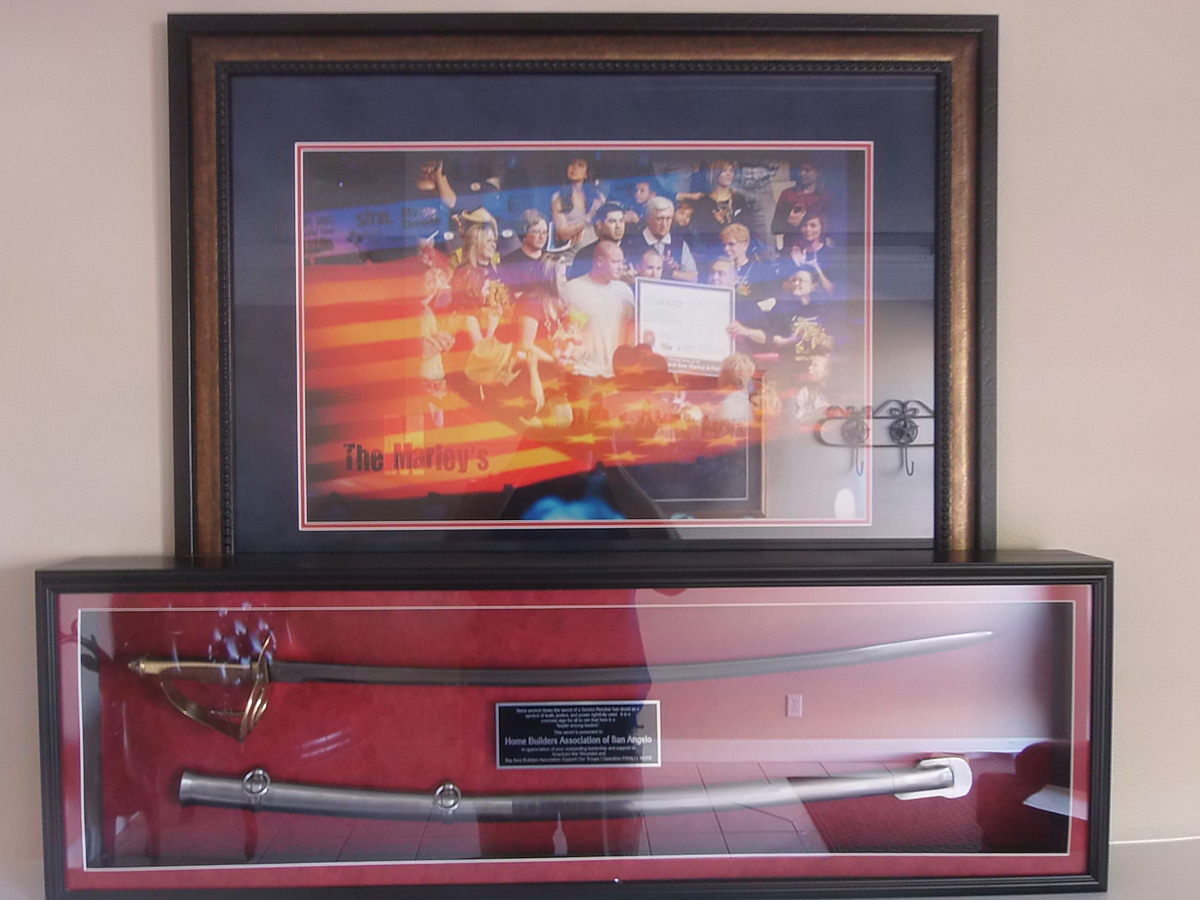 Above: Operation: Finally Home commemorative saber and pictures at Clark Construction. 
Whereas once their average house ranged between 1800 and 2000 square feet, Clark Construction and their team now regularly build larger homes with over 2400 square footage. One major reason for this change is that the size of a new house is no longer constrained by how much space an A/C unit can affordably manage.
Having lived in the Finger Lakes area of New York State, Jim knows as well as anyone that West Texas is hot. Fortunately, modern insulation is vastly improved from what it once was, and when combined with more powerful and energy-efficient air-conditioning units, it's now feasible to build bigger homes with higher ceilings, letting hot air rise to the top and circulate comfortably throughout. Clark Construction takes full advantage of these capabilities to build homes with higher ceilings than the previous standard of 8 feet. These days the ceilings that crown their handiwork are typically 9-12 ft. high, and sometimes even as high as 21 feet.
Jim and company found their niche in custom-built homes, integrating high-quality design, finely crafted trim pieces and cutting-edge automation technology into each dream house built. In short, variety is their specialty.
Today, Clark Construction happily provides clients with their dream homes. When raising a bare lot into a high-end home the owner can be proud of, Jim doesn't believe in room for error. Quality start-to-finish construction is what earned him his reputation throughout the 90-mile radius from San Angelo that makes up his area of operation. To him, the most important element of the job is for the home to be ready when he hands over the keys: when his crew leaves the job site, they don't leave any reason to be called back. In this way, he considers himself lucky that his grandson Wesley shares his value of doing the job right.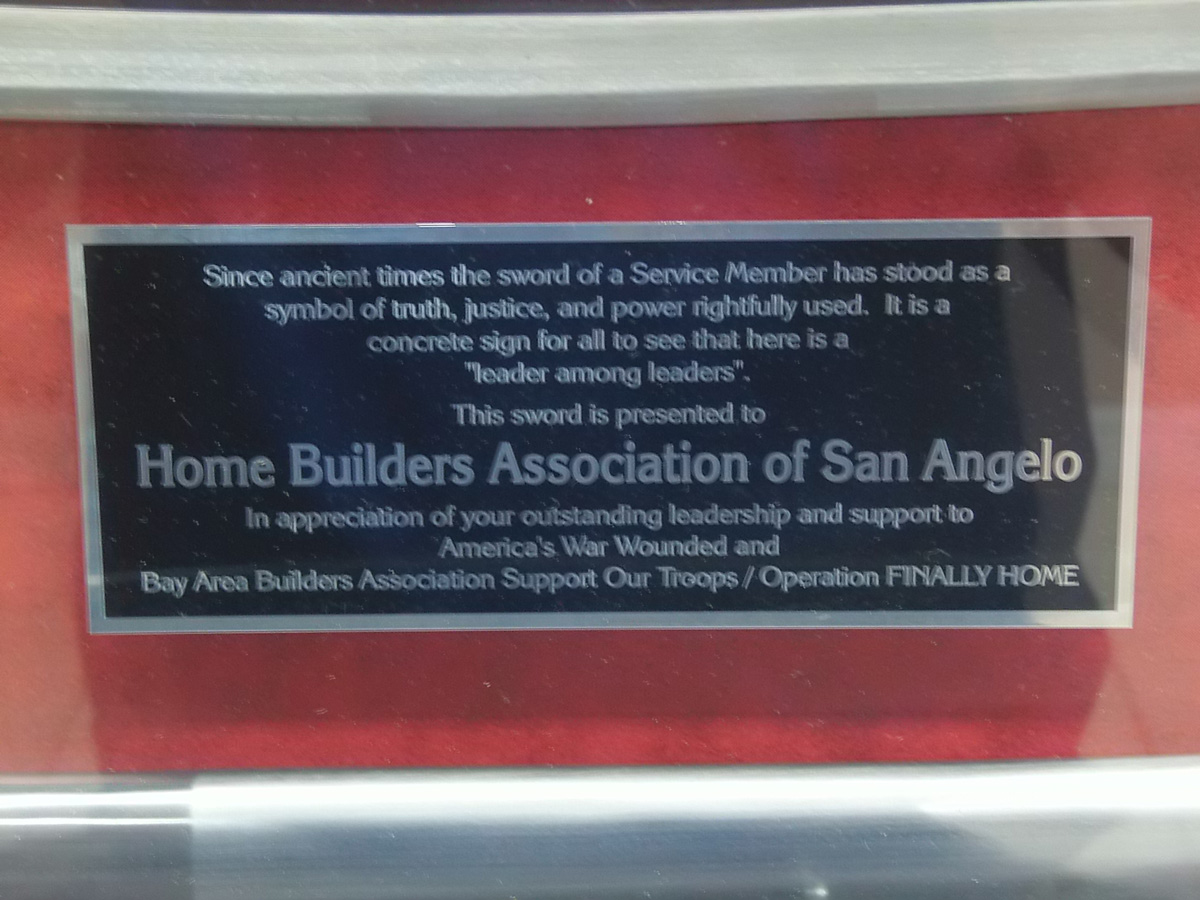 Above: A plaque commemorating Clark Construction's leadership in Operation: Finally Home. (Contributed/McLaughlin Advertising)
Wesley's grandfather on his father's side was a painter. Jim used to hire him to paint the houses he built, and naturally Wesley's parents first met on a job site. Wesley's father specializes in home reconstruction for Indian Creek Construction here in San Angelo, and some of Wesley's earliest memories are of being eight years old and on construction sites, picking up bricks and shovels and pushing wheelbarrows.  You could say he "comes by it honest."
After studying Business Management at Angelo State University, Wesley returned to the business where his roots lay. Having worked for his grandfather part-time during the summers as a high school student, Wesley started full-time at the age of 20. He quickly learned that while an education is important, there's no substitute for experience:
 "For this kind of trade time spent swinging a hammer beats time in the classroom," said Wesley
Jim and Wesley's respect for one another is evident. On his grandfather, Wesley said, "This man has done every single trade. He taught me a lot."
Jim is confident that Wesley could take over the business right now, if he had to.
"Wesley took the initiative to learn the business…It's great to have someone who will take the time to do things right. When he does something, I know it's done the right way, and that's important. There's no skimping."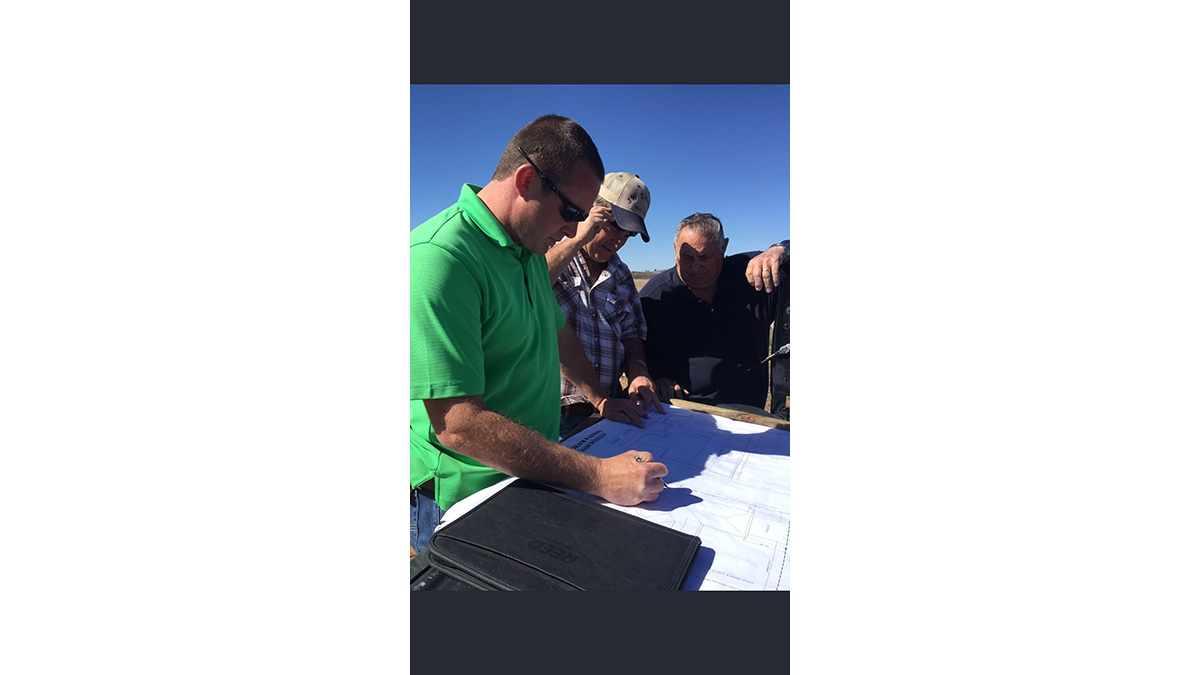 Above: Wesley working on the blueprints. 
Jim and Wes not only create unique, high-quality homes, but also have a hand in numerous commercial renovations: Frozen Bliss yogurt, the office of First Financial Bank, various churches, and more. The City of San Angelo officially recognized Clark Construction's impact on the local community on numerous occasions, most notably for the construction of the model-house trailer used in drills to educate children on proper fire safety in 1993, and their involvement in the Rebuilding Together program, maintaining low-income housing for families in need. Though the awards are nice, Jim and Wesley are simply happy helping people.
In 2010, Jim and Wes were at the Sunbelt Builder's Show in Dallas, Texas when Wesley ran into his old friend Levi, a veteran who was injured by an IED in Afghanistan. Levi became one of the first veterans aided by Operation: Finally Home, a nonprofit that builds housing for injured United States soldiers. After Jim met project founder Dan Wallrath and Vice-President Daniel Vargas, and learned about the organization's goal, Jim only had one thing to say:
"I think I want to do it."
Clark Construction brought Operation: Finally Home to San Angelo, finding numerous willing participants in the Home Builder's Association of San Angelo. The HBA proudly adopted the project. Together, they built the project's first house in San Angelo in 2011.
Jim Clark and his grandson also manage to find fun in their work. They've built up a friendship and sense of trust with their tenured team of subcontractors, a camaraderie strengthened by the countless hours spent on the job together, working side by side.
Wesley recalls one job faced with a very unique problem: Port-a-potty trespassers. Builders from another job site nearby were using the Port-a-potty that Clark Construction paid for, often preventing Clark's own subcontractors from using it when they needed to. Jim politely asked the men to stop using the facility, but the squatters refused. Worse, they started stealing toilet paper right out of the stall. Not on Jim's watch. One day, he finally had enough. That was the day the trespasser occupying the stall learned why you shouldn't mess with a man's toilet paper. Jim took a 2x4 beam and whacked the side of the Portapotty with all his might. In Wesley's words,
"That guy came out so fast! You should have seen him come out running with his pants still around his ankles. We didn't have any problems after that."
Clark Construction is proud of the relationship and trust built with their subcontractors, and their suppliers as well; since the early 80's, City Lumber has provided them with the supplies and equipment it takes to turn a bare lot into a dream. Jim puts it simply:
"They're a great company with great products, and excellent customer service. Jackson Duncan takes care of business."
With recent growth in local commerce and the possibility of a new interstate in the near future, Clark Construction foresees huge potential for new developments in San Angelo for their company as well as others, and looks forward to the opportunity to contribute to the upward progress of the community they're happy to call their home. But no matter what changes may lie ahead, Jim Clark, his grandson Wesley, and their company Clark Construction have the solid foundation of expertise to ensure they'll stand firm long into the future.
Strengthened by hands-on experience, craftsmanship that goes beyond what is required, and deep roots in the business and in their community, Clark Construction is building Texas dreams one home at a time. 
Get more stories like this by
signing up for our daily newsletter, The LIVE! Daily
.