Songs of Character: David Currie of Cornerstone Builders
Sponsored Story
Before taking the fork in his road that led to becoming a builder, David Currie earned a Ph. D., authored two books, battled for religious liberty and tracked down Don Henley of the Eagles. 
In the first chapter of his second book Songs of the Desert he shares a learned perspective. Essentially it's that a hot stove burns to protect us from a more serious injury. A painful experience can fortify us if we handle it in a healthy way, and we follow the definition of a disciple and choose to be a "willing learner".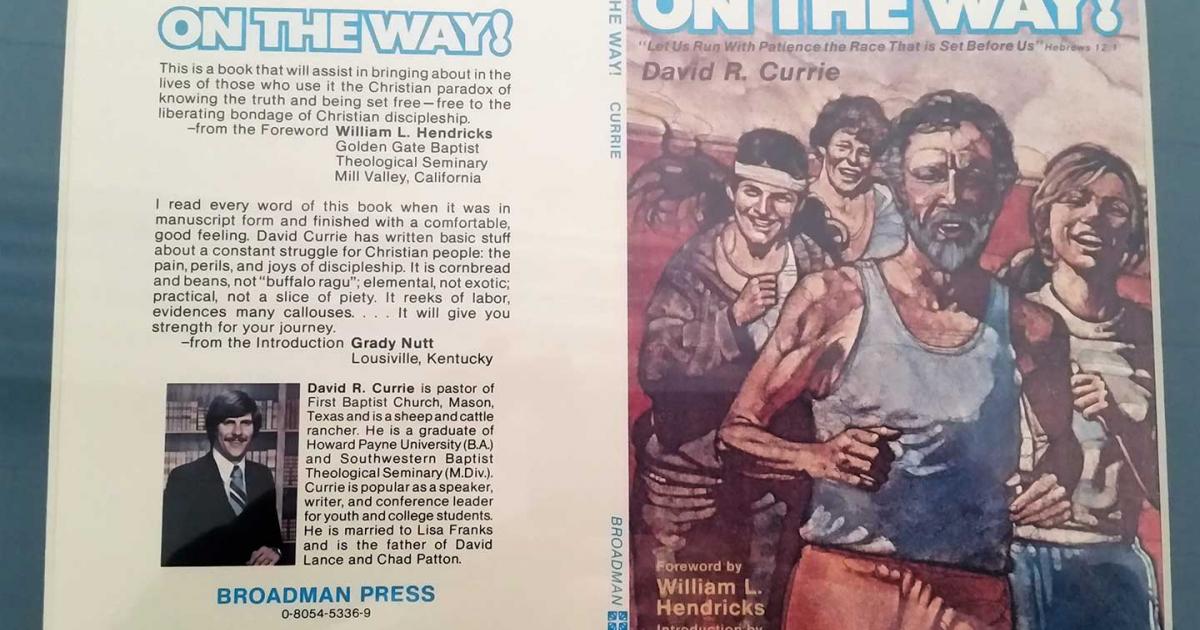 Above: David Currie's first book, published in 1982. 
He published this in 1999. Perhaps not coincidentally, this was the same year he began to see success as a builder, after what he terms a 'disastrous start' in 1995. His inexperience combined with the miscalculations of an early partner caused them to have more cost in the home than it appraised for. However, he learned. The second house lost less. The third still less. By the time he published the book, he was sans partner and had the kind of deeply earned knowledge we sometimes can only gain through the burn of that stovetop. His customers have benefited ever since.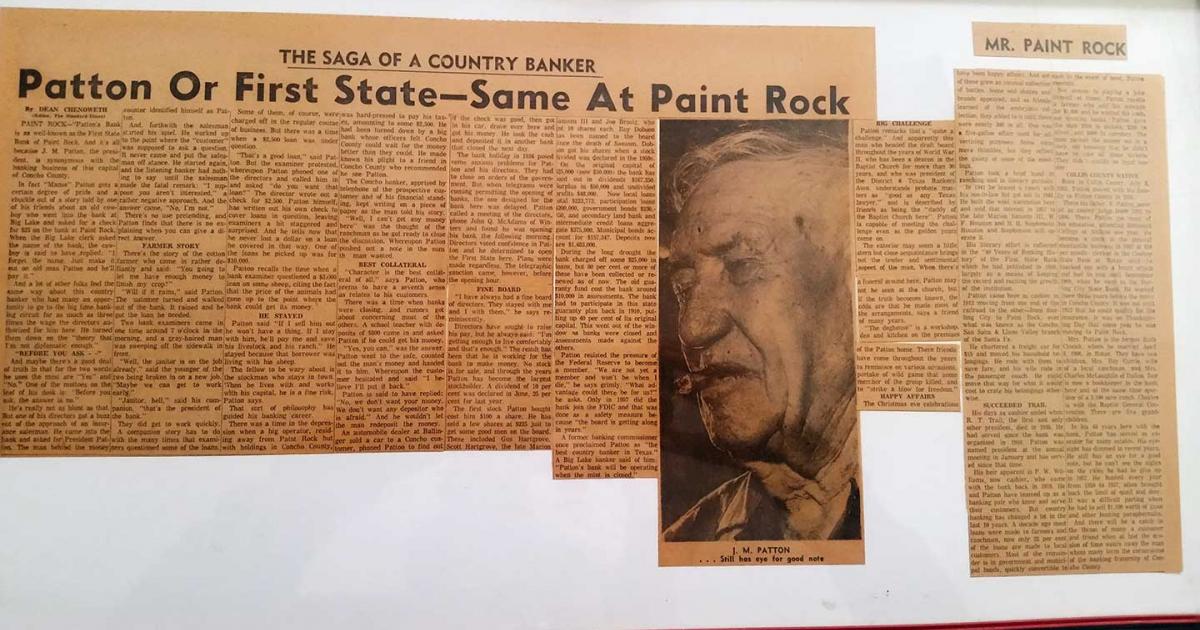 Above: Currie's grandfather in a newspaper clipping hanging on his wall in the Cornerstone Builders office. 
Currie's Paternal grandfather was a "saddlebag doctor", having learned his skills in the bloody tumult of the Civil War as a physician's assistant.  In 1879, he settled in Paint Rock. In 1912 Currie's Maternal grandfather J.M Patton, came to Paint Rock from Sterling City, to be Cashier at the First State Bank of Paint Rock.  Patton later served as president from 1932 until his death in 1962, Patton's image looks over Currie's modern day office from the brown parchment of an aged newspaper article celebrating the life and career of this iconic country banker. His famous quote was "A man's character is the best collateral."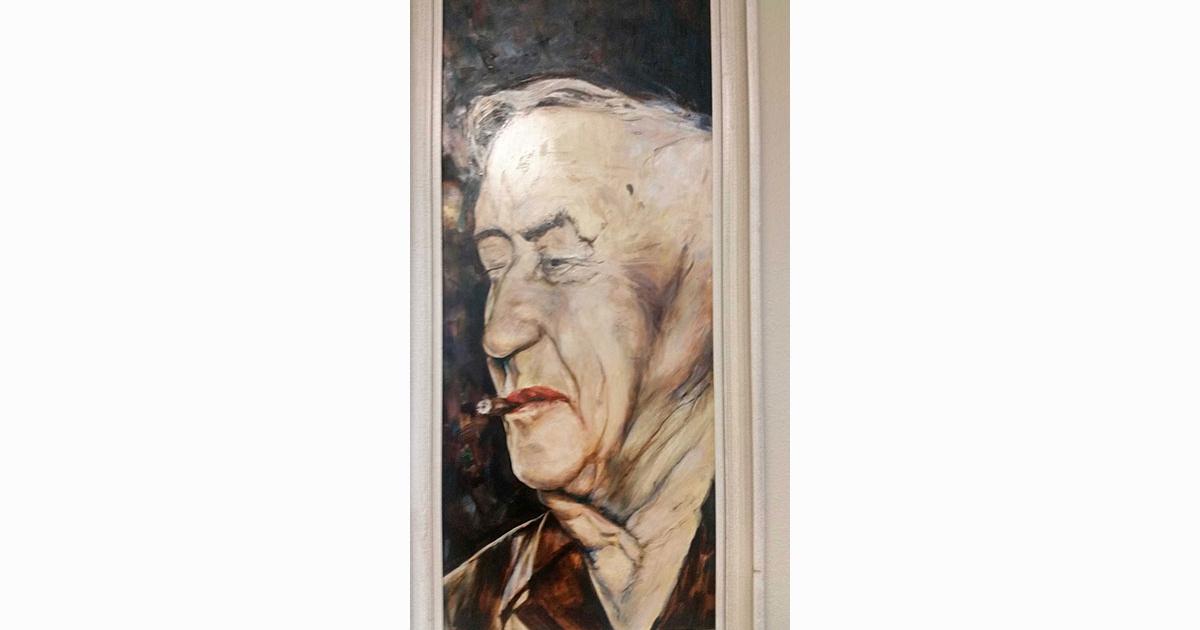 Above: The painting of David Currie's Grandfather in Currie's office. 
Currie himself grew up in the family's ranching business, which he remains involved in today. When he left for Howard Payne College on a track scholarship, his mother pressed him to pursue a business degree but he got a Bible degree with a minor in philosophy. Eventually he earned a Ph. D. in Christian Ethics.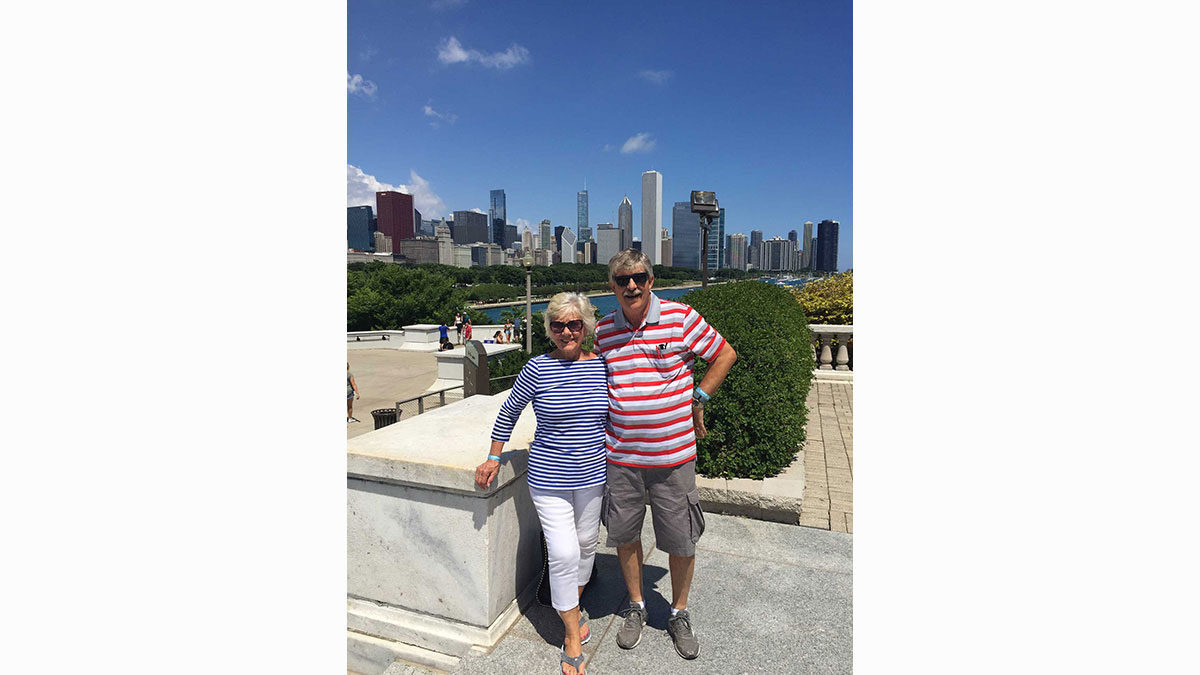 Above: David Currie and his wife Loretta.
After a stint with the Department of Agriculture Sheep and Goat division, he began what he refers to as the "controversial" portion of his career. From 1988 to 2009 he worked with the "Texas Baptists Committed" organization. "Religious Liberty is to me the cornerstone of this country. A person's right to freely believe and practice as they wish is something I have always been passionate about."
Currie's first book, On the Way had been published in 1982.   His second book, Songs in the Desert was published in 1999 as he decided that his personal enjoyment of finding spiritual lessons in the songs of his beloved Eagles was the basis for an entertaining book that he wanted to share with others. He wrote the outline in an Atlanta airport and completed the first draft of the book by getting up a few hours early each morning.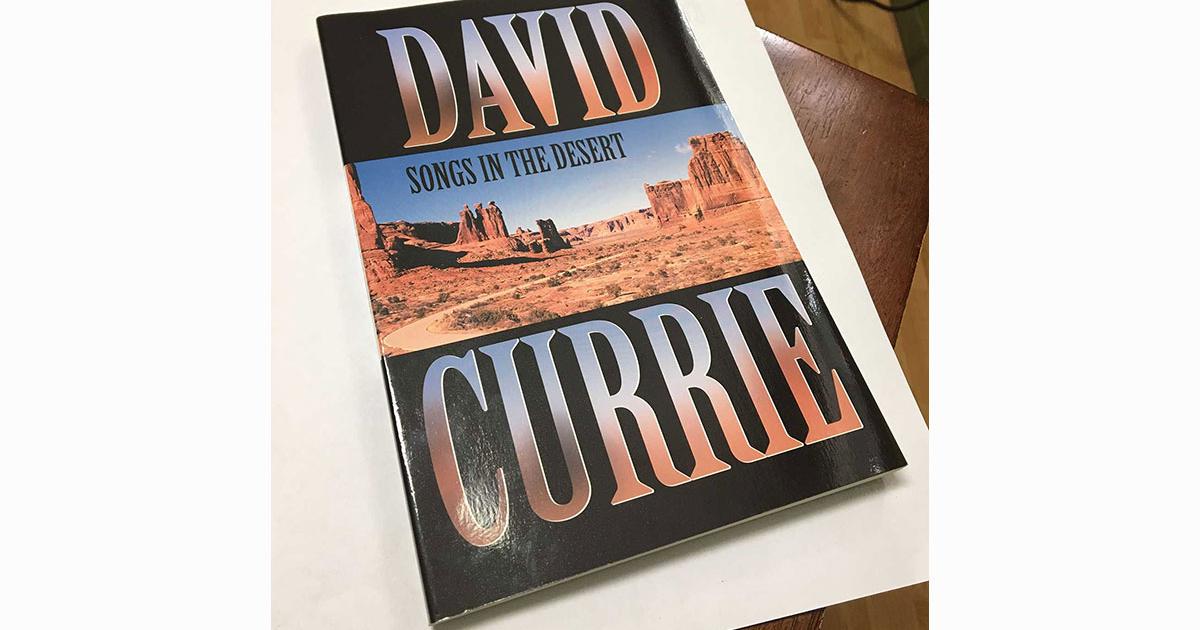 When completed, he wanted to seek the Eagles permission prior to publishing.  Knowing that fellow Texan Don Henley had once been a major contributor to Governor Ann Richards' campaign, he contacted Richards' daughter Cecille, an acquaintance. She provided an address, and he sent the manuscript and a letter. The response came from Irving Azoff, the high powered Eagles' manager whose roster also includes Journey, Van Halen, No Doubt, Maroon 5 and many others. Azoff's letter took a hostile tone in his reproach of the book, and he listed a number of things Currie "couldn't do." Currie responded reasserting that his intentions were always to find what was acceptable to the songwriters, not to skirt their wishes, much less any legalities. Again Azoff responded with a letter with a rather nasty tone.  
 Undeterred, he found a Texas address for Henley, and he tried again. Henley responded personally and was far more cordial. He explained that they preferred their songs not be interpreted as based on any specific beliefs, but also left some avenues open that allowed Currie  to use some Eagles' songs along with other artists. This reply and its basis in the religious liberty so dear to Currie, gave him the final and somewhat different, form for his book, Songs in the Dessert. In which Currie is careful to respect Henley's wishes.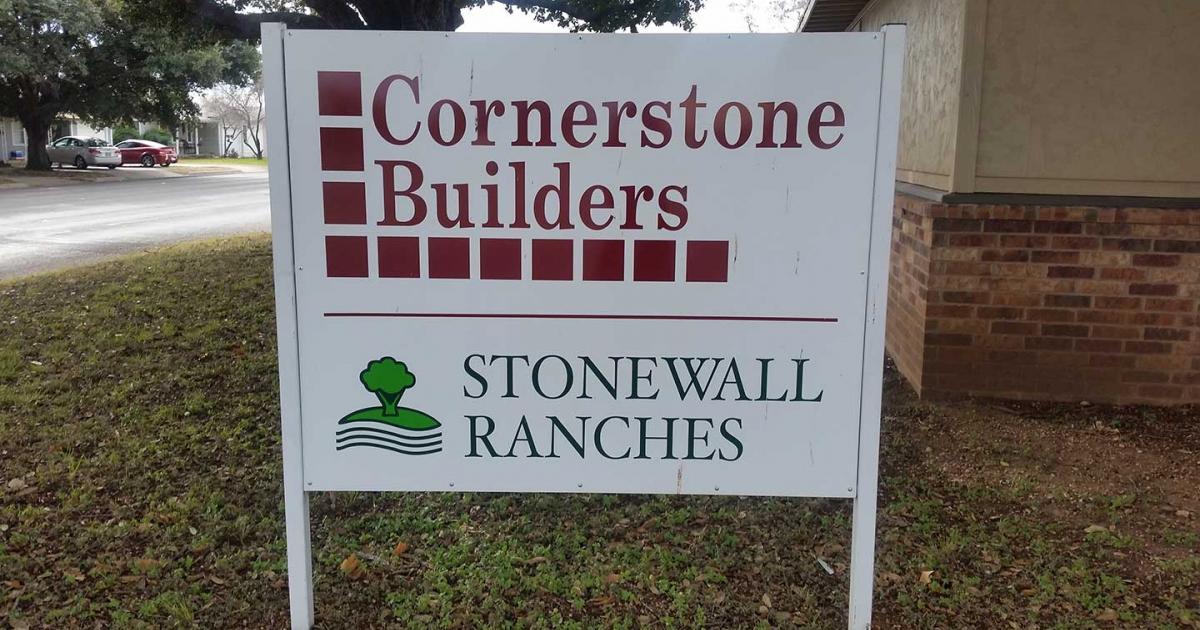 Above: Cornerstone Builders office on Beauregard Ave.
Currie himself questions what any of this has to do with building houses. Yet it demonstrates discipline, creativity, and recognizing that the difficult is possible. It also shows creative problem solving, tenacity, and then ultimately, of integrity. 
These character traits enable a person to learn to be a doctor under a hail of bullets, learn to run a bank through draught and depression, learn to ranch on unforgiving terrain and learn to really build a home.  These characteristics have carried him through up and down markets. They fortified him as he became a developer in 2004, beginning with 2,500 acres and a plan. Since then he has built countless homes spread throughout Tom Green County and beyond, as well as developed over 10 different developments with his partners.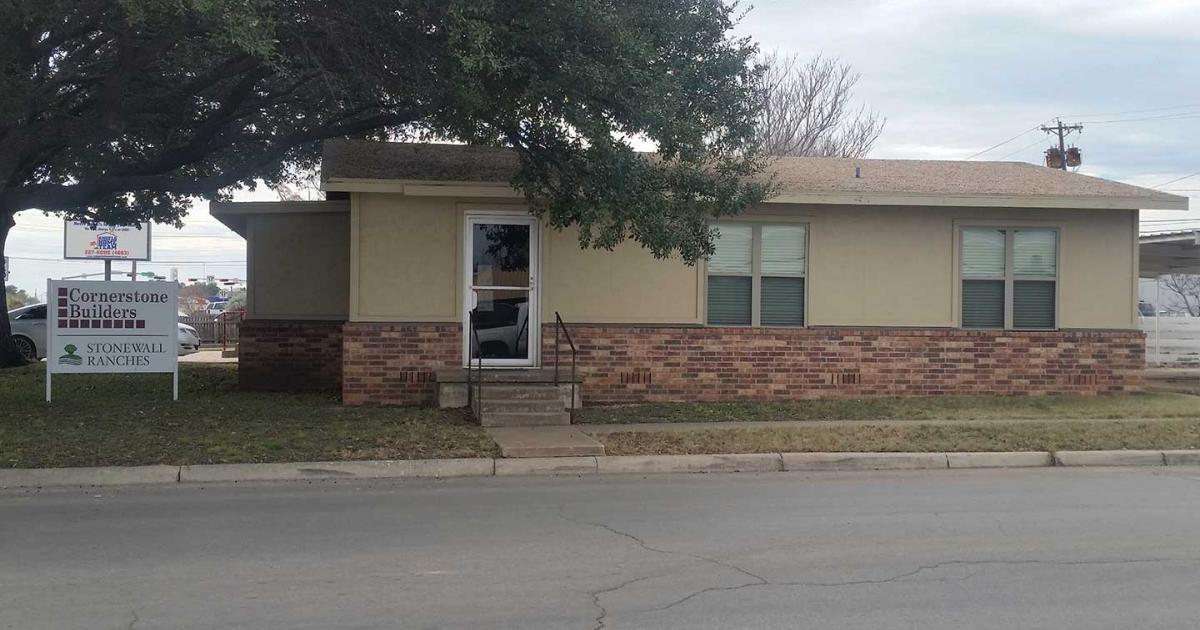 Above: Cornerstone Builders
Currie does recognize that it is a reputation for integrity, and a unique approach to building that is the basis of the success Cornerstone Builders has enjoyed. Although, he will only credit that as the second biggest reason. "The true key is great subcontractors. People like Laddie's Electric, my foundation crew and many others who have been with me from the beginning or have joined us through the years."
Currie is unique in that he advocates for inspections on home projects built out in the county. In fact, even though they are not required, he brings inspectors in to all of his jobs. "Starting with the rebar in the ground and the mix of the concrete, everything we do is above code. If the code is the minimum standard, that is not good enough. I remember early on a very tough inspector walking onto our job site, and barely out of his car he looked over and said 'Over code, just how I like it.' Well, that is how I like it too." 
It is not only his history that is rife with innovation but the future as well. "What makes me excited going forward are a couple of new additions to our process. First, we have created two foremen positions.  One oversees every house from the ground through the sheetrock,  the other every house from sheet rocked to finished. This way, each project benefits from my oversight plus two other people as well.   It's just a better way to hit a higher standard."
The other addition comes via family. "My daughter in-law, Jessica Currie owns Knobs and More. She has a design degree from Stephen F. Austin, and she has brought a great fresh new approach and contributes from the initial design of the house to helping home buyers with their finished rooms. Having the best benefits of age and youth together in our team is a real blessing for me and the people who eventually own these homes."
Finally, of his relationship with City Lumber, Curries says, "I like that it is locally operated. I think the world of Jackson Duncan, and I consider him a personal friend.  When we get a really complicated house, with two or more stories or lofts, having their truss manufacturing plant right here, skilled and equipped to get it done right, that is a major asset."
"Sometimes life just knocks us down, and we must simply survive those deserts," David Currie, Songs in the Desert, 1999 Smyth & Hewys Publishing. All rights reserved
Get more stories like this by signing up for our daily newsletter, The LIVE! Daily.