SAN ANGELO, TX — In the dynamic world of information technology, two trailblazers from the former Sitel Corporation—now Foundever—are charting a bold course. Robert Boyett and Jonathan Johnson, former team leader and business analyst respectively, are leveraging their deep-seated experience to revolutionize data utilization through their San Angelo tech startup, Intellivega.
Boyett, a tenacious Cohoma High School alumnus and San Angelo transplant since 2000, discovered the profound impact data analysis could have on performance while managing a team serving a Fortune 100 company. The insights gleaned from data did not only drive efficiency but also became a cornerstone for strategic decisions.
Meanwhile, Johnson, having honed his skills in the same building on Loop 306, immersed himself in Lean Six Sigma Initiatives—aimed at waste reduction and performance optimization—proving that meticulous process improvement is integral to success.
In 2016, Boyett boldly stepped away from Sitel, funding a sabbatical with his 401K in search of entrepreneurial enlightenment. His journey was brief but transformative, leading him to the world of freelancing where his expertise quickly catapulted him to the upper echelons of bidding platforms like Fiverr and Upwork.
Parallelly, my own foray into freelancing before launching San Angelo LIVE! demonstrated the immense potential these platforms offer, allowing me to cultivate a nationwide client base from the comfort of home.
Johnson, a Pampa High School graduate, ascended through Sitel's ranks—from a customer service representative to a sought-after data analyst and project manager. Boyett's proposal to join forces was timely, catalyzing the foundation of Intellivega in 2022—a company poised to tackle complex data challenges.
Nestled in the Continental Office Building's visible downtown expanse, Intellivega's space buzzes with innovation. Boyett and Johnson share an office that embodies collaboration, complete with a conference table for their team of data analysts who commandeer their stations adorned with Intellivega's signature green and black gaming chairs.
With a client roster featuring names as prestigious as Rolls Royce, Intellivega is carving out its niche. The firm specializes in data visualization and automation solutions, as evidenced by a recent Ecommerce project. By integrating tools like Google Sheets, Google Apps Script, and Shopify's API, they engineered a just-in-time inventory control process for a multi-location retail client—showcasing their agility and technical prowess.
Intellivega's expertise isn't limited to bespoke solutions; they're also recognized for their proficiency with established software like Microsoft Excel and PowerBI, underscoring their adaptability across various platforms.
As Boyett and Johnson steer Intellivega towards its next horizon, they're focused on expanding their direct client base and fostering a culture of growth and innovation. Friday's Chamber of Commerce ribbon-cutting event was not just a formality but a celebration of a vision coming to fruition—a vision of adding to the transformation of San Angelo into a hub for tech employment and economic development.
Looking ahead, Boyett articulates the ambition to craft a proprietary SaaS product, aiming to secure a stream of recurring revenue. Intellivega stands at the cusp of growth, ready to harness the transformative power of data for businesses far and wide.
For more information on Intellivega and its services, visit intellivega.com.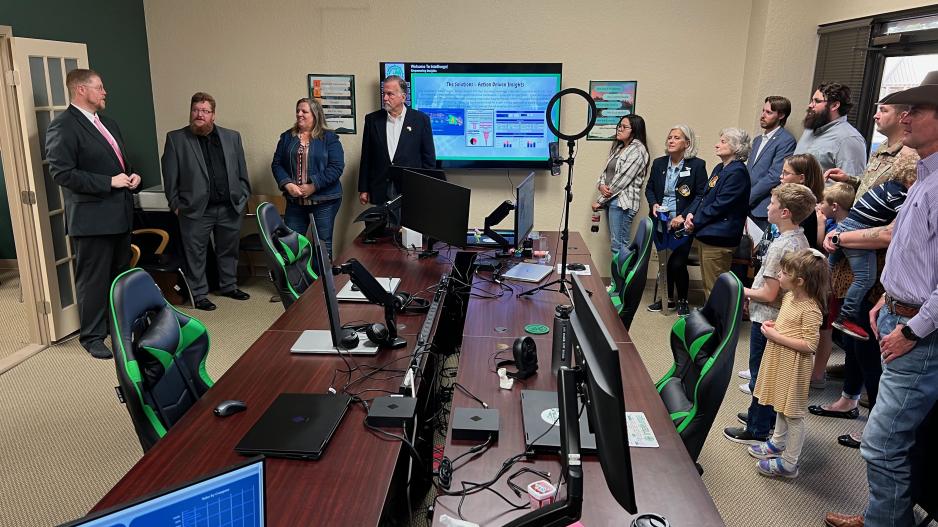 Most Recent Videos