SAN ANGELO, TX — The Cactus Crusader was gut-punched in state district court last month for slander, libel, and defamation. San Angelo businessman Lee Pfluger sued the Crusader, Zane White, for defamation. When White did not respond to the court as requested, the judge ruled in Pfluger's favor. On June 26, Judge Carmen Dusek ordered White to pay Pfluger $3,127,250 in damages. Those damages will be forever increasing at a rate of 5 percent per annum until paid in full.
The judge's ruling incorporated $1,023,000 in actual damages, enhanced with an additional $2,000,000 in punitive damages plus interest of $104,000 since Pfluger filed the lawsuit on August 22, 2022.
The court agreed that Pfluger was harmed by the public utterances and social media postings by White. Judge Dusek wrote, "Defendant (White) published defamatory statements with actual malice after the Court admitted Plaintiff's (Pfluger's) clear and convincing evidence of same." Even White seemed to agree with the judge's assessment when in a pro se filing on his behalf, he wrote his claims about Pfluger were, admittedly, "unflattering."
Still, White failed to answer Pfluger's lawsuit petition and by mid-November 2022, the court moved to a default judgement against White. The next step was a hearing to determine the damages. Pfluger's attorneys asked for damages amounting to $1,000 per person who heard or read White's remarks defaming Pfluger.
At issue is White's one-man crusade to complain about the disrepair of the sign letters high atop the Cactus Hotel at E. Twohig and S. Oakes St. in downtown San Angelo that Pfluger controls through a non-profit corporation. For decades, green neon letters on the tallest structure in San Angelo spelled "HOTEL CACTUS." According to White, some of the letters were removed for repairs in 2005 by Mr. Pfluger, and never replaced. That Pfluger never restored the sign, whose letters now spell nothing, is a violation of the City of San Angelo sign ordinance, he argued. Corrupt city officials have allowed Pfluger to get away with the sign ordinance violation, White claimed.
Pfluger's lawsuit alleged White defamed Pfluger in seven specific instances.
Mr. Pfluger obtained Cactus Hotel ownership absolutely free after the previous owner was forced to abandon the building due to incredibly strict building code enforcement.
Mr. Pfluger obtained Cactus Hotel ownership absolutely free after the previous owner was forced to abandon the building due to incredibly strict building code enforcement.
For 17 consecutive years the Cactus Hotel rooftop letters have been stored in the basement of the Cactus Hotel
There are ongoing ethical breaches involving Mr. Pfluger and City officials with regard to Cactus Hotel signage.
The entire TIRZ funding process has been corruptly manipulated in order for Mr. Pfluger to avoid enormous code violation penalties and for certain City officials to avoid massive potential lawsuits and for City officials to avoid potential public corruption convictions.
Misleading and false statements on Mr. Pfluger's proposed project budget form included in today's agenda (i.e., application to TIRZ for funding to help with Sign and Awnings for the Cactus Hotel) are an embarrassing insult to a legitimate TIRZ funding process and the intelligence of all San Angelo citizens.
Since January 2022, certain City officials in this room have intentionally deceived the DHRC [Design and Historic Review Committee] and have intentionally deceived the TIRZ board regarding this matter [Mr. Pfluger and the Cactus Hotel Rooftop sign and TIRZ funding] and have been intentionally or unintentionally complicit regarding the improper actions by San Angelo City officials regarding the Cactus Hotel Rooftop sign.
White attended many public City Council and special City committee or commission meetings to rail against the so-called corruption and to muddy Mr. Pfluger's reputation. All of the appearances were filmed and posted on YouTube and some on Facebook with the City's public information department since they were public meetings. Most of his appearances were televised on the cable company's public access channel, too. When White wasn't standing up and complaining about Pfluger and the corrupt City officials and elected leaders at meetings, he was ranting and raving on Facebook using his personal page and a special Facebook Group.
White claimed that the lawsuit was bullying by Pfluger. In filings White admitted to having no job or money. He told the court he survives on a small monthly disability stipend for subsistence. Yet, Pfluger, a wealthy businessman, filed a lawsuit seeking money White said he doesn't have.
Pfluger said after the final judgement that now the city council and a state district court — two official entities — have looked into White's allegations and ruled that Mr. White's claims of corruption are baseless.
See "City Councilman Tom Thompson Shuts Down Accusations of Corruption Over Cactus Hotel Sign" where Thompson meticulously answered every false claim by White.
"This is a win for the community," Pfluger said.
Pfluger said his point in winning the lawsuit was to protect the reputation of the community. His thinking was that at some point the constant repetition of allegations by White claiming corruption at every level of City government and collusion with private entities like his created an air of distrust in local institutions. Not many are paying attention to local government in their own busy lives but the drama created by White with his frequent public appearances on film along with his social media rants became a loud and perhaps created a defining issue based on falsehoods. Pfluger's lawsuit allowed the court to weigh in and officially state his claims were false.
"It may have many come to believe we have a corrupt community and that's not the case," Pfluger said.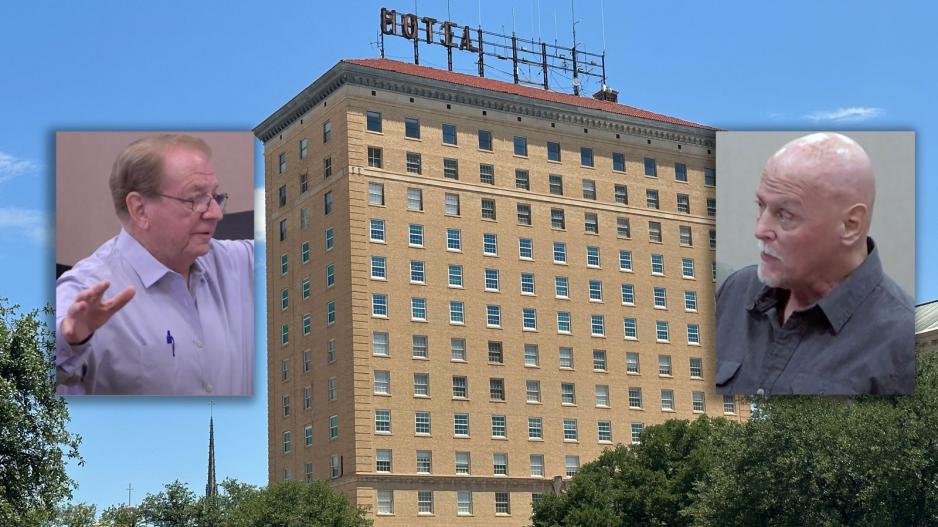 Most Recent Videos