SAN ANGELO, TX — Zane White, nicknamed in court documents as the "Cactus Crusader," ignored the court. This compelled the judge to order a default judgement in favor of the plaintiff, Lee Pfluger. Pfluger sued White for defamation over White's voluminous utterances and social media posts harassing Pfluger about the condition of the "HOTEL CACTUS" sign that is partially dismantled high atop the 17-story Cactus Hotel building, 36 E. Twohig Ave., in downtown San Angelo. White wants Pfluger to pay to restore the sign that was damaged over two decades ago. When Pfluger refused to grant White's request, White embarked upon a rampage against Pfluger, and anyone else, who did not support his quixotic quest to restore the sign.
At the heart of Pfluger's complaint are seven "slanderous statements" made by White:
Mr. Pfluger obtained Cactus Hotel ownership absolutely free after the previous owner was forced to abandon the building due to incredibly strict building code enforcement.
Mr. Pfluger obtained Cactus Hotel ownership absolutely free after the previous owner was forced to abandon the building due to incredibly strict building code enforcement.
For 17 consecutive years the Cactus Hotel rooftop letters have been stored in the basement of the Cactus Hotel
There are ongoing ethical breaches involving Mr. Pfluger and City officials with regard to Cactus Hotel signage.
The entire TIRZ funding process has been corruptly manipulated in order for Mr. Pfluger to avoid enormous code violation penalties and for certain City officials to avoid massive potential lawsuits and for City officials to avoid potential public corruption convictions.
Misleading and false statements on Mr. Pfluger's proposed project budget form included in today's agenda (i.e., application to TIRZ for funding to help with Sign and Awnings for the Cactus Hotel) are an embarrassing insult to a legitimate TIRZ funding process and the intelligence of all San Angelo citizens.
Since January 2022, certain City officials in this room have intentionally deceived the DHRC [Design and Historic Review Committee] and have intentionally deceived the TIRZ board regarding this matter [Mr. Pfluger and the Cactus Hotel Rooftop sign and TIRZ funding] and have been intentionally or unintentionally complicit regarding the improper actions by San Angelo City officials regarding the Cactus Hotel Rooftop sign.
White, upon hearing about the possibility of being served with the lawsuit, lashed out last year on Facebook, declaring:
"If the heads of that Law Firm, 'Ronald L. Holmes' and 'John David Reed' will provide me with their availability to travel to San Angelo in the near future, I cordially invite them both to be prepared to ceremoniously KISS MY ASS in front of the Tom Green County Courthouse (at High Noon), where a very large viewing audience of West Texans will be present.
"Others who agree with the stated "Defamation" accusations against me, (including any noteworthy clients of the Law Firm), are welcome to take their turns at the Courthouse as well.
"[Hell…I'll even provide knee pads and ChapStick if they're politely requested]. It's really not too hard to understand a Law Firm wanting to scam an incredibly wealthy client out of potentially $100k-$500k in order to conduct a (baseless) drawn out "High-Profile" lawsuit, (by making it appear there is a "legitimately winnable" case, when there absolutely is NOT)."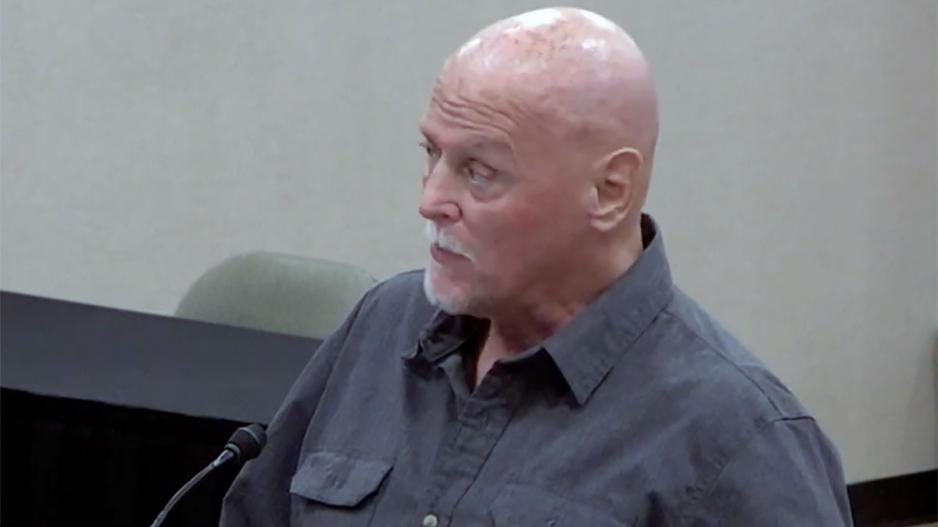 Pfluger argued in the lawsuit that none of the seven slanderous accusations were true and went into great detail denying all of them. Some were easy to deny, such as that the missing letters from the rooftop sign were stored in the basement of the Cactus Hotel building. Pfluger said they were not there but did not volunteer where the missing letters were located.
White purportedly hid from the process server, directing him to a rented post office box at the Postal Annex on Knickerbocker Rd. After affixing the lawsuit to the front and back doors of White's mother's house on S. Adams St., the court allowed Pfluger's attorneys to serve White electronically.
51st District Judge Carmen Dusek was to hear the default judgement hearing today but it was reset to March 17, 2023 because Pfluger's attorney, John David Reed, had other commitments.
Surprisingly, the court believes the upcoming hearing will be short. Only 15 minutes have been scheduled to consider the default judgement where the court will decide how much White will be ordered to pay Pfluger. Pfluger is asking for $1,000 per person who heard or read White's slanderous remarks about Mr. Pfluger.
San Angelo LIVE!'s Matt Trammell reached out to White via Facebook Messenger asking for his side. His response:
"As you should rightfully understand, Matt, I've got ZERO confidence in the integrity of your news outlet. ... Once I get apologies and corrections from the last two trash articles you folks published regarding me, I'll consider offering "on the record" comments. ... My experience compels me to suspect that a related article is about to drop, and that this request is just a move to cover your asses, (since I publicly called you out for never asking me for previous comments). Take care…"
Most Recent Videos