The Angry Cactus Goes 'Savage' on City Code Compliance Enforcement
SAN ANGELO, TX – The owner of San Angelo's most infamous restaurant says he won a battle with the City of San Angelo for all local restaurant owners today.
According to the Neighborhood & Family Services Director Rob Salas, on Mar. 25, the City of San Angelo received a complaint about signs that were displayed without a permit. These signs were posted in front of the Angry Cactus at 1 W. Concho Ave. to promote the only way they can stay open — that's through their carryout and delivery service.
Owner of the Angry Cactus Tim Condon claims the city taped a paper stating they have violated city ordinances. Here is that notice: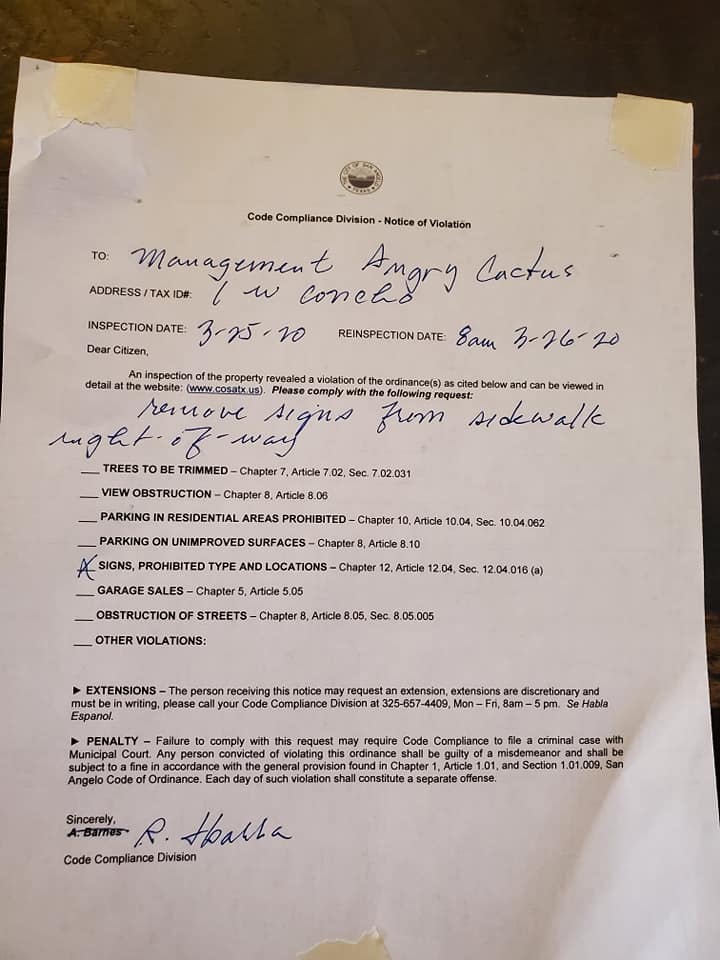 After the letter was posted, Condon and the City worked out a way to let the violations be forgiven without punishment for now. "Management offered direction offering leeway until this period is over." said Salas. 
Although the City came to an agreement, Condon thinks that this was an attack on his business. "The people here said it was coming from higher up." said Condon. "This was the same thing that was told to me when I was forced to take Lonestar Cheeseburger around the block." He was referring to that time when he was forced to prove the large trailer housing his other restaurant, the Lonestar Cheeseburger, was mobile by driving around the block.
Like the last incident, this time, Condon turned again to social media to voice his opinion.

The City of San Angelo claims that they will be doing this to any violation that is reported. Although the City staff understands every case is different, the main rules to focus on is to not block street or sidewalk travel and don't cause an obstruction of view. 
The City said they will not enforce any penalty to the Angry Cactus for this violation.
"I'm glad the city caved to the Angry Cactus." said Condon. "The small guys haven't won the war yet but we won this small battle." 
Condon also accused Mayor Brenda Gunter of conspiring against his business because Gunter owns Miss Hattie's Cathouse Bar and Lounge down the street. We called Gunter and asked. "I know nothing about this going on. I did not order this. We have way too much on our plate to worry about Tim's signs," she said. Gunter said she wants Condon's Angry Cactus and all downtown businesses to thrive and expressed her belief that a thriving downtown business district will be crucial to getting San Angelo back on its feet when the COVID-19 restrictions can be lifted.
"And if Tim isn't running the Angry Cactus, who will?" Gunter asked.
Condon launched the Angry Cactus in 2014 by winning a battle against the City. Back then, some were concerned the cactus statue that now sits above the front entrance appeared to be sexual. Details.
Get more stories like this by signing up for our daily newsletter, The LIVE! Daily.