City Approves $3.3 Million Infrastructure Project in Industrial Park
SAN ANGELO, TX – The San Angelo City Council this week approved a plan to expand infrastructure in the San Angelo Business and Industrial Park by awarding a construction services contract to Reece Albert, Inc. 
The unanimous vote ratifies a resolution by the City of San Angelo Development Corporation to award the bid for infrastructure improvements including paving, utilities and drainage in Phase 2 of the industrial park. 
According to information presented to the council, The scope of this project is to complete the drainage improvements deferred during the Phase 2.1 contract done as a change order to the AEP contract for construction of their building at 1129 Gateway Drive. The public improvements were completed under the AEP contract to accommodate the aggressive AEP construction schedule. Drainage improvements were deferred at that time to both accommodate the AEP schedule and to obtain lower unit costs as a part of the larger Phase 2.2 Project.  
Total cost of the project is $3,354,682.70.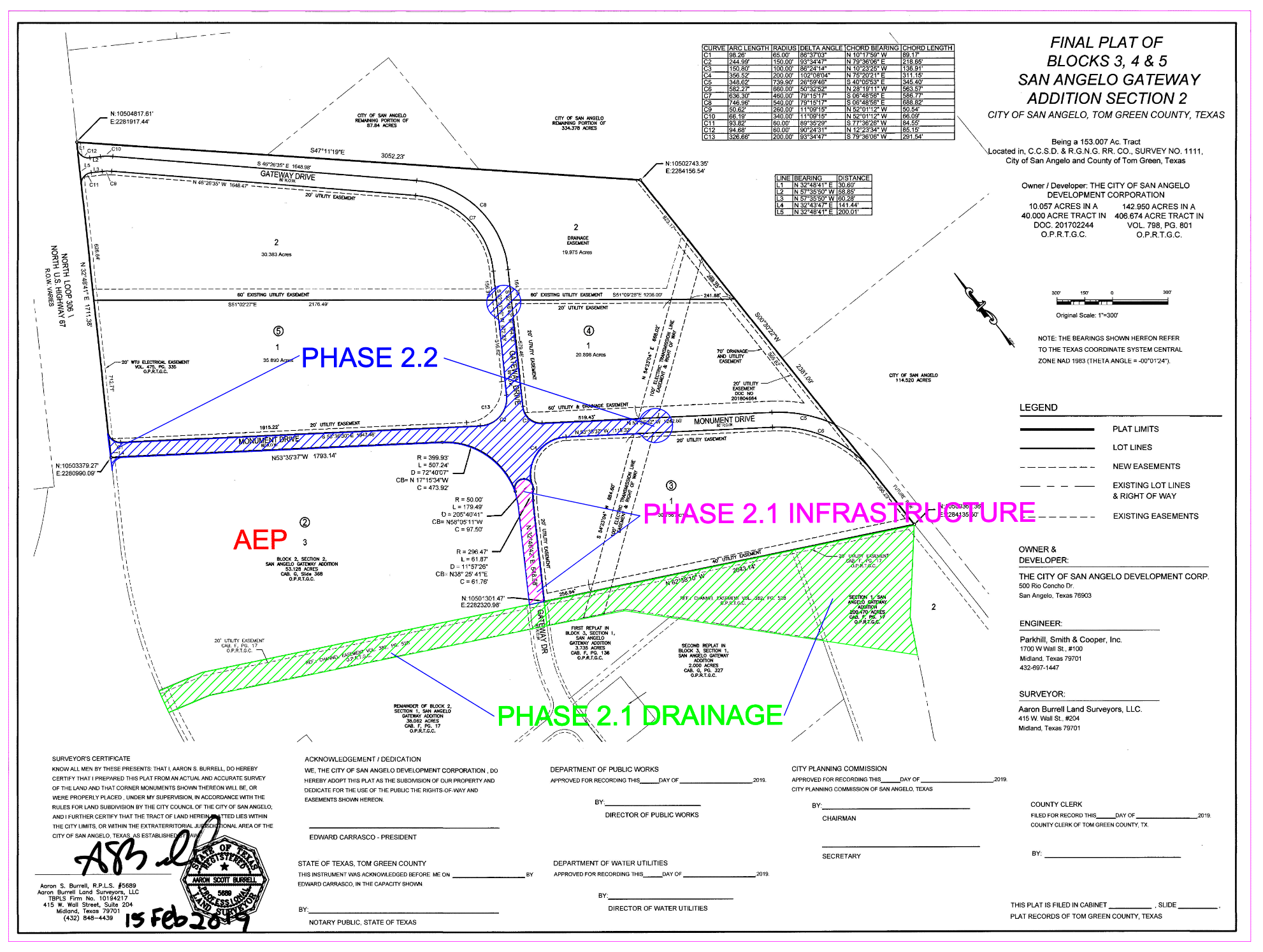 Above: Map of Industrial Park in phases
busindparkphase2.pdf - Download the map in *pdf.
Phase 2.2 will extend public improvements beyond the AEP site and construct the portion of Monument Drive connecting Gateway Drive with the Hwy 67 Frontage Road and extend both Gateway Drive and Monument Drive.
The project is divided into two phases because the City received a grant in the amount of $1.25 million for construction of the Phase 2.2 improvements from the Federal Economic Development Administration (EDA). The EDA grant will not fund improvements in Phase 2.1.
Get more stories like this by signing up for our daily newsletter, The LIVE! Daily.