Goodfellow AFB Ready for 7,500, Not 20,000 Unaccompanied Alien Children
SAN ANGELO, TX — Goodfellow Air Force Base released a study Friday telling the U.S. Department of Health and Human Resources that the 17th Training Wing has a plan for housing 7,500 unaccompanied illegal immigrant teenagers at the San Angelo base  (the Department of the Air Force Study is quoted extensively herein).
According to a report in the Military Times by Tara Copp, at a Pentagon briefing Monday, Army Col. Rob Manning, a spokesman, confirmed Goodfellow would initially take up to 20,000 unaccompanied minors who crossed into the U.S. without a parent, and Ft. Bliss near El Paso would handle another estimated 12,000 undocumented families. Previously, families were split apart after they were detained at the border, but after widespread criticism the Trump administration ended the practice.
When news first broke that Goodfellow AFB would be housing illegal immigrants, County Judge Steve Floyd said Goodfellow AFB will house 1,000 detainees initially expecting an increase to 7,500.  Floyd says they will be 13 to 17-year-old unaccompanied males and females. They are expected to be at Goodfellow AFB from July 31 until December 18 with a possible extension of time.
Turns out Judge Floyd was right. 
Floyd late Friday said, "This assessment was part of the plan as was briefed at the onset of the announcement that 7,500 migrant children, or what the U.S. Department of Health and Human Services officially calls Unaccompanied Alien Children, or UAC, will be housed at Goodfellow AFB. There were no surprises that the study was ordered and conducted. It was all part of the preparation stage."
Floyd said there has been no execution order given to begin the construction of the temporary facilities. However, he said, an Air Education and Training Command (AETC) four-star general will be visiting Goodfellow AFB early next week to assess the situation. That could very well be the AETC Commander, Lt. Gen. Steven Kwast, who is based at Randolph AFB in San Antonio. Goodfellow AFB's 17TRW is under the AETC command.
The Proposed Action would include providing all care, supervision, meals, clothing, medical services, transportation, and other daily needs of the unaccompanied children. A separate gate would be constructed along Old Eola Road, with concurrence received from the City of San Angelo on June 30. All entrances and exits from the Proposed Action area would occur through this gate.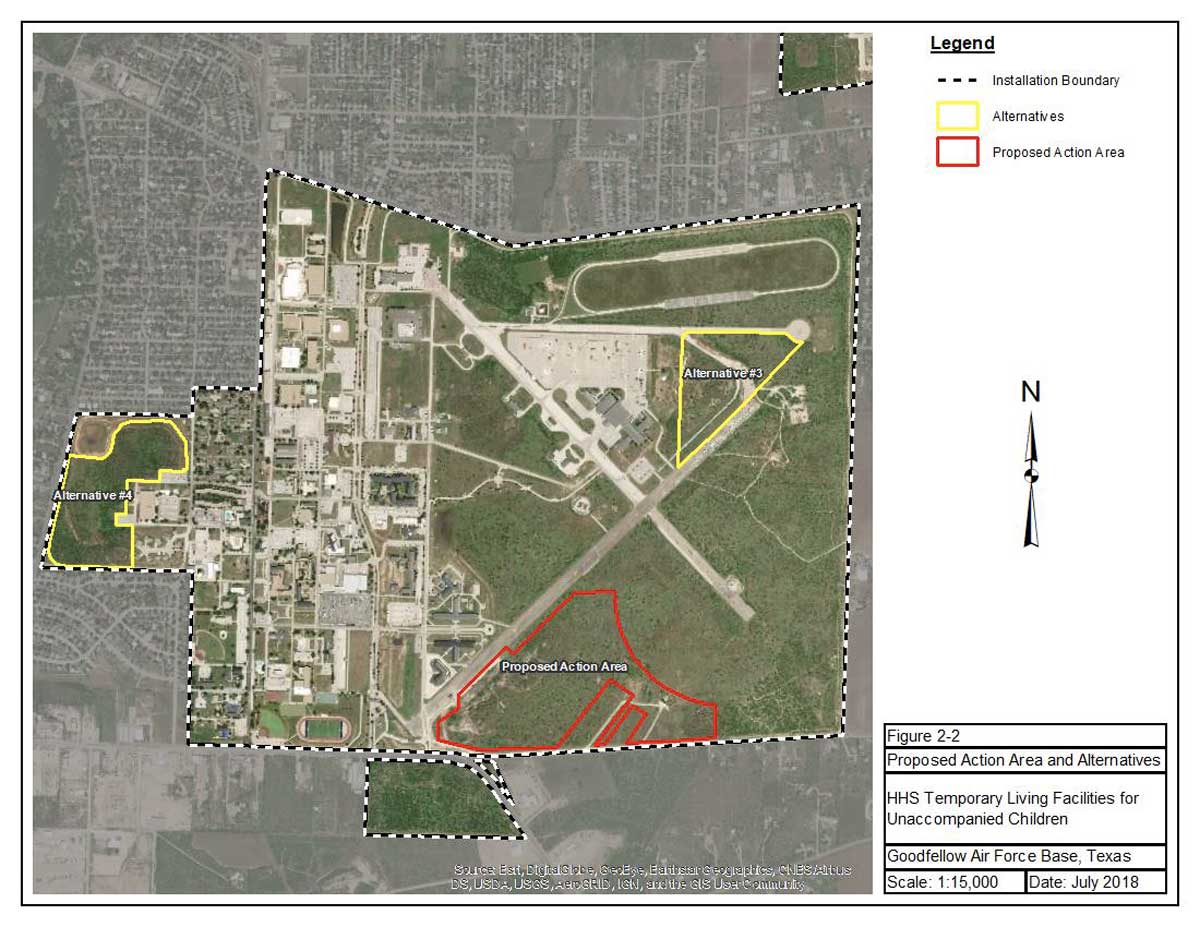 The exhaustive, 126 page document never mentions the 20,000 Unaccompanied Alien Children, or UAC, that was described in a report we recently ran quoting a source from the Pentagon.  
Under the Proposed Action, the Air Force would provide approximately 70 contiguous acres of level and cleared land, erect temporary structures to provide living and sleeping quarters for up to 7,500 unaccompanied children and work facilities for approximately 7,500 HHS support staff for up to 180 days.
"While the on-base land use designation would temporarily change as a result of the Proposed Action, this change would not conflict with the adjacent land uses at Goodfellow AFB. The Proposed Action area would be surrounded by security fencing to separate the facilities from the remainder of Goodfellow AFB and its mission and operations and, therefore, would not conflict with the adjacent on-base land uses. Additionally, the Proposed Action area would be confined to Goodfellow AFB so it would not conflict with off-base land uses. The Proposed Action would not result in the loss of public lands. No significant impacts would be expected as a result of the Proposed Action."
This is how the Air Force describes what will happen.  The Proposed Action would provide sufficient support structures, construction laydown area, and security fencing to separate the temporary facilities from other areas and functions at the base.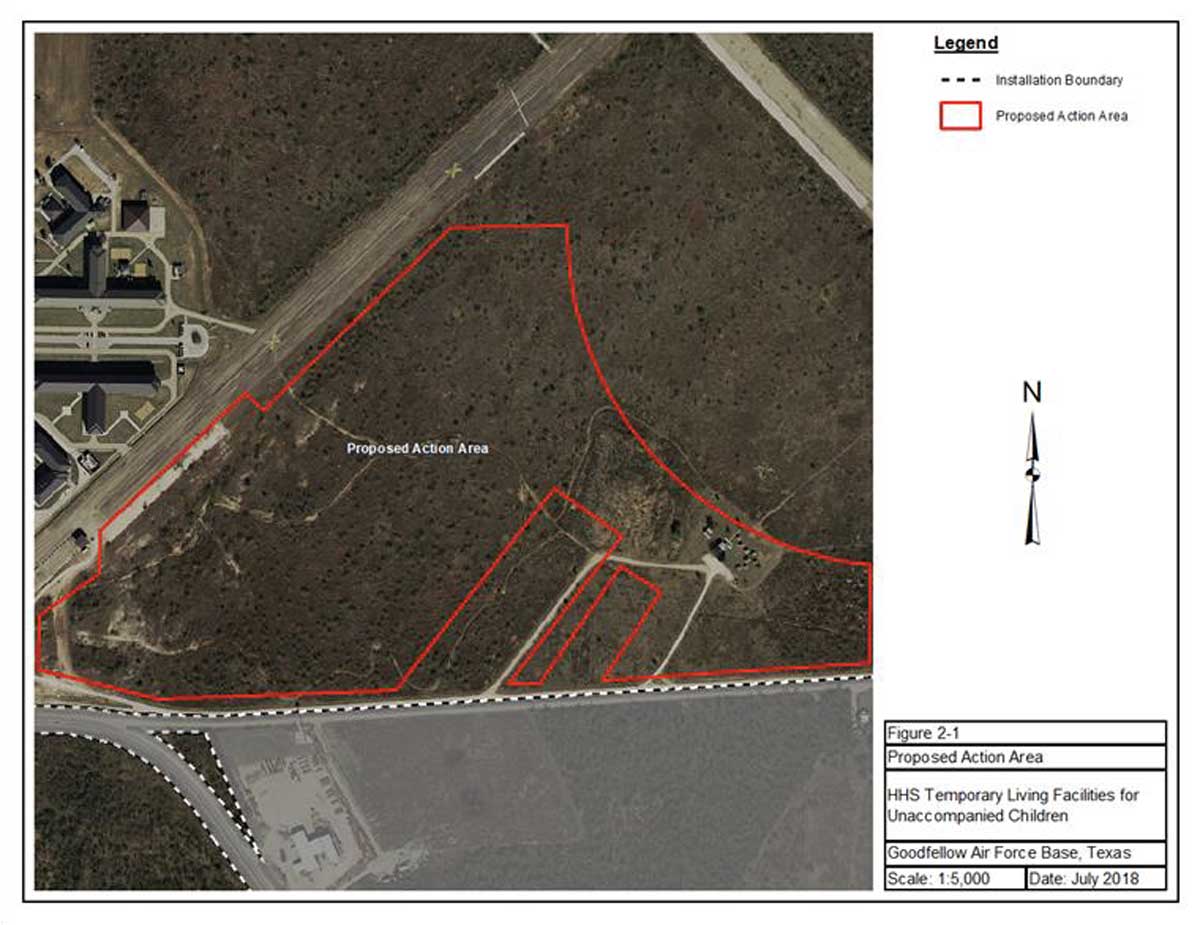 The following activities would be completed by the Air Force to enhance the unaccompanied children capacity in a timely manner:  Clearing and leveling land for the purpose of erecting semi-permanent structures to shelter unaccompanied children; Allowing HHS to use the Department of Defense's temporary facilities for mass sheltering;  Erecting temporary facilities; and Helping transport unaccompanied children from one facility to another in the event of a significant weather event or natural disaster. Erection of the entire Proposed Action is estimated to require up to 30 days. Design plans and specifications are not yet available and a construction schedule has not been fully determined, pending fiscal and other approvals.
The following detailed information is available regarding changes to the Proposed Action area:  Fencing would be erected surrounding the entire Proposed Action area and separating it from the main part of Goodfellow AFB. Neither unaccompanied children nor HHS employees would have access to Goodfellow AFB.
Grubbing (removal of trees, shrubs, stumps, and rubbish) and clearing of vegetation would be accomplished within the Proposed Action area. Bulldozers and graders will be used for clearing activities.  Cleared areas would be covered with approximately 12,000 cubic yards of caliche for erosion and runoff prevention. Caliche would remain intact after HHS departure and site decommissioning.
Water and electrical connections would be established to existing utility lines. Water connections would be established immediately.
This is how the Federal Government spends your money: Electrical connections would take up to 60 days, during which time approximately 25 generators will be used temporarily to provide electricity until the connections are completed. Up to 3,500 linear feet by 3 feet deep and 3 feet wide (Total of 31,500 square feet) would be trenched and excavated for water and electrical line connections. Electrical connections would remain after HHS departure and site decommissioning, and water infrastructure would be abandoned in place.  Environmental Restoration Program sites would be fenced off and inaccessible to HHS & unaccompanied children. The network of fitness trails would be removed with grubbing process and will not be restored.
Perimeter Road would be inaccessible to Goodfellow AFB commercial traffic until HHS departure and site decommissioning.  The Proposed Action area would be restored to Open Area and/or Open/Recreation land use after HHS departure and site decommissioning.  Sewage, solid, and hazardous waste would be collected and transported offsite weekly in five trucks. Supplies would be delivered weekly in five trucks.  
HHS employees would arrive onsite in 12 hour shifts via bus or three or more person carpool; shift changes would not occur during peak hours of 5:30 a.m. to 8:30 a.m. and 3:30 p.m. to 5:30 p.m.  HHS employees would be housed in hotels, with a minimum of 2 employees per room.
Operation of the shelters is estimated to last up to 180 days, after which the disturbed areas will be returned to the former land use classification  Additional specific requirements for analyzing each resource area are discussed in Chapter 4 of the study. It is expected the children and HHS staff will arrive onsite in stages. For the purpose of the analysis, the buildup is estimated to be 1,000 unaccompanied children and 1,000 HHS staff per week. So, the buildup would be over a 7.5 week period, if full capacity is reached.
Get more stories like this by signing up for our daily newsletter, The LIVE! Daily.