Heff's Hamburgers in San Angelo Gets Evicted
SAN ANGELO, TX — If you read the notice on the door of the former Heff's Hamburgers location at 2019 N. Bryant Blvd., you'd think the popular multi-location hamburger place is on its knees financially. The San Angelo location closed today because they were evicted from their building.
At the Heff's location is a yellow-green notice posted on the door:
"The locks to the premises…have been changed in accordance to the commercial tenancy laws of the Texas Property Code of the State of Texas," the sign reads.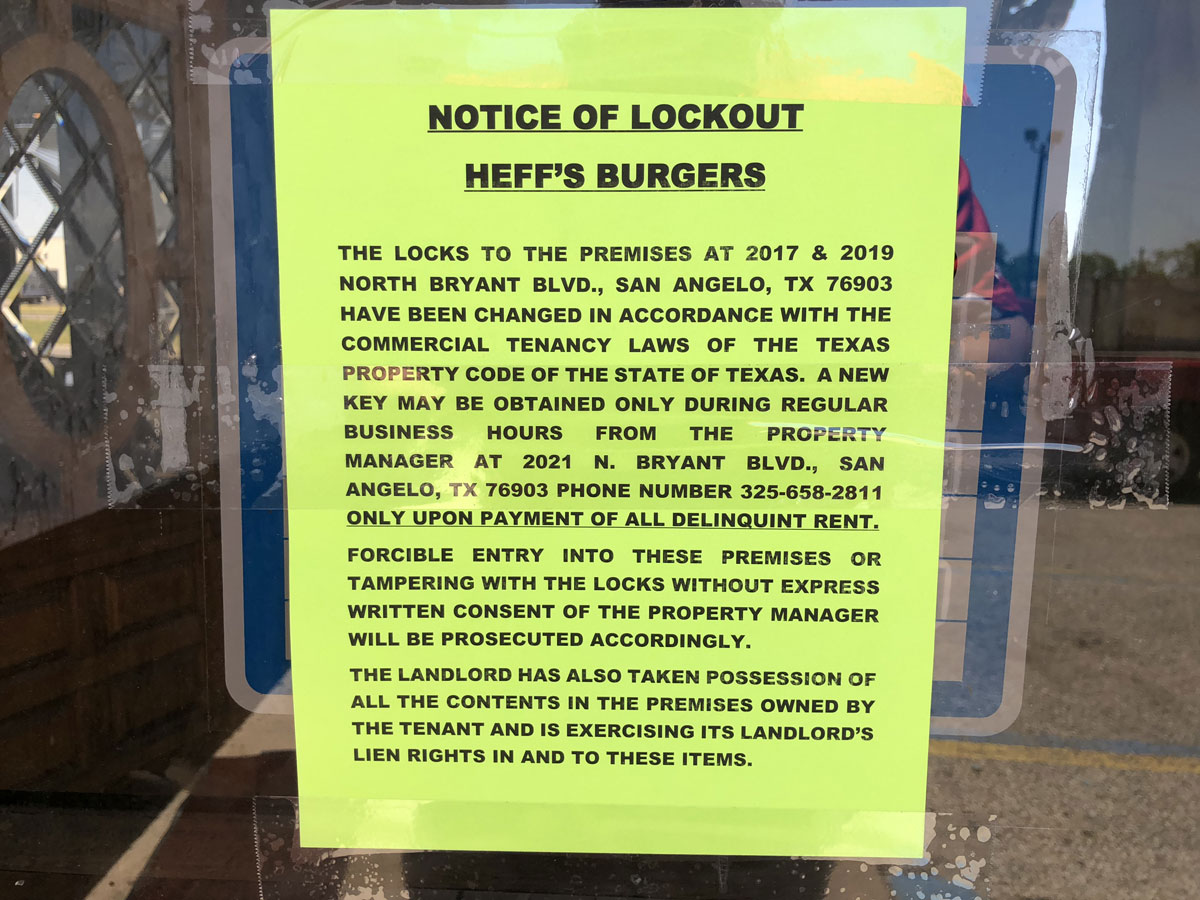 Scott Zaruba, who manages the property for Inn of the Conchos, said Heff's fell behind on its rent and he was forced to take action. He said he and Heff's owner, Brenda Heffernan, had made an agreement to cure the late lease payments a couple months ago, but Heff's didn't live up to their end of the bargain.
Not according to Heff's Heffernan. The place has sewage problems, plumbing issues, and the ceiling is falling in, she said. And, she continued, the fire department said it was unsafe. She said they left on their own.
Meanwhile, Heffernan said she was exploring other locations in San Angelo. A year and a half ago, in January 2017, Heffernan said they were opening a second location on Knickerbocker Rd. where the building housing Stott's Chiropractic was located. The Stotts building was torn down to make way for a car wash, and Heff's was going to build a stand-alone restaurant next door, similar to how Heff's is in Abilene, staking an all-beef hamburger flag in the middle of the Chicken District. The building was supposed to open in April or May 2017, Heffernan said back then.
Today, she said the building was delayed due to weather.
Nonetheless, Heff's will re-open at a new location in a few months, she promised. Maybe six more months, Heffernan said. She said they needed a better location than the former Cactus Jacks where her restaurant is being evicted.
Zaruba said he addressed building issues as he was told about them. Most of the building was practically brand new after a remodel for the previous tenant, he said. "The roof is one of those flat roofs that will always have problems with heavy rain," he said. "Whenever a leak happened, we got a roofer over there quickly to patch it up."
For Heffernan, she is taking the eviction notice in stride. "We had quite a good business in San Angelo," she said. "People still love our burgers."
Heffernan stressed that Heff's burgers were voted best in Lubbock and best in San Angelo in the local newspapers. There are three Heff's locations in Abilene, she said. They are expanding, too. There's a restaurant in Wichita Falls and their newest location is located in the former Starbuck's building just north of I-20 in Eastland.
As for the rent Zaruba said Heff's owes him, he said it was time to call the lease. A deal is a deal, he said. Now the eviction of Heff's Burgers in San Angelo is in his lawyer's hands. He wouldn't say any more than that.
Zaruba said the building is in good shape and he has some potential suitors already. If you are interested in operating a restaurant next to several north side motels, Zaruba said to call him. His number is on Heff's eviction notice above.
---
Update June 6, 2018
In an email, Heffernan stressed that Heff's wasn't evicted, rather that her business vacated the premises prior to the Inn of the Conchos posting the sign on the door. The sign reads that the tenant has been "locked out" and its contents seized. Zaruba said that Heff's wasn't welcome back unless they paid what the Inn of the Conchos claims Heff's owes in delinquent rent. According to court documents, in March 2018, Heff's agreed to pay Inn of the Conchos nearly $55,000 in unpaid rent, late fees, attorneys fees, and court costs.
Get more stories like this by
signing up for our daily newsletter, The LIVE! Daily
.