Don't Want to Go Out in the Cold? Catch Up With Concho Concierge
SAN ANGELO, TX – Keeping an eye on San Angelo means we also see a lot of businesses open and close.  According to the U.S. Small Business Administration roughly 20 percent of small businesses last beyond the second year.  Below is a follow-up of Concho Concierge, a locally owned small business that started in Feb. 2015 and how it fares today, two years later.
Back in 2015, our writer, Brandy Ramirez, covered a story about a service industry that had sprung up over night.  It spurred the need to cover all the providers of that service—delivery companies.  A business model built on food and grocery delivery providing customer service and convenience inspired multiple entrepreneurs to start those services in San Angelo.  One of those companies,  Concho Concierge, owned by Justin Walcott, survived and thrived.  You can read more about each of those providers in the article here. 
Several facets of Concho Concierge are still the same in 2018.  A few have changed since the business has grown.  Concho Concierge provides services beyond food and grocery delivery now.  Although not a completely comprehensive list of services they provide, the magnitude shown below gives just a snippet of how Justin has grown his business of facilitating peoples' needs in the Concho Valley with what he describes as, "a personal assistant service," rather than a delivery service. You can call Concho Concierge if you need:
Courier Services
Food & Grocery Delivery
Transportation
Non-CDL Hotshotting
​Basic Roadside Emergency Services, (such as running out of gas, or dead battery.)
Landscaping
Housekeeping
Moving
Mechanic Services
Pick up and drop off vehicles for oil changes and cleanings
House & Pet Sitting
Short Notice Staffing
Trash Hauling
Justin said they are open 24 hours a day seven days a week. Yet unlike the days in 2015 when we spoke to him, he now is mostly a dispatcher instead of the only regular employee. He now has subcontractors filling in as needed and on-call at all times.  He keeps an average of 10 employees on staff and has relationships with subcontractors for very specialized services or heavy use time, like midnight to 4 a.m., or "bar 'o' clock," when there are 4-6 guys taking people to their destinations instead of driving drunk.
Justin shows a lot of pride when he describes coming from San Angelo. He employs workers who live here, growing his business to best serve people in San Angelo and the surrounding area.  He finds out the skill sets of each hired employee and subcontractor so he can assign the right person for each request. 
When people apply to work for Concho Concierge, they undergo a background check, must have a valid driver's license, and keep current insurance for their vehicles.  Justin says it is really important for him, when looking at a prospective employee, that they display punctuality, trustworthiness, reliability, and discretion.  Folks driving for Justin also are required to keep "good" or better vehicles that are in good working order.  Since he operates his business by providing the public flexibility, reliability and convenience, it is important to him that anyone who works for Concho Concierge upholds those standards as well.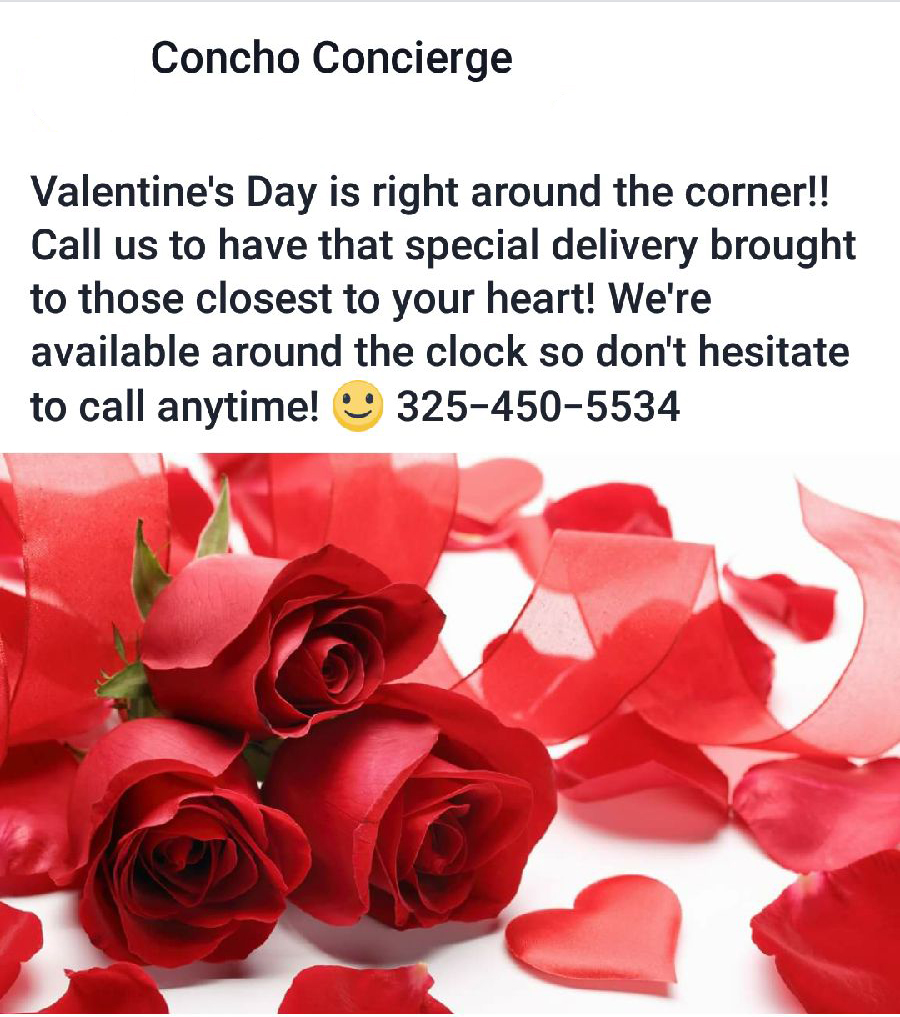 Justin's business has grown a lot since it's conception. And with it there have been growing pains.  New regulations by the city to address the different structure of hired transportation, unrealistic expectations at times by people who fail to plan well, and having an infrastructure that can handle such diversity as well as the high volume of calls and needs.  In the short term he plans to work on creating a better infrastructure and adding even more services to Concho Concierge's list of "can-do's."  In the long term he hopes to provide a needed value to the area here and further the reach of his company to serving other areas in Texas.
If you need the services of Concho Concierge, (maybe to avoid going outside in the never ending winter of 2018, haha,) don't hesitate to give local, Justin Walcott, a ring or text at (325) 450-5534.
Get more stories like this by
signing up for our daily newsletter, The LIVE! Daily
.