Ricky Villarreal Against the County
SAN ANGELO, TX — Bail bonding is big business in San Angelo. On any given night, there are 450-500 defendants and offenders incarcerated at the Tom Green County Jail. With the right approach, with aggressive marketing, the right person can make a splash in the local market.
That is what some say may have happened with Ricky Villarreal, owner of Freedom/Libertad Bail Bonds. They think he got too hot for his britches. At least that's the way Villarreal sees it.
"We were posting more and more bonds than most everyone else. I think they didn't like that," Villarreal said.
Others dispute that claim, but all agree that Villarreal was gaining momentum in the highly competitive San Angelo bail bond market.
Villarreal started his career selling pre-need insurance plans for Johnson's Funeral Home when he was 18. He honed his sales style, and presents himself today in that same characteristic manner. "They wanted me to go after the younger prospects," Villarreal said. To sell insurance policies that pay for one's burial to a 20-something is a tough assignment. Villarreal honed his ability to connect with people on a personal level. In sales, it's called 'creating the relationship of trust' before pitching for the sale.
Pre-need sales led to selling Farmers Insurance for a short stint, and then he opened up his own insurance agency 12 years ago. He said he has a few thousand clients. Many of them are poor and have no credit. His top selling insurance policies are the kind you purchase with no credit check. But in San Angelo, everyone has to drive, and to legally drive a car on public roadways, you need at least liability insurance. "I'm doing my best to get uninsured drivers off the roads," he quipped.
Now 35 years old, deeply religious and Christian, Villarreal noted that before he went into business for himself, he saw a vision of two angels atop a mountain encouraging him to take the plunge to become an entrepreneur.
The startup wasn't easy. Villarreal said early on, he cleaned Laundromats at night to help finance his business and he persevered.
Inside his offices at 1104 N. Chadbourne St., paintings of four angels adorn the four walls and Jesus Christ is in the center, all as a tribute to his mountaintop vision and, Villarreal said, God's protection over him and his company. Since thriving with his insurance company, he added a tax preparation service and bail bonding company at the same location recently.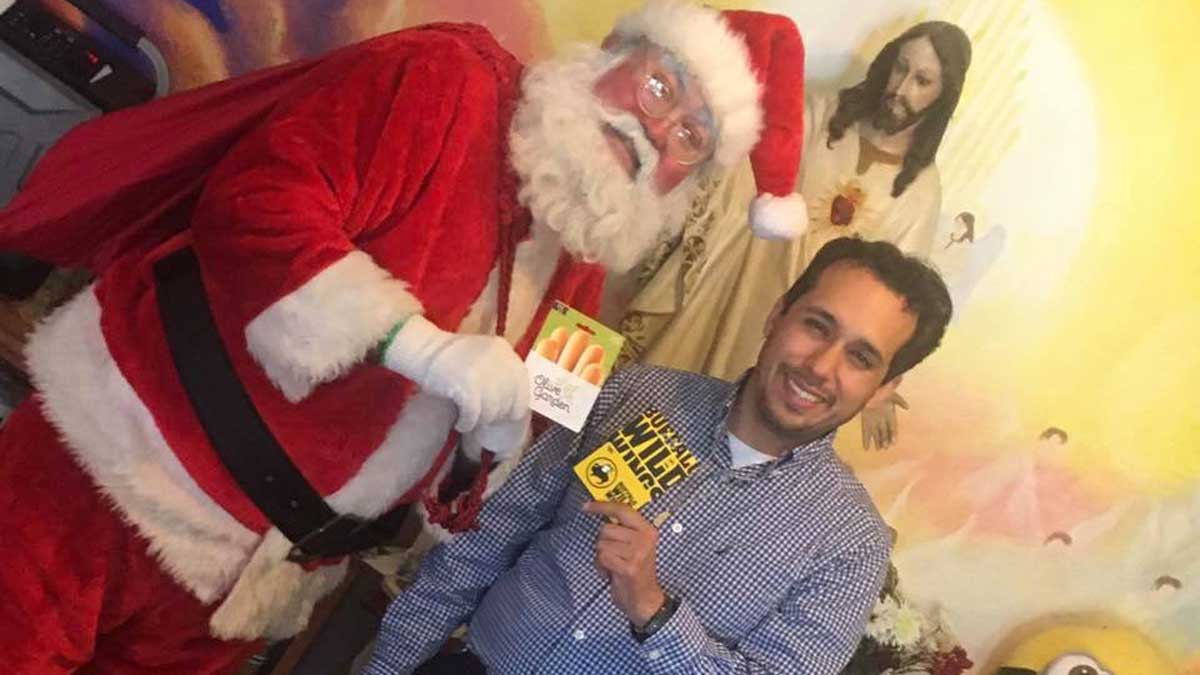 Above: Ricky Villarreal, right, with Santa. The two are promoting a gift card giveaway to attract customers to his business. (Rick Villarreal's Facebook)
He said his prayers and pleas to the Lord are particularly urgent now as he fights what he believes is an assault on his business.
The tool Villarreal's opponents may have used to attempt to shut down the upstart was the Tom Green County Bail Bond Board. If true, it's a tale John Stossel will find interesting: incumbent, established companies using government intervention to crush small or start-up competitors.
In September, the Bail Bond Board took up a several complaints of Villarreal's Freedom/Libertad Bail Bonds and considered revoking the company's right to post bonds in the county. A license suspension would be a deathblow to Villarreal's business.
The complaints revolved around paperwork, and compliance with Texas statutes.
The Tom Green County Sheriff investigated on behalf of the board and, Villarreal said, it seemed like he soon became the object of a fishing expedition. Harvey Silvergate described the problem in his 2011 book, Three Felonies A Day: How the Feds Target the Innocent. Silvergate's point was that if a criminal investigator looks long and close enough, we are all guilty of something, even the president of the United States.
Except Villarreal is a licensed bail bondsman, a professional occupation fraught with a mountain of State laws—the dos and don'ts of springing the defendant out of jail for a little freedom prior to his or her scheduled court hearings. To write a bail bond, you have to comply with those laws.
Dianna Spieker serves as the chairwoman of the Bail Bond Board. She said the board was not out to "get" Villarreal, but at the same time, when a formal complaint is lodged, the board cannot merely brush it off or ignore it. Acting on multiple complaints, she said, the board investigated and found problems with Villarreal's documentation. "So we took action," Spieker said.
Among the findings most heard about was that Villarreal stole a car from a client named Philip Horton. Horton, who is in jail today, was provided a $50,000 bond by Villarreal's company in July after going to jail charged with Aggravated Assault with a Deadly Weapon.
Horton didn't have the cash to pay for the bond, so Villarreal said he accepted Horton's old car as payment of $1,000 towards the fees. During the audit, investigators assumed the car was simply collateral, and Villarreal should have placed a lien on the car. Instead, Villarreal sold the car to another party.
But Horton backed up Villarreal's claim by providing a written statement and later a notarized affidavit stating that Horton sold the car to Villarreal for $1,000.
In Horton's notarized affidavit, he also claimed he was scheduled to testify in Villarreal's favor at the Bail Bond Board meeting on Oct. 27. But Horton had a previous bond posted by competitor Concho Bail Bonds for an earlier arrest for possession of methamphetamine that DPS found on him during a traffic stop on U.S. 67 north. Before he could testify, Horton wrote, Concho Bail Bonds pulled his bond by filing a 17.19 affidavit.
A 17.19 affidavit is a document a bondsman files with the court to indicate the bondsman's intention to surrender the bond and request to court to issue a warrant for their soon-to-be former client's arrest and re-booking into the jail.
Horton went back into the Tom Green County Jail before the hearing and could not testify on Villarreal's behalf.
The other interesting piece to this story is that Concho Bail Bonds' owner, Louie Perez, is the vice chair of the County's Bail Bond Board.
During the audit, Villarreal's 17.19s became the focus of a criminal investigation by the Sheriff's Office.
Sheriff's Detective William Fiveash found evidence that Villarreal's Freedom/Libertad Bail Bonds was filing 17.19 affidavits in the local courts "with knowledge they were false and with the intent to affect the course or outcome of the investigation of official proceeding, and proceed with prosecution."
The case was presented to the district attorney.
Villarreal's lawyer, Ken Good, of Tyler, took exception to Fiveash's conclusion. He stated in an email that the Tom Green County documentation standards are not in compliance with Texas law, and that most of not all San Angelo bail-bonding companies are guilty of similar "illegal" activity.
Good produced the 17.19 affidavit of Horton's as had been presented to the court by competitor Concho Bail Bonds, along with receipts from the bonding company for payments by the defendant. The competitor's paperwork revealed that the Tom Green County requirement to state the amount of fees paid by the defendant were difficult to document.
The problem happens when a suspect has more than one bond with the same company. In the bonding company's account management systems and receipts, the payments are not necessarily tagged to one particular bond or another.
In Concho Bail Bond's records that Good provided, Horton's account is meticulously detailed with two bond fees and $1,700 total in payments. However, on the 17.19s for each bond, item 4, the report to the court of the amount the defendant paid on each of the bonds, is listed as $1,500.
If the defendant paid in total $1,700 for two bonds, how did the 17.19 affidavit reflect accurately that only a total of $1,700 was paid when the official court document a bail bondsman provided indicated the defendant paid $1,500 each, totaling $3,000?
Villarreal said he too had trouble documenting the exact fees an each bond he was holding if the defendant had multiple bonds.
Fiveash's affidavit available to us doesn't detail that this is the exact reason for his conclusions, but Attorney Good blasted the Bail Bond Board for overlooking competitor Concho Bail Bond's similar transgressions.
"I would encourage you to ask Concho Bail Bonds to provide copies of the affidavits filed for the last year.  Thereafter, you may request copies of the files for these defendants to satisfy yourself that Concho Bail Bonds is in compliance with the law," Good wrote in an email to Chairwoman Spieker and the board's attorney Ginger Treadwell. Good thought they were not.
In the end, because Villarreal fought back, he was given a probated suspension for 45 days with the agreement that Villarreal will "self-suspend" for 45 days himself. The end of his self-suspension is midnight, December 29.
Spieker said she didn't believe the complaints filed against Villarreal were part of an organized effort. That competitor Louie Perez is the board's vice chair isn't a conspiracy, either. The by-laws of the board require a licensed bondsman to sit on the board, and Perez is elected to the board by his peers.
The board receives many complaints, Spieker said, but usually the complainant will not provide the necessary paperwork. "And we get complaints of bail bondsmen stealing clients from each other all the time," she said. The board considers each complaint seriously, if it's documented adequately, she said.
At the Dec. 13 meeting last Wednesday, the board considered four complaints, three against Concho Bail Bonds, one against Angelo Bail Bonds. Spieker said the board took action, though the minutes aren't posted on the county website yet to verify.
Spieker said Villarreal turned in all four of the complaints, though different complainants signed each.
In the end, Spieker said she hoped Villarreal continues to be a bail bondsman in the county. "We need more of them. Our jail is way too overcrowded," she said.
Perez, too, was supportive of Villarreal. "I'll offer to help in any way I can," he said.
One hopeful sign for Villarreal is an agenda item for Dec. 13's meeting to review county bail bonds rules and regulations. Spieker said the purpose of the board was to make sure bail bonding in the county complies with State law, and that the license holders uphold standards. The Villarreal episode informed her that the board has some work to do to improve the local industry for everyone, particularly with documentation.
Spieker said there is no favoritism by the board even while bail bonding is a cutthroat business.
As part of Villarreal's self-suspension, Villarreal and his attorney agreed to retrain the staff on proper documentation and procedures to avoid future pitfalls like this. Villarreal promises his bail bonding company will be re-opened the first day of business after New Year's Day.
We're Raiding Your Office!
With the problems with the Bail Bond Board over, Villarreal was beginning to recover. Then, out of the blue on Friday, while away from his office, he received a phone call from the Texas DPS. They had a search warrant, DPS said. His office was the target of an investigation involving the possession of child pornography. Late Friday morning, DPS detectives raided his offices looking for suspect electronic devices that may contain the illegal images and videos.
Villarreal had pitied an older gentleman, Claude Kirk, when he was discharged from Shannon Medical Center after getting heart treatment. Kirk was homeless, and his wife had died recently, Villarreal said.
At his office, there is a small one-bedroom apartment with a bathroom. It is a separate part of the sprawling old building. The room was available, so Villarreal took him in and let him stay there for free.
After the DPS warrant was executed, DPS later stated that Kirk admitted to the charges. He was booked into the Tom Green County Jail.
No arrest warrants or search warrants point towards Villarreal as having anything to do with the offense, other than allowing the man to reside in an apartment at his place of business.
"I was guilty of being a Good Samaritan," Villarreal said, handing me a printout from BibleGateway.com of Luke 10:25-37.
The sheriff's office had nothing to do with this investigation that originated at a special crime unit in Abilene with the DPS. This was no county conspiracy here, either.
It's been a full quarter of bad news for Ricky Villarreal. Through it all, he has kept his head high and concentrated on clearing his name.
"Clients think I'm a goner. Some think they don't need to pay their bills from me anymore. It's been tough," Villarreal said.
He's still optimistic about his future, though. Will 2018 be a better year?
"You bet," he said.
Villarreal's San Angelo Insurance, Libertad/Freedom Bail Bonds, Concho Bail Bonds, and the Dianna Spieker for County Treasurer are all present or past advertisers on San Angelo LIVE!
Get more stories like this by
signing up for our daily newsletter, The LIVE! Daily
.