Dates

Mar 12, 1930 Sep 22, 2023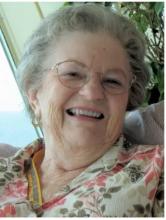 Pat Roberts Richardson passed to eternal life on Friday, September 22, 2023 at the age of 93 years old.
Pat was born in 1930 in Duncan, Oklahoma, to Silas B. Roberts and Eunice Burleson Roberts. In 1951, she married the love of her life, Cecil George Richardson. They were married for 71 years when Cecil passed in 2022. They were blessed with a son, Mark, and a daughter, Dena. She returned to school in the late 1960s and earned both a bachelor's and master's degrees in Accounting from Angelo State University. She worked for GTE for many years in San Angelo, Dallas and Tampa, Florida.
Pat had a wonderful memory most of her life, even to remembering the license plate numbers of her out-of-state family members' cars. She loved cooking, photography, history, genealogy, traveling and her family. She and Cecil spent many happy days traveling and delving into past records tracing their family histories. In her 80s, she took up painting which she loved. She was feisty, fun, sentimental and dearly loved by her family.
Pat was preceded in death by her husband, father, mother, sister (Helen Cunningham) and niece (Laurel Cunningham). She is survived by her son and daughter-in-law, Dr. Mark and Jamie Richardson, her daughter and son-in-law, Dena and Jerry McKenzie, her grandchildren, Jennifer, Ryan and Katarina and Robert Richardson, Caitlyn and Jaina McKenzie, her great-grandson, Cohen Richardson, and several nieces and nephews.
A memorial service will be held on Saturday, September 30, 2023 in the Chapel at First Methodist Church, 37 E Beauregard Ave in San Angelo, Texas at 11 o'clock a.m.
Write Your Tribute