Dates

May 08, 1949 Sep 21, 2023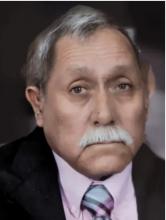 Antonio Martinez Hernandez, 74, died on 21 September 2023, at Shannon medical center. He was born May 07,1949, in Barrio de Los Angeles, Rio Verde San Luis Potosí Mexico, the son of Pedro Martinez and Elodia Hernandez.
Antonio grew up working on a farm with his 2 brothers and 6 sisters, his passion was riding and working with horses, and anything to do with the farm and animals. On 1966 at the age of 17 he decided to migrate to the United States in the search for a better way of life arriving to the Schwartz family farm that he constantly considered his second home and family.
Antonio married the love of his life, Magdalena Maldonado on March 24, 1974. They celebrate their 49 years of marriage in March. Anyone who knew Antonio knew that he was the most loving Father and husband a family could ask for.
In addition to his parents, he was predeceased by his sister Maria del Socoro Martinez Hernandez and brother Pedro Martinez Hernandez Jr.
Surviving in addition to his wife, Magdalena Martinez, are his daughter Ofelia Martinez, his son's Antonio Martinez Jr., and Erwin Frank Martinez. Antonio's pride and joy were his 4 grandchildren: Tristan Martinez, Isabelle Martinez, Luciana Martinez, Abigail Elizabeth Martinez; one brother Javier Martinez Hernandez, and 4 sister Maria de Jesus Martinez Hernandez, Guadalupe Martinez Hernandez, Maria Luisa Martinez Hernandez, Veronica Martinez Hernandez.
Our father was a true role model who we will always look up to. The mass of Christian burial will be held at St. Ambrose Catholic Church on Thursday September 28 at 10:00 a.m.
Write Your Tribute