Dates

Jul 30, 1959 Mar 06, 2023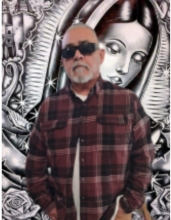 Juan Molina, Jr., of San Angelo passed away peacefully in his sleep on Monday, March 6, 2023. Affectionately known as "Our King Chuco" to his four generations of family, he lived a fully respectable life that touched many with his loving and caring demeanor and devotion to his family. He leaves this world, called by our heavenly Father, to join his wife Cynthia Ann Molina Gaitan, who passed January 29, 2022. Born Juan Molina, Jr. on July 30, 1959 in Brownsville, Texas the son of U.S. soldier Juan C. Molina, Sr. and Enriqueta Mendez. Juan had seven brothers, Johnny, Daniel, Fidel, Albert, Blas, Maroquin, and Chris along with three sisters, Celia, Juanita and Blanch. He also has three children, Ruben, Juan and Valerie Molina Gaitan; six granddaughters, Brissa, Brena, Muneka, Chula, Mercedes and Vicki; two grandsons, Jacob and Vincent; one great granddaughter Bonita, one great grandson "Big Poppa." His niece Rosanna always called him and sent him food and had many conversations with lots of laughter with him. His nephew Albert took care of him after he left Saint Johns Hospital until God called him home. He had numerous other nieces and nephews. We will all miss him so much and he will always be in our hearts, prayers and minds. You may be gone Jefito but never forgotten. You were a man with such pride and dignity. We all will continue to carry our family with much pride and dignity. We know you have entered the Golden Gates. We are blessed to see you make it there. It's an honor to see our King get crowned at the end of your journey. You are blessed Jefito…you mastered this walk on Earth, you worked hard for us! You were the best Pops! May God give you all the blessings you deserve. The vigil service will be 6:00 P.M., Wednesday, March 15, 2023 at Harper Funeral Home. The Funeral Mass will be 10:00 A.M., Thursday, March 16, 2023 at Sacred Heart Cathedral with Rev. Lorenzo Hatch as celebrant. Interment will follow at Sterling City Cemetery in Sterling City, TX. Pall bearers for the service will be Albert Molina, Jr., Blas Molina, Fidel Molina, Jr., Saul Molina, Angel Valdez, Jr., and Israel Reyes.
Family and friends may share condolences and sign the online register book at www.harper-funeralhome.com.
Write Your Tribute