Dates

Oct 02, 1930 Mar 03, 2023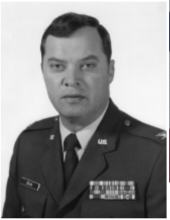 Colonel Harlan Lee Bruha was born October 2, 1930, to Emil and Hilda Bruha on his grandfather's farm in Juneau County, Wisconsin. He was delivered by his grandmother. Harlan was raised on a dairy farm while he attended high school in Wonewoc, Wisconsin. He graduated 2nd in his class in 1948 and received a scholarship from the University of Wisconsin where he graduated with a bachelor's degree in 1952. He went on to receive a master's degree in business administration from Kent State University in 1965.
Harlan enlisted in the U.S. Air Force in lieu of being drafted for the Korean War and obtained the enlisted rank of Staff Sargent. Commissioned as 2nd Lieutenant in 1954 after attending Officer Candidate School, Harlan went on to serve 25 years in the Air Force. During his military career, he served overseas in Japan, Guam, Korea and Southeast Asia, and at the Pentagon in Washington, D.C., Randolph Air Force Base in San Antonio and many other stateside duty stations. Harlan received 12 decorations including the Legion of Merit and the Khmer Republics 2nd highest medal, the Khmer National Defense Medal Order of the Army.
In 1958 Harlan was a member of the advance party that established cryptologic training when it was brought to Good Fellow Air Force Base. When returning from Southeast Asia in 1974, as a Colonel, he was assigned to Good Fellow as the 6940 Technical Group Commander and Vice Commander of the wing. Harlan retired from the Air Force in 1977 and he and his wife, Carryole, made San Angelo their permanent home. Together they opened the Colonel's Pipe Shop in San Angelo. In 1982, Harlan joined the faculty in the College of Business at Angelo State University (ASU). He taught management classes until 1990, when he started the Angelo State University Small Business Development Center, now part of Howard College.
Harlan retired from ASU in 1999 and partnered with ASU Dean, Robert Heggland to assemble an investment group to bring minor league baseball back to San Angelo. A 4200-seat baseball park was built on leased ASU property and the San Angelo Colts were reborn. Harlan served as President and General Manager of the ball club. The Colts won the Central League Championship in 2002 and Harlan retired as President and GM of the club in 2005. He was named Sportsman of the Year by the Standard Times after selling his interest in the team.
Harlan actively served the San Angelo community on many non-profit boards, including 20 years on the board of Rio Concho West, and 20 years on the board of First Community Federal Credit Union. Harlan was also instrumental in starting the Goodfellow Chili Cook-offs in 1975, an event that continue to be held each year.
Harlan is preceded in death by his first wife Carryole, by his mother and father Emil and Hilda and his brother Kenneth.
He is survived by his wife Kathy Bruha, son Joe Bruha and his husband Ricky Dennis, son Mark and his wife Carla Bruha, two step children Michael Alston and wife Kelly, Brittany Alston and husband Kyle, Granddaughter Whitney Stinett and husband Zach, five step-grandchildren John King and wife Kailey, Tara Cheatham and husband Zach, Misti Rose and husband Eric, Macy Alston, Aaron Seidensticker, 8 step-great grandchildren, Cannon, Presley, Aspen, Bethannie, Jleighn, Daphnie, Lucas, Braden and his niece Corinne Bruha and his sister-in-law Karon McNaley.
The family will receive friends for visitation from 5:00 P.M. – 7:00 P.M., Thursday, March 9, 2023, at Harper Funeral Home. The Funeral Service will be 2:00 P.M., Friday, March 10, 2023, at Harper Funeral Home. The Graveside service with Military Honors will follow at Fairmount Cemetery.
Family and friends may share condolences and sign the online register book at www.harper-funeralhome.com.
Visitation
Thursday, March 9, 2023
5:00PM - 7:00PM
Harper Funeral Home 
2606 Southland Boulevard 
San Angelo, TX 76904
Funeral Service
Friday, March 10, 2023
2:00PM
Harper Funeral Home 
2606 Southland Boulevard 
San Angelo, TX 76904
Write Your Tribute