Dates

May 14, 1953 Jan 19, 2023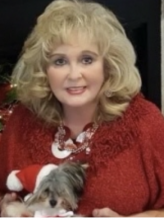 Linda Fay Mathis Parham was finally called to her heavenly home on Thursday, January 19, 2023 surrounded by her family. God looked down upon the earth and saw your tired face. He gently put His arms around you and lifted you to rest. Linda had battled courageously with MS for the past 25 years. Even with her diagnosis, she continued to live life to its fullest as much as she could. Her smile would light up a room and her faith in Jesus was unwavering to the end.
She is preceded in death by her father, Billy Wayne Mathis; her grandparents, and many aunts & uncles. She is survived by her loving husband Ray, her 3 children: Michelle Moore (Nathan) Montezuma, Ks; Amanda Herbic (Jeremy) Salina, Ks; Cody Knopp, (Schuyler) Kansas City, Missouri; her mom, Lela Mathis, Grape Creek, TX; her brother, Larry Mathis(Teri) Sun City, TX; her Twin sister Glenda Bacon, (Rick) Grape Creek, TX; 8 grandchildren; & her dog Prissy who was by her side to the end.
A very special thanks to her husband Ray for the care he has given her over the years. The family would also like to thank Altus Hospice family of Georgetown, Jessica, Jaime and Randi. The family would also like to thank her abundance of friends in Nolensville & Grape Creek for the love, support, and prayers during this difficult time.
Memorials may be made be made to Multiple Sclerosis; American Red Cross; or her church Keys Valley Baptist Church, Belton, TX or her previous church Grape Creek Baptist Church.
Funeral services will be held at Grape Creek Baptist Church on Monday at 1:00pm with burial in Grape Creek Cemetery immediately following the service.
Write Your Tribute