Dates

Nov 14, 1954 Jan 12, 2023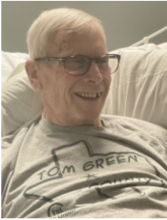 Fred Buck won the race of life on January 12, 2023. Fred fought a battle with cancer for 10 years. Though cancer is what eventually ended his journey on earth, cancer did not define him, nor did it end his life. "for me, living is Christ, and dying is gain" Philippians 1:21. Fred Buck is alive!
Michael Fred Buck was born November 14, 1954 in Electra, TX to Hugh and Margret Buck. The family eventually ended up in San Angelo, TX where Fred attended school, graduating from Lake View High School in 1972. Fred met Rebecca Lynn Crisp in 1968 and they eventually became sweethearts and were married March 21, 1975. Their marriage produced 3 boys; Michael Lynn Buck (45), Ryan Neal Buck (42), and Larry Don Buck (38).
Though Fred was raised in the Methodist church, he led his family in the Baptist church, being baptized at Immanuel Baptist in 1979 and eventually served as a deacon of the church.
Though Fred always worked very hard, often times working at multiple jobs, he had many hobbies that usually involved his family. Early in life he loved horses and was a member of the San Angelo Saddle Club and was a founding member of the Twin Mountain Riding Club. He loved cooking and camping out, though if the camping was within 100 miles of his own bed, he would end up in it. He loved fishing and enjoyed many trips to Texas lakes where he built many friendships and shared many great experiences with family and friends.
For many years he managed the family owned business, San Angelo Transfer and painted and trimmed houses. In these businesses, he taught his three boys how to work. In 1996, he won the election for Constable Tom Green County Precinct 3. He attended and graduated from the police academy at the age of 40. He served in that office until he was appointed Justice of the Peace in 2003, where he later won every election until he finally retired at the end of his term in 2022.
It would be an understatement to say that Fred made an impact in people's lives. He was loved and respected by the hundreds of people who counted him as a friend. Whether it was his since of humor, his generosity, or his faithfulness as a friend, his commitment to his wife and family, people felt connected to Fred and the Buck family, where many counted him a best friend or a second father.
Fred is preceded in death by his parents and survived by his wife Becky of San Angelo, son Michael and his wife Wendy of Sterling City, grand children Riley and Reagan, son Ryan and his wife Rachel of San Angelo, grandchildren Wyatt, Emily, Chloe, and Ethan, son Larry and his wife Kira of Weatherford, granddaughter Kayla, brother Don and his wife Patty of San Antonio, brother Perry and his wife Liz of San Angelo, and sister Brenda and her husband Charles of San Angelo, and many beloved nieces and nephews and cousins. As Fred lost his father as a teenager, he is also survived by Neal Doss, who he looked up to as father.
Visitation will be Sunday 2-4 pm at Harper Funeral Home. Funeral service will be Monday 10am at Immanuel Baptist Church followed by internment at Grape Creek Cemetery and lastly a meal will be served for family and friends at Immanuel Baptist gymnasium.
Memorials can be made to the Fred Buck Transportation Fund or to Immanuel Baptist Church.
Visitation
Sunday, January 15, 2023
2:00PM - 4:00PM
Harper Funeral Home 
2606 Southland Boulevard 
San Angelo, TX 76904
Funeral Service
Monday, January 16, 2023
10:00AM
Immanuel Baptist Church 
90 E. 14th 
San Angelo, TX 76903
Write Your Tribute