Dates

Oct 15, 1938 Jan 10, 2023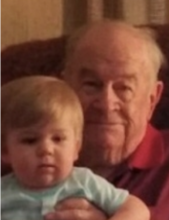 J.M. (Jack) Kemp lll , 84 went to be the the Lord on January 10th, 2023.
He is now reunited with his dad, J.M. (Hawkshaw) Kemp, mom, Wynne, and oldest son Trent.
He is survived by his wife Janet and son Joel, grandsons Bryan and Triston, granddaughter Lisa, and great grandson Harrison.
He was a long-standing member of the Businessman's Bible Study. He loved to fish, camp, hunt, shoot black powder guns, competition shooting, off-roading, and so many other things.
As a father, he taught his sons so many things but most of all to be good people. He is my hero!
He worked 37 years for GTE and was able to enjoy a long, deserved retirement. He made many friends over those years.
Even in the last days, he still pranked nurses and family. Ever the prankster and happy soul.
He will be greatly missed by family and friends. We love you and miss you. A graveside service will be held on January 21,2023, at the old Grape Creek Cemetery at 3:00 pm.
Grape Creek Cemetery is located at 11368 Grape Creek Cemetery Rd, Grape Creek, TX 76901.
Write Your Tribute