Dates

Sep 07, 1937 Jan 05, 2023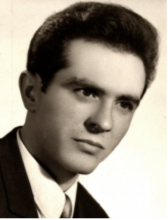 Peter G. Alemany passed away on Thursday, January 5, 2022, in San Angelo, Texas, at the age of 85. Funeral Services will be on January 9, 2023, at 10:00 AM at Harper Funeral Home in San Angelo.
Peter was born on September 7, 1937, in Barcelona, Spain. At the young age of 13, he became a watch repair apprentice. Peter eventually became a Master Watchmaker when he graduated from Mare de Deu de la Merce, a school with a proud tradition of producing the finest craftsmen in the industry. Peter skillfully repaired everything from antique grandfather clocks to luxury brands from Rolex to Omega.
Peter met the love of his life, Lita, on the beach. Their whirlwind romance began when he taught her how to swim. A year later, he moved from Barcelona to San Angelo to marry his beautiful bride. They wed on September 25 and were to be married for 50 years and had a daughter, Christine. Throughout that time, Peter worked at Holland's Jewelry until his retirement.
Peter loved playing chess, tennis, and especially soccer. In addition to playing, he also coached soccer and was a licensed referee. He eventually served as a soccer commissioner in the early days of the San Angelo Soccer Association, promoting the sport he loved. Later in life, he picked up tennis.
Peter's legacy began with his mother, Elena Cristu Alesandru, and his father, Francesc Graells Guerrero, who preceded him in death. He built it with the love he shared with Lita, and it will continue with their daughter. He is survived by his daughter Christine Alemany and her husband, Michael Fulton of New York, New York.
In Lieu of flowers, please consider a donation to Meals for the Elderly, 310 E. Houston Harte, San Angelo, TX 76903.
Memorial Service
Monday, January 09, 2023
10:00AM
Harper Funeral Home 
2606 Southland Boulevard 
San Angelo, TX 76904
Write Your Tribute