Dates

Sep 23, 1973 Jan 05, 2023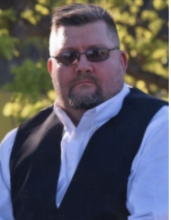 Aaron Ray Brody was called home by his Lord and Savior on January 5, 2023.
Aaron was born Sept 23, 1973, in Pueblo Colorado. Being a military family, Aaron traveled to many states during his childhood. His family settled in San Angelo, Texas, where Aaron attended school and graduated from Central High School in 1992. He entered the Army directly following graduation. After he completed his service in the Army, Aaron pursued many adventures continuing to travel the US.
He settled in San Angelo and began his family in 2004 with Rhonda and Shelby Ray. His son, Aaron James (AJ), was born in November of 2005. Aaron continued his passion and love for his country by joining the National Guard, serving for several years. In 2014, Aaron married Heidi Bradley and together they rescued, fostered, and loved a variety of animals over the last 8 ½ years.
Aaron was preceded in death by his maternal grandparents, James and Barbara Hughes (Grape Creek), paternal grandparents, Jack and Lillian Brody (Cheyenne, WY) and his father Pat Brody (San Angelo).
He is survived by his wife, Heidi Brody (San Angelo); his two children, Shelby and A.J. Lamb (Snyder); his mother, Debbie Brody (San Angelo); sister, Cathy Calder and husband Daryl (Midland); brother, Patrick Brody and wife Kristy (San Angelo); mother-in-law, Cynthia Bradley and sister-in-law, Megan Bradley (North Branch, MN), and numerous aunts, uncles, nieces, nephews, cousins and many friends he considered family.
Aaron enjoyed the simple things in life: time with his family, his fur babies and gaming. He touched many lives and will be missed by all.
You are not gone; you and Dad are simply waiting for us.
A celebration of Aaron's life will be 11:00 A.M., Wednesday, January 11, 2023, at Glen Meadows Baptist Church with Pastor Mack Roller officiating.
Family and friends may share condolences and sign the online register book at www.harper-funeralhome.com.
Memorial Service
Wednesday, January 11, 2023
11:00AM
Glen Meadows Baptist Church 
6002 Knickerbocker Rd. 
San Angelo, TX 6904
Write Your Tribute