Dates

Feb 05, 1958 Jan 03, 2023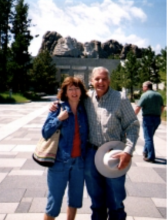 Belinda Sergeant, beloved wife of Glenn Sergeant, loving mother of David, Benjamin (w/ our Lord), and Leah Longbrake (Sergeant) passed into her sweet Savior's arms just prior to noon January 3, 2023, ending her 15 year battle with Frontotemperol Dementia. While her quiet slippage into the Savior's arms brought rivers of tears to those at her bedside and rivers of tears to those friends and family soon learning of it, her passing into eternity also brought sincere and thankful thoughts from those who knew Belinda for she was a beautiful soul who left a positive impact on everyone and everything she touched.
To begin, she was born Belinda Schaap, February 5, 1958 to William and Elizabeth Schaap in Kansas City, Missouri. She had one sister, Constance (Connie), three years her senior. These two girls were the closest of sisters and the best of friends. This sisterhood was cemented in love, a deep abiding love toward each other that went from childhood through Linda's last day of adulthood.
One spiritually significant event took place in June 1970 while living in Anchorage, Alaska. After understanding the wonderful promise of Scripture, twelve year old Belinda asked Jesus into her heart, requesting He be her Savior.
"For God so loved the world that He gave His only begotten Son,
that whoever believes in Him should not perish but have
everlasting life (John 3:16)."
This genuine, spiritual, life-altering decision impacted Belinda in a way best viewed as vibrant "Christ-likeness". Her soul -- her inner-self, constantly exhibited kindness, love, laughter, an unflappable spirit, a desire to excel, a willingness to help, and the conviction to always do what was right.
Crossing the threshold into young adulthood, toward the end of her high school senior year (1976), she met me, Glenn Sergeant, a young Air Force NCO at her local Fellowship Baptist Church in Goldsboro, NC. Love quickly took over the relationship – both smitten beyond measure. Pursuing an employable skill, Belinda completed with highest honors a Medical Transcription Associate's Degree in March, 1978. This would be her career work, eventually owning her own business.
June 17, 1978 a simple but beautiful marriage took place at Fellowship Baptist in which a shining, smiling 20 year old Belinda married me (then 23) & proceeded to make my life one which men dream about – unending love, lots of fun, abiding joy, intertwined strength in trials, and joint effort to the desires of God. This delightful woman was the mother to David (1985), Benjamin (1987), and finally a daughter, Leah (1990). She loved all of us in such a manner that we loved her back with every fiber of our beings. She made our family fun, functional, and fulfilling. As a wife to me and mother for three growing children, she was a master of guiding, advising, directing, encouraging, and instilling traits which led to success in the affairs of life. Most importantly, her relationship to the Holy Trinity: the Father, the Son, the Holy Spirit was sincere, alive, impactful, and obvious.
Celebration Of Life
Monday, January 09, 2023
2:00PM
Harper Funeral Home 
2606 Southland Boulevard 
San Angelo, TX 76904
Write Your Tribute