Dates

Oct 03, 1942 Dec 31, 2022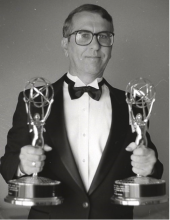 Clifford Gerald Hoelscher, 80, passed away on Sunday, December 31, 2022, at home in San Angelo.

The youngest of ten children of Mary (Franke) and Reinhold Hoelscher, Cliff was born on October 3, 1942 on a farm near Norton. He had three brothers and six sisters. As a child Cliff sang with local bands at dances and competed in contests. A highlight of his early singing career was getting to sing with the Bob Wills Band.
   
Cliff attended school in Norton but went to high school at St. Anthony's Seminary in San Antonio. After graduation Clifford joined the regular Army and served three years. He learned radio operations in the army and afterwards worked for the telephone company in the Levelland area as a central office installer. Cliff decided to go to college and attended Odessa Junior College before transferring to The University of Texas in Austin. He received a Bachelor of Science and a Masters Degree in Communication. In Austin, he married Jean Leeper of Midland, and they produced documentary films together for ten years. Cliff took a job with the Drug Enforcement Administration in Washington, D.C. as a video producer. After two years, Cliff and Jean moved to Los Angeles where he edited films and did sound creation for television documentaries, eventually winning five Emmy Awards.
   
Living in Sunland, California, Cliff and Jean raised two children, both of whom survive him. Lucy Hoelscher lives in Austin, and Lee Hoelscher lives in Guadalupe, California. Cliff is survived by four sisters and one brother, Lynette Lange, Virginia Holder, and Ethel Berger all living in San Angelo, and Mary Lou Jansa living in Midland. He is survived by only one brother, Glen Hoelscher now living in Portland, Oregon. He was preceded in death by his parents and four siblings: Marvin Hoelscher, Adeline Holder, Emmett Hoelscher, and Francine Halfmann. He is survived by many nieces and nephews whom he always enjoyed visiting at the Franke family reunions and at the larger Hoelscher-Buxkemkper reunions.

Services are pending with Robert Massie Funeral Home.
Write Your Tribute