Dates

Sep 06, 1955 Dec 29, 2022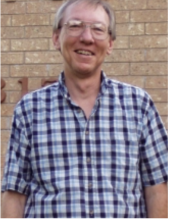 It is with incalculable sorrow that we announce the death of Jerrell Ray Preas, known to most as "Jerry". He was born on September 6, 1955 in San Angelo and passed away on December 29, 2022 at age 67 after a wearying battle with prostate cancer.
As a youth, his family was in the Air Force. If you hung around Dad for very long, you'd hear hilarious stories of winters in Cape Cod, bicycle-riding in Niagra Falls, and bowling in Japan. He entered the Air Force too, and served 4 years as a mechanic, working on C130s. He was a proud American to the very core.
The place he loved most, though, was home --San Angelo. He grew roots here and never wanted to leave.
He met Cindy Mills at the River Park Apartments, and married her on Valentine's Day 1981; He made her laugh every day. Their daughter Chelsea was born in '88, and she is a carbon copy of her dad.
Jerry worked at GTE and retired from Verizon's Accounts Payable department after 29 ½ years.
He was a gifted acoustic guitarist, who loved music with a passion. He filled our lives with rock-and-roll, folk, and country music-- whether he was playing it himself, or blasting it over the stereo.
He was a man of many hobbies. Some nights, he would have a guitar on his lap, a strategy game on the computer, and Fox News on TV simultaneously. He was our news commentator, our historian, our genealogist. He was the king of wit and sarcasm, and he was knowledgeable about nearly everything.
To Chelsea, he was a devoted father who could not possibly have made more of an impact. The hole he leaves behind is vast indeed. He was her confidante and hero.
There are no words to describe the loss of someone so fundamentally special and good. He gave the best advice, and shared his humor and wisdom with the people he knew. He made our lives better and he will be sorely missed by everyone who knew him.
Jerry was preceded in death by his wife Cynthia Preas and his father Truman Ray Preas. He is survived by his daughter Chelsea Preas, mother Ida Preas, brother Lyndon Preas, and sister Susan Crawford, nieces and nephews, and a host of in-laws and "outlaws" (as he fondly referred to them.)
In lieu of flowers please donate to the Prostate Cancer Foundation.
A graveside will be held at 1:00 pm on Monday, January 2, 2023 at Lawnhaven Memorial Gardens.
Write Your Tribute