Dates

Nov 05, 1984 Dec 29, 2022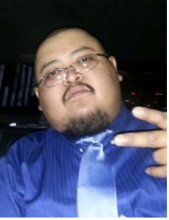 Guillermo "Willy" Rodriguez passed away quietly at home Thursday, December 29, 2022, in San Angelo.

Memorial Services will be at 2:00 PM Monday, January 2, 2023, at Robert Massie Riverside Chapel. Arrangements are under the direction of Robert Massie Funeral Home.

Mr. Rodriguez was born November 5, 1984 in Del Rio to Guillermo, Sr. and Paula (Reyes) Rodriguez. Willy has been a resident of San Angelo since 1986. He was a 2003 graduate of Central High School. Willy was a welder for Dragon products of Modern Group Company since 2017. Willy was an avid Texas Longhorns fan, enjoyed anime, and having good conversations by the fire pit while singing and listening to music. Willy was known for his kindhearted friendly nature and listening ear. With no shortage of friends, he will be sorely missed out and about town cracking jokes and sharing his world-famous hugs.

Survivors include his mother, Paula Rodriguez; a brother, Louis Rodriguez of San Angelo; a sister, Mimi Rodriguez Tamez and husband Joel of Austin; a niece, Penelope Tamez; and a nephew, Caspian Tamez. He was preceded in death by his father, Guillermo Rodriguez, Sr. on March 11, 2021; and his grandmother, Norbertha Moreno on December 7, 2022.
Write Your Tribute