Dates

Jan 11, 1963 Dec 18, 2022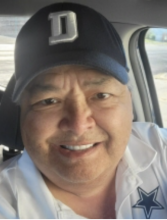 Daniel Aranda Martinez, of San Angelo, passed away on December 18, 2022 at the age of 59. He was born on January 11, 1963 to Daniel G. and Elizabeth Aranda Martinez.
Daniel was the oldest of six, and always took the role of big brother seriously. His brothers recall him always being a caretaker for his family, especially as each of their parents passed. Daniel graduated from Lakeview High School in 1981. He spent some time at ASU and then worked at SESCO until they closed their doors. In 1987, his only child, Casandra LeAnn, was born. Along with her he gained two bonus children whom he always loved dearly, Joe Edward & Tara LaShey.
Daniel was a force of nature, determined to provide for his family and give them the life he felt they deserved. Daniel's family meant more to him than anything else in the world, something he often showed with his love and support. He loved his girlfriend Belinda dearly and she was always by his side. He was unendingly proud of Cassie, and everybody knew that she was his life's joy.
Daniel was also a passionate football coach and could often be found coaching for the YMCA when he wasn't at home. What many people don't know is his 1st coaching gig was coaching Joey in Baseball in the spring 1989. That same fall, he coached Joey in football and took on his 1st ever football coaching position as a defense coach for the YMCA Cowboys. Those boys went on to be "City Champions" that year. He fell in love with coaching and working with the kids. He coached for over 30 years, teaching hundreds of kids the love of the game, and often recruited other family members to help him coach. He took pride in coaching his nephews and grandsons and sharing his passion with them. His teams carried a few different names along the years starting with the Cowboys, then Rams, and Cavalry but most notably The Chiefs. That North Side Pride stood out and he loved to represent Lake View. When asked if he was ever going to retire the answer was always "one day". He was still coaching in 2022. In the years between coaching for the Y, he was asked to help coach a local semi-pro team here in San Angelo, The Stampede. After a few years The Stampede combined with the other local team in town, the Six Shooters to form The Cavalry. In 2011 they went 11-0 and won the TFL Championshp That year. He Also went on to be the GM for TFL for a few years after. Those were some of the best times in his life. He made many lifelong friendships with that organization that he talked about often. It was for sure a highlight in his life. Aside from coaching football, he was a die hard Dallas Cowboys fan, and nobody better say a bad word about "Dem Boys"! He rooted for all Texasteams but was a vivid Texas Longhorns, Texas Rangers and Houston Rockets fan. But more than coaching and watching his teams he enjoyed supporting his grandchildren including Joey and Tara's children and his nieces and nephews in their ventures. He went to as many events as possible near or far, and if he wasn't able to make it physically, you knew he was watching that live stream.
Aside from sports Daniel loved to dance, it was another thing he was so passionate about. Back in his day nobody could touch him on that dance floor, it was often you would come over and find some Tejano music blasting and there would be a dance session going on. It was an art. He also loved taking pictures and capturing all things in life important to him behind a lens, it wasn't often you would see him without a camera in tow, he passed that passion and love on to Cassie.
Anyone who knew Daniel knew that he was the most loving father, brother, uncle (tio), and friend that anybody could ask for. Daniel was preceded in death by his parents, Daniel & Elizabeth Martinez, his brother, Robert Martinez, and a great nephew, Daymian Saldana. He is survived by his daughter and her husband, William and Casandra Robinson, grandkids Zakih and Cameron, long time girlfriend Belinda, his bonus son and his wife Joey and Laura Humphreys and their children Anjelina, Joey, and Jocelynn, bonus daughter and her husband Corey and Tara Harmon and their children Korban and Eleanor, his brothers Juventino Martinez (Moni), Adam Martinez and Roland Martinez, his sister Janet Cuellar, and his nieces and nephews, Johnathon Martinez, Amber Cuellar, Elizabeth Cuellar, Bridget Martinez, Kristina Martinez, Daniel Martinez, Pablo Sosa, Antonio Martinez, Candice Martinez, Elaura Schultz, Erika Sosa, Megan Martinez, Anjellika Martinez, Jacob Martinez and Gabriel Cuellar, and many great nieces and nephews whom he loved dearly. Also his Monday Golden Corral buddies who stole his heart and had him wrapped around their little fingers (great nieces) Aubreigh and Promiss.
In lieu of flowers, the family is asking for help with funeral costs. Donations can be given through GoFundMe or Harper Funeral Home. Visitation is scheduled at Harper Funeral Home on Friday, December 30th from 5pm - 7pm. The memorial service will be at San Angelo First Assembly of God on Saturday, December 31st at 2pm.
Family and friends may share condolences and sign the online register book at
Visitation
Friday, December 30, 2022
5:00PM - 7:00PM
Harper Funeral Home 
2606 Southland Boulevard 
San Angelo, TX 76904
Funeral Service
Saturday, December 31, 2022
2:00PM
San Angelo 1st Assembly of God 
1442 Edmund Blvd. 
San Angelo, TX 76901
Write Your Tribute