Dates

Jul 09, 1937 Dec 14, 2022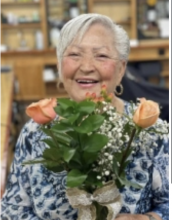 On the morning of December 14, 2022, Beatrice Medina of San Angelo Tx. passed away at the age of 85.
Beatrice was born 1937 to Joaquin and Gila Medina in Sterling City Texas. She moved to San Angelo and began as a waitress at Fuentes Café and Pancho's Restaurant. She married Jose Angel Pena and together opened two restaurants, one in Coleman and then in San Angelo.
Beatrice was a product of her time, remembering the effects of the Great Depression. She was frugal, a penny pincher, she loved socializing with others while shopping at the secondhand stores. As a waitress she loved going to the hairdresser weekly to maintain her hair for her customers. She got to work early and left after serving her customers. She loved reminiscing with her relatives, talking and laughing displaying her great sense of humor. She loved to dance, wear beautiful dresses, and absolutely loved heels; she was not into wearing makeup. A fifth generation Texan, she was proud of her Mexican American Heritage, instilling the values of compassion for others, hard work and just pure grit. She was not a gossip but shot straight from the hip and told it like it was. She was pulled out of the second grade to work the cotton fields with her family and did not have a high school education. She was solely driven to provide for her family, a business-minded person always striving for success, instilling this trait in her children. Always the encourager, her motto was "You can do anything"! She was compassionate, always helping others, strangers, friends, family members, and especially her children in their time of need. Having her share of heart aches, she accepted the Lord Jesus Christ as her Lord and Savior with Billy Graham on television. Her name "Beatrice" means "bringer of joy" Psalm 118:24, she received her water baptism at the Church of the Nazarene. She attended Victory Outreach/Joshua Tree Fellowship 1:2, cooking in the kitchen with her daughter Glendora, and member of Freedom Church San Antonio. Her biggest accomplishment was making sure her children graduated and received their High School Diplomas.
She is preceded in death by her mother Gila Medina, her father Joaquin Medina, her brother Joaquin Medina Jr. She is survived by her brother Roque Medina, her children Glendora Perales, Albert Diaz, and Robert Medina Rodriguez Diaz. Four Grand Children and Five Great Grand Children
A Celebration of Life service will be held on January 7, 2023, at Sterling city Cemetery at 10:00 Am. 
Write Your Tribute