Dates

May 03, 2022 Dec 12, 2022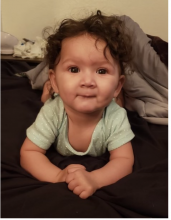 Roselynn Luisa Rubio of San Angelo was born on May 3, 2022 and passed away on December 12, 2022.

Visitation services will be from 2:00 PM - 4:00 PM Sunday, December 18, 2022 at Robert Massie Riverside Chapel. Arrangements are under the direction of Robert Massie Funeral Home.

My dear Roselynn Luisa Rubio, you have been the sunshine to all of our hearts, the rainbow after the rain, you were always the happiness to our hearts and souls, you have made everyday a brighter day for mommy, daddy, grandpa, grandma, aunties, and the blessings to everyone's heart. The happiness that you had brought upon this world will never leave, you have saved my life from the dark days to ups and downs, your warm hugs and kisses will never be forgotten, you always had that beautiful unforgettable bright smile on your face every single day, your laughter was always pure, your dimples poked out like the stars in the sky, your eyes as green as a fresh meadow flowing through the wind, you knew you were perfect and beautiful in every way, you were so smart and always said your precious words. Your touch is so soft, your hair was so soothing and so curly, the waves of a clear blue ocean, your button up stuffy nose, the moment you wrapped your gentle hand around mommy's I knew that I would never let you go, your presence will always be in our souls, I know that your going to be ok up there in God's hands, you will always be our guardian angel and we will be strong and keep pushing even harder for you. Mommy loves you and is always proud of what you had become. Always watch over us because we will always be here for you. Forever in our hearts, always in our memories.

She was preceded in death by her maternal grandmother Esther Irvin.

Survivors include her mother, Jazmine Rubio; father, Keyon Smith; maternal grandfather, Paul Rubio; paternal grandmother, Jeanette Johnson; 8 aunts, Lena Rubio, Jessica Balderas, Jessica Phares, Halie Keaster, Laura Baugh, Shalyn Irvin, Monica Johnson, Tiffany Johnson, along with several other aunts, uncles, and cousins.
Write Your Tribute