Dates

Nov 24, 2022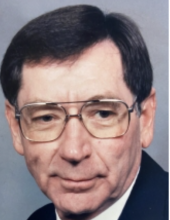 T. Duane "Shorty" Connell entered the kingdom of heaven on November 24, 2022, at the age of 84. A native of San Angelo, Texas. He was graduated from the University of Houston with a degree in electrical engineering. He had a long career in design engineering and as an engineering sales consultant; he retired from Analog Devices. He enjoyed many hobbies and interests throughout his life, including fishing, hunting, and automobiles.
He leaves behind his wife of 64 years, Freda Mae Connell, daughters Connie Gail Beam-Browder and Kari Elizabeth Corley, brother Bobby Brooks Connell and sister-in-law Rixie Williams Connell, seven grandchildren, and two great grandchildren. He was preceded in death by his son, Duane Dean Connell, and parents, Brooks Avery and Celestia Stockton Connell.
We will all miss his gentle kindness, quiet generosity, unwavering faith, and conviction-driven strong will.
There will be a graveside memorial at Fairmont Cemetery in San Angelo, Texas. Services provided by Harper Funeral Home.
Graveside
Tuesday, November 29, 2022
11:00AM
Fairmount Cemetery 
1120 W. Ave. N 
San Angelo, TX 76901
Write Your Tribute