Dates

Apr 01, 1927 Sep 25, 2022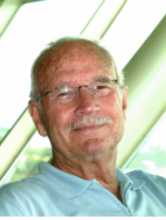 Cecil George Richardson passed to eternal life after a lengthy illness on Sunday, September 25th, 2022, at the age of 95.
Cecil was born in 1927, in San Angelo, Texas, To Rev. Odus David and Mrs. Christena Marie (Olsen) Richardson. He served in the United States Navy During WWII and the United States Air Force during the Korean War. In 1951, he married the love of his life, Patsy Louise Roberts. They were blessed with a son, Mark, and a daughter, Dena. Cecil became a member of the PGA (Professional Golfers Association) and taught golf and managed courses in Okinawa Japan, Montana, Oklahoma, and Texas (3).
Cecil had a passion for teaching golf to novices and helping people improve their form. He and Pat loved to travel and visited many places around the world. He was an avid sailor, fisherman and enjoyed being outdoors. He also loved to write poetry in his spare time and amused his family with his poems. Cecil was known for his wit, his entertaining stories, his teasing, and his love for his family.
Cecil was preceded in death by his father, mother, six brothers and his sister. He is survived by his wife, Pat, his son and daughter-in-law, Dr. Mark and Jamie Richardson, his daughter and son-in-law, Dena and Jerry McKenzie, His Grandchildren, Jennifer, Ryan and Katarina, Robert Richardson, Caitlyn and Jaina McKenzie, His great-grandson, Cohen Richardson, and several nieces and nephews.
A memorial service will be held on Saturday, October 1st, 2022, at St. Luke's United Methodist Church, 2781 W Avenue N in San Angelo Tx. At 11:00 Am.
Memorial Service
Saturday, October 01, 2022
11:00AM
St. Luke's Methodist Church 
2781 W Ave N. 
San Angelo, TX 76904
Write Your Tribute