Dates

May 19, 1954 Sep 08, 2022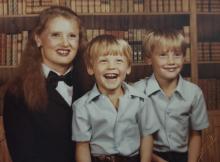 Sherian 'Sheri' Marie Dutton went home to join her Heavenly Father and family Thursday, September 8, 2022. She was the first-born daughter to James 'Dude' Dewey Dutton and Willie 'Deanie' Waldean Anderson in Brady, Texas on May 19,1954.

Sheri grew up and resided and attended school in Eden, Texas for the majority of her life. After high school, she attended Business College in San Angelo.

Sheri had an enormous, sweet heart. She loved her family and friends dearly. She
was fun-loving, playful, and forever young at heart. She had the gift of
encouragement and was a personal cheerleader for many. She was quick to
welcome anyone with open arms into her home for a great meal and a place to sleep.
She was a great cook, but if you enjoyed her meals, you were also doing the dishes!
Sheri loved having company, and she especially loved children. No matter how many
guests she had, she was happy to accommodate and feed everyone, the more the
merrier! Whatever Sheri was doing, she was going to have fun doing it.

She gave birth to two beloved sons, Jamie Ross Dutton and Bobby Jack Dutton, of
Water Valley.

She is preceded in death by her parents Dude and Deanie; her eldest brother James
Sydney Dutton; her other brother John Ross Dutton; and nephew Keithy Donald
Robinson.

She is survived by her sons Jamie Ross and Bobby Jack; granddaughter Chesney
Dutton of New Braunfels, Texas; her sister Debra Dean Dutton of Galveston, Texas;
best friend Carolyn Prosise of Mertzon, Texas; cousin Carla Gaines of Dalhart, Texas;
and many more cousins, nieces, great-nephews, great-nieces, and friends.

You can never put someone's life into a few short words on paper. It always feels
inadequate. And it is. So much of what made Sheri beautiful cannot be expressed in
words. It's all the little things, the hugs and kisses, the laughter, the memories her
family will suddenly have of her years down the road, the stories told at family
gatherings, and a million other things that make a life. And these things we will
carry with us; in these things we will love and honor her. We miss her already.

The family welcomes everyone to join them for a gravesite service Saturday,
September 24, 2022, at 3 PM at the Eden Cemetery. In lieu of flowers, the family
asks that you make donations to the First Baptist Church of Eden or a charity of you
choice.