Dates

Feb 26, 1957 Aug 10, 2022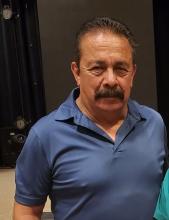 Joe Muniz, 65, of San Angelo passed away on Wednesday, August 10, 2022.

Viewing will be from 10:00 AM - 8:00 PM Monday, August 15, 2022 at Robert Massie Riverside Chapel with visitation from 5:30 PM - 7:00 PM. Funeral Mass will be 2:00 PM Tuesday, August 16, 2022 at St. Mary's Catholic Church with Father Joey Faylano, pastor, officiating. Burial will follow at Calvary Cemetery under the direction of Robert Massie Riverside Chapel.

Mr. Muniz was born on February 26, 1957 in Del Rio to Valente and Simona Muniz. Joe graduated from Del Rio High School and worked with his father shearing sheep. When he first moved to San Angelo he worked at various businesses. Joe was a hard worker, even working part-time as a janitor at Shannon Medical Center. Joe loved woodworking and found his passion as a carpenter at Terrill Manufacturing where he committed 30 years of service, eventually retiring as a master carpenter. Joe met Beatrice "Bea" Hernandez in 1995 when he offered to plant her roses which eventually bloomed into being the love of his life and her jardinero and ever since then they have been inseparable.

On their land in Grape Creek, they created a beautiful oasis that included their baby trees. Lately Joe and his niece, Sandy, began dumpster diving and collecting junk throughout the city and restoring it. He loved spending time with his family and often found himself coming to their rescue in times of need. Joe was their superhero armed with jumper cables, tow ropes, and any tool that was needed. He loved building and fixing anything that needed it and never gave up until his work was complete especially when it came to his daughter Iris. Joe and Iris spent countless hours working on projects together and was always there for her at the drop of a hat. He especially loves his animals from his bird to the dogs. Joe's granddaughter, Serenity was the apple of his eye. He would do anything and everything for her; from playing dominoes and checkers to running to Walmart to get her a Fatboy ice scream. When he wasn't waiting on serenity hand and foot, he spent the rest of his time beating his high score on Pac-Man

He is survived by his wife of 27 years, Beatrice "Bea" Muniz; a daughter, Iris Nichole Hernandez and wife Jessica of San Angelo; a sister, Lupe Muniz of San Angelo; a brother, Frank Muniz, Sr. and wife Mary of San Angelo; 9 grandchildren.
VISITATION
Monday
August 15, 2022
5:30 AM to 7:00 PM
Robert Massie Riverside Chapel
402 Rio Concho Dr.
San Angelo, TX 76903
---
PUBLIC VIEWING
Monday
August 15, 2022
10:00 AM to 8:00 PM
Robert Massie Riverside Chapel
402 Rio Concho Dr.
San Angelo, TX 76903
---
MASS
Tuesday
August 16, 2022
2:00 PM to 3:00 PM
St. Mary's Catholic Church
7 W. Ave. N
San Angelo, TX 76903
Write Your Tribute