Dates

Mar 22, 1937 Aug 08, 2022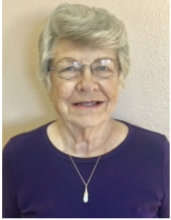 Myrtis E. Davis, 85, of San Angelo, TX, was welcomed into her Heavenly home on August 8, 2022. Myrtis was born March 22, 1937, in Corpus Christi, TX, to Wesley Silas Harris and Letha Myrtis (Stone) Harris. She grew up with her three brothers, Will, Joe, and Harold Harris, in Corpus Christi and graduated from Flour Bluff High School in 1954. 

Myrtis first met the love of her life, Wilburn Lee Davis, when he attended her church in Flour Bluff one Sunday morning shortly after being stationed at the Naval Air Station in Corpus Christi. She and Wilburn were married in that church on January 1, 1954, and she devoted her life to creating a loving home for him and their four children. During Wilburn's career as a newspaperman, the family spent a few years living in Nacogdoches, TX, Mena, AR, and Corpus Christi before settling in Sinton, TX. After their youngest child graduated Sinton High School in 1979, the couple returned to Wilburn's hometown of Ballinger, TX, where they lived until 2002 before moving to San Angelo. 

Myrtis loved to learn and was a natural and gifted teacher. She worked with children as an Educational Aide for Sinton ISD from 1967 to 1979 and took college classes as often as she could at University of Corpus Christi, Beeville Junior College, and Stephen F. Austin State University. In 1981, she earned a Bachelor of Science in Elementary Education with a specialty in Math from Angelo State University. Armed with her hard-won teacher certification, Myrtis taught school in Ballinger ISD for one year, and then spent 12 years teaching in Olfen ISD before retiring. Countless children also learned about the love of Jesus because of her devotion to leading Vacation Bible School and other children's activities at the various churches she attended throughout her life, including Seventh Street Baptist Church in Ballinger and Belmore Baptist Church in San Angelo. 

Those who knew Myrtis were often astounded by her mad mechanical skills. If something needed fixing, she would patiently study it and would not give up until she figured it out. She similarly amazed others with her talent in using computers and her ability to navigate the digital world when she was well into her 70s and 80s. Myrtis was also an adventurer. After their retirement, she and Wilburn spent several summers volunteering with Texas Baptist Men to help with construction projects at Canadian Southern Baptist Seminary in Cochrane, Alberta. During their last trip, they also spent six weeks leading VBS and Backyard Bible Clubs in Coaldale, Alberta. Their mode of travel for these Canadian treks was Wilburn's pickup and a 5th wheel camper. Myrtis counted these trips among the most exciting and rewarding adventures of her life. 

In addition to being an amazing wife, loving mother, faithful friend, beloved teacher, intrepid adventurer, incredible cook, tireless volunteer, piano player, church choir singer, modern day mechanic, frugal saver (she could creatively stretch a dollar like no one else!), and, as her grandchildren would say, a savage competitor in card games, dominoes, and bingo, Myrtis was treasured for her ready smile, servant's heart, and genuine, sweet spirit. Most of all, she was known for her love of her Savior and Lord, Jesus Christ, and her desire for others to know Him as she did. 

As her granddaughter Devin aptly wrote upon her grandmother's passing, "She was the very best of us. She was humble and kind. The roots of my faith were instilled by her. I can't even imagine the joy and splendor she is rejoicing in now in the presence of Jesus, whom she loved and served her whole life. We are heartbroken to lose you, Grandma. But oh, the hope and peace we have in knowing we will all be together one day." 

Myrtis Davis was preceded in death by her beloved husband of 59 years, Wilburn, by her brothers Will and Joe, and by her mother, Letha. She will be greatly missed by her surviving brother, Harold, his wife, Maudette, brother-in-law, Gene Davis, and sister-in-law, Carolyn Davis, and by her four children and their spouses, Lee Davis (Cindy) of Washington, TX, Glenn Davis (Kathy) of Euless, TX, Pam Buffington (Larry) of Smithville, OK, and Dale Davis (Ann) of Bristol, VA. 

Myrtis, or "Grandma," was a much beloved grandmother who will also be dearly missed by her seven grandchildren and their spouses, Justin Davis (Kellie), Krystal Davis, Dylan Buffington, Devin Buffington Vergason (Dylan), Amy Buffington Ross (Jace), Abi Davis, and Katie Davis, as well as her eight great-grandchildren, Grayer, Griffin, and Beckham Davis, McKinley Cherish Davis, Judah and Davis Vergason, and Jaxon and Layla Ross. 

Visitation will take place from 1:00 p.m. to 2:00 p.m. on Saturday, August 20, 2022, at Belmore Baptist Church, 1214 S Bell St, San Angelo, TX 76903. The Memorial Service will begin at 2:00 p.m. in the church sanctuary immediately following Visitation. When the Memorial Service concludes, all are invited to join the family for a brief Committal Service at Evergreen Cemetery, Farm to Market Road 2887, Ballinger, TX 76821. 

In lieu of flowers, the family requests donations be made to: Texas Baptist Men, 5351 Catron, Dallas, TX 75227 (www.tbmtx.org), or to West Texas Boys Ranch, 10223 Boys Ranch Rd, San Angelo, TX 76904 (www.wtbr.org). 
Visitation
Saturday, August 20, 2022
1:00PM - 2:00PM
BELMORE BAPTIST CHURCH 
1214 S. Bell St. 
San Angelo, TX 76903
Funeral Service
Saturday, August 20, 2022
2:00PM
BELMORE BAPTIST CHURCH 
1214 S. Bell St. 
San Angelo, TX 76903
Write Your Tribute