Dates

Sep 17, 1977 Aug 04, 2022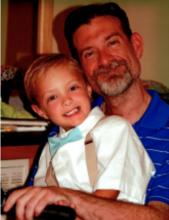 Donald "Mitch" Whitney, Jr., 44, of Prosper, Texas passed away on August 4th, 2022. 

Mitch was born on September 17, 1977, in Dallas, Texas to Judy Ellis and Donald Mitchell Whitney, Sr. He lived in the Dallas area all his life and was a graduate of UNT. Mitch enjoyed snowboarding, working on cars, and being a father. Mitch's most cherished moments were with his son, Hayden. There wasn't anything he would not have done for his son. 

Mitch is survived by his son Hayden Whitney, mother Judy Whitney, two aunts Jane Wardlaw and Robin Sugg, many cousins, and two sweet pups Bob and Owen. He was preceded in death by his father Donald Whitney. 

He will be laid to rest next to his father in Mertzon, Texas. 
In place of flowers, please donate to: 
Lakeside Dog Rescue, 11116 Windjammer Dr, Frisco, Texas 75036 

Or 
Irion County Volunteer Fire Department, P.O. Box 92, Mertzon, Texas 76941 
Write Your Tribute