Dates

Jul 16, 1948 Jul 31, 2022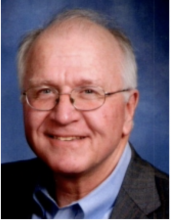 James Lionel "Jimmy" Stewart of San Angelo went home to the Lord on July 31, 2022. He was 74 years old. 

Jimmy was born on July 16, 1948 in Pasadena, TX to George L. and Dolly (Pelata) Stewart. He grew up in Deer Park, a close-knit community on the Houston Ship Channel near the Shell Oil Refinery where George worked. As the baby of the family, he idolized (and sometimes annoyed) his four older siblings, and cherished their Summer family trips to classic Texas venues like Garner State Park and Camp Warnecke on the Comal River. 

Jimmy loved sports, starting with baseball – and counted Mickey Mantle and Willie Mays among his boyhood heroes. He excelled in football in high school, and despite standing just 5'9" (6 feet rounded to the nearest foot, he'd say), he became an All-District offensive lineman for Deer Park High in 1965. 

After high school, Jimmy attended Texas Tech University where, while earning a business degree, he became a diehard Red Raider sports fan and a member of Delta Tau Delta fraternity. He made lifelong friends and memories as a "Delt" and was elected chapter President his senior year. One of Jimmy's favorite college memories took place in the Summer of '69 when he and fellow Delt, Dave Burket, set out on a road trip to work around the country. In 9 weeks, they traveled 12,000 miles through 24 states and 2 Canadian provinces, working a few days at each stop to pay for meals and gas. 

By far the best friend Jimmy made at Tech was Pam Bryan, his one true love. They were married in Houston on August 5, 1972, then moved to Austin where Pam taught at Westlake High and Jimmy earned a degree from UT Law School in 1974. Together, they became the nucleus of many lifelong friend groups, including Jimmy's law school softball team, The Bombers. And in San Antonio, where Jimmy was a Legal Aid attorney, they reunited with best friends from Tech to form "Group Trip" – nine families who shared summer trips together for 45+ years, and who have become one big extended family more than 100 strong. 

In 1979, Jimmy and Pam moved to San Angelo where they found a home and a community they loved. Jimmy shared offices with many great lawyers and friends before starting his own law practice in 1999. He served on boards for the Boys' Ranch, YMCA and Girls' Home, and as the #1 fan of his Bobcat sons, served as Bobcat Booster President. He was a Sunday school teacher and an usher at his beloved Sierra Vista Methodist Church, where he and Pam could speak openly and pray fiercely with cherished friends. God's love shines through those friends who continue to bless the entire Stewart family. 

Jimmy's Christian faith took on new meaning with the birth of his sons, Nathan and Jeff, who became two of his best friends. Many of his favorite stories involved coaching his sons and their friends in youth sports – and for many of those friends, he made a lasting impact as another father figure. 

Jimmy loved to laugh, loved music, knew the words to every song, and was unbeatable in Trivial Pursuit. He adored being "Grindad" to his five grandchildren. And, you'd be hard pressed to find a more dedicated Houston Astros fan. Last October, Jimmy and his boys went to the World Series together in Houston, an experience they will cherish forever. 

Jimmy is survived by his wife of 50 years, Pam; their sons Nathan and Jeff and daughters-in-law Jourdan and Cori; granddaughters CheyLee Stewart, Berkley Stewart and Carolina Stewart; grandsons Brady Stewart and Gibson Stewart; brother Hubert Stewart; sisters Eleanor Hyatt, Shirley Taylor and Mary Blount. 

A celebration of life is scheduled for 3 pm on August 13, 2022 at Sierra Vista Methodist Church, followed by a gathering at Miss Hattie's Restaurant. In lieu of flowers, donations to Children's Bed Project c/o Sierra Vista UMC are appreciated. For more information, please call 325-944-4041. 
Memorial Service
Saturday, August 13, 2022
3:00PM
Sierra Vista United Methodist 
4522 College Hills Blvd 
San Angelo, Tx 76904
Write Your Tribute