Dates

Mar 11, 1943 Jun 21, 2022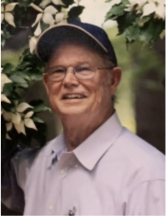 Chester Lee McCown of Miles, Texas passed away on June 21, 2022. Chester was born in Miles, Texas on March 11, 1943, to Wilson Avery McCown and Viola (Helmers) McCown. He was the oldest of four siblings, Clayton, Sidney, and Brenda. He attended Concordia University and received a bachelor's degree in theology, and he furthered his study by receiving a Master's of Divinity from Concordia Seminary in St. Louis, Missouri.
He married the love of his life, Ollie Gleghorn, on June 11, 1966 in San Angelo, Texas. He began his career in ministry in Crosby, Texas, and worked as both a minister and a hospital chaplain at various churches and hospitals throughout Texas until retiring at Faith Lutheran Church in Sweetwater, Texas in 2016. Chester often volunteered for hospice programs to ensure that everyone received comfort and compassion until the very end of their life. His passions in life included photography, traveling, and anything related to pecans. He won many local, regional, and state awards for his pecans.
Chester was preceded in death by his parents, Wilson and Viola. He is survived by his loving wife Ollie of Miles, his daughter and son-in-law Amy and Matt Rutherford of San Angelo, his son and daughter-in-law Brett and Celina McCown of Seguin, his brother Clayton of Orient, his brother Sidney of Robert Lee, and his sister Brenda Conley of Tuscola, his granddaughters Madison and Olivia Rutherford of San Angelo, his grandchildren Lanie and Emily McCown, Ben Alvarado, Bryan Valadez, and Kaylee Freeborn of Seguin, and numerous nieces, nephews, grandnieces, and grandnephews.
The family would like to extend their gratitude to all those who have reached out to share the ways Chester touched their lives. A visitation will be held on Tuesday, June 28, 2022, at Harper Funeral Home from 6:00-8:00pm. There will be a celebration of life at Harper Funeral Home at 10:00 AM on Wednesday, June 29, 2022. Please wear bright colors to honor Chester. In lieu of flowers, please send donations to Faith Lutheran Church in Sweetwater, Texas. 
Write Your Tribute