Dates

Jun 20, 2022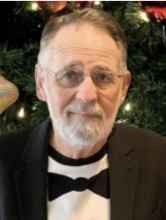 Wayland Paul Huff went to be with the Lord on June 20th, 2022, at the age of 75 years and 6 days. He was born on June 14th, 1947, in Brady Texas to Wayland Taylor Huff and Jewel Mc Bee Huff.  
Paul began working at the age of 9 throwing newspapers for many years. Later he worked at the Plaza and Texas Theaters. After graduating from Central High School, he worked for Rogers Machine, Three Rivers Auto Supply and Concho Auto Supply. Along the way, he and his friend Alton Baird opened The New Dixie Club and ran it for 5 years. He started working for Goodyear Proving Grounds in 1975 and in 2021, after 46 years, he retired. 

His passion was building and later driving race cars. Paul raced on the stock car circuit for a long time and won many races. Another thing he truly enjoyed was music, especially old Country. He could hear the first note of a song and tell you what song it was, who sang it and most of the lyrics if not all.  

Paul found great pleasure in a good practical joke or a great spoken one! He remembered most of the jokes he heard and re-told them hundreds of times. He brought a smile to many faces and brightened many days for all of us. He was a history buff of San Angelo, and many people would call him about things they wanted to know or couldn't remember about our city. He had the gift of gab, so he really enjoyed talking about the things he knew. 

Paul loved his family and friends and once you were his friend, you were a friend for life!! He was loved in return by all of us. 

He is survived by his wife Phyllis Ann Coleman Huff, stepchildren, Toby Waldrop (Emily), Chelsea Waldrop and Katy Waldrop Villa (Rob). His Grandchildren, Branson, Cooper, Will, Pear, Piccolo, and Penelope. Also, one sister, Jean Huff Stewart (Dennis) and their children Christy Hanna and children, and Stephanie Nelson (Will) and children. Brother and Sister-in -law, James and La Donna Wanoreck and family. Sister-in-law, Juanita Huff and her children, Paula Holloway (Joe) and children and Jaime Cox(Derek), and his precious dog Dottie. He also left to cherish his memory, hundreds of friends. 

We would like to give a special thank you to Roger and Anna Margaret Andersen whom he considered a brother and sister. And to the Shannon Hospital Staff and his many doctors, thank you for the compassionate care you gave Paul during his stay. 

A memorial service will be held at 2:00pm on Saturday, June 25, 2022, at Harper Funeral Home. 

He will truly be missed…. He had a green, white, checkered finish! 
Memorial Service
Saturday, June 25, 2022
2:00PM
Harper Funeral Home 
2606 Southland Boulevard 
San Angelo, TX 76904
Write Your Tribute