Dates

May 31, 1928 May 17, 2022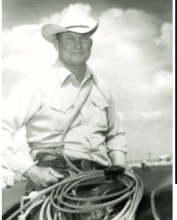 Lonnie Monroe Tumlinson, Veteran Pro Rodeo Cowboy, surrounded by loved ones, made his last ride to his Heavenly Father, May 17th, 2022.  Monroe was born, May 31st, 1928, to Lonnie Edward and Fannie Irene Tumlinson in, Uvalde, Texas.  As a small boy his dream was to be a Cowboy, and that is what he became in every sense of the word.  He grew up observing, learning, and honing his skills from working on several West Texas and New Mexico ranches, and from rodeo legends Vance Davis, Lester Davis, Toots Mansfield, Sonny Evans, and Dan Taylor, to become one of the top rodeo competitors in calf roping, bulldogging, steer roping and team roping. He trained some of the best rodeo horses that could be ridden over the years, as well as being a Ranch Manager. He was a member of the Turtle Rodeo Association in the 1940's before it was renamed the Rodeo Cowboy Association in the 1950's and is now known as the Professional Rodeo Cowboys Association.  His cowboy profession took him to rodeo events all around the United States. He married his Cowgirl, Maurine, at the young age of 21, January 9th, 1950, and together they shared the rodeo circuit experience, and later with their children Bertha and Edward.  In the first years of their marriage Maurine participated in many of the quadrille rodeo performances.
He not only was a competitor but worked as a pickup man for rodeo producers, Harry Knight, Everett Colburn, Beutler Brothers, Tommy Steiner, and others at major rodeos all across the United States.  Monroe was honored and inducted into the Texas Rodeo Cowboy Hall of Fame in 2010, and became an honoree in the Dublin Cowboy Heritage Museum, Dublin, Texas, in 2019.  He was a Ranch Manager, for the R. E. Odom, Ranch, in Cresson, Texas, for over 48 years, until retirement where he continued to reside.   During his years with Mr. Odom, he continued to rodeo, mainly participating in steer roping and team roping, as well as training horses. 
Those that remain to honor his memory are his Daughter, Bertha Jean Meador of San Angelo, Texas;  his Grandson, Clay Monroe Meador, his wife Jessica, and Great-Granddaughter, Caitlyn, of San Antonio, Texas; Granddaughter, Heather Nicole Meador, and Steve Wilson of Arlington, Texas; Grandson, Jonathon Ryan Tumlinson, his wife Kourtney, and Great-Grandsons, Canaan and Levi, of Waco, Texas; and Kinsee Tumlinson, Granddaughter, of Georgetown, Texas; Sister, Louise Gay, of Midland, Texas; and Brother, Ronnie Tumlinson, and his wife Melba, of Dale, Texas; and many nephews, nieces, and cousins.
Monroe was preceded in death by his wife, Maurine Tumlinson, his son Edward Monroe Tumlinson, his Grandson Daniel Shea Meador, his Son-in-law J. Clay Meador, his parents Lonnie Edward and Fannie Irene Tumlinson, his sisters; Sue Hays, Betty Kincaid, Dorothy Cooper; and his brother Tal Tumlinson.
Funeral services will be held at the Triple Cross Cowboy Church, 3470 Lipan HWY, Granbury, Texas 76048, Friday, May 27th, 2022, at 2:00 p.m. The Graveside will follow at Holly Hills Cemetery, 1900 FM 51, Granbury, Texas 76048. Funeral arrangements are provided by Harper Funeral Home, 2606 Southland Blvd, San Angelo, Texas 76904. 
The family would like to acknowledge their appreciation for the care given to Monroe by San Angelo Nursing and Rehab, and St. Gabriel's Hospice and Palliative Care in San Angelo, Texas. May God bless their caring hands and their work for others. In memory of Monroe donations can be given to St. Gabriel's Hospice of San Angelo, to Triple Cross Cowboy Church, or to one's preferred charity.
Write Your Tribute