Dates

Apr 16, 1930 Jan 07, 2022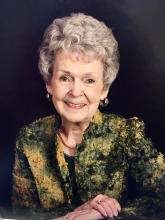 Maxine Rutherford Todd, 91, of San Angelo passed away on Friday, January 7, 2022 at her home.

We hope you can join us for a Celebration of Life reception for Maxine at Rio Concho Terrace Apts., 403 Rio Concho Drive, starting at 2:00, Saturday, January 29, 2022.

Margaret Maxine Minyard was born April 16, 1930, near the little farming town of Oklahoma Lane in Parmer County between Clovis, New Mexico, and Farwell, Texas. Her parents were Jordan Minyard and Cora Sloan. Like so many families during the 30's, her father was forced to leave the farm and seek work and found it in the oilfields, first in Hobbs, NM, and then the boom town of Monahans, Texas. Maxine spent most of her life in Monahans where she married John "W" Rutherford and had two children, first a son, John Robert and then a daughter, Vickey Jay. She raised their children in the Methodist Church where she was an adult leader, taught Sunday school, and was on the governing board.

Maxine was active in school affairs with her children. She was also a Cub Scout leader, a Brownie leader, a 4-H leader, and a volunteer when it came time for public elections. She and John "W" bought the machine shop part of Rutherford Machine & Parts Co. from his dad in 1958. She taught herself bookkeeping and continued to run the office for five years after her husband died in 1985. Beginning around 1964, Maxine and John got involved in the Antique Car Club out of Midland, Texas, and toured with the group to different car meets in Texas, New Mexico, Oklahoma, and Mexico. She dressed in the era of the 30's since their Model A's were 1929-1931 vintage. She moved to San Angelo around 1992 and in 1993, she and John R. "Bob" sold the family business.

Never one to stand still, Maxine found employment with the US Post Office at Goodfellow AFB as a letter carrier. Her hobby was any kind of game especially card games and dominoes. She was a Life Master bridge player. During this time she rediscovered her niche of serving people by joining the Shannon Auxiliary, which later became the Shannon Volunteers. Maxine became interested in volunteer work while her mother was a patient at M.D. Anderson in Houston, Texas. One day she was walking down a hall in the hospital, made eye contact with a patient and struck up a conversation. Since her mother was there for an extended period, Maxine had several opportunities to visit with not only that patient, but several others. One day, when leaving the room of one of these patients, the lady patient said "I do look so forward to your smiling face coming in to my room and our conversations." For 29 years and over 20,000 hours, Maxine shared her natural caring and nurturing nature with others in the Shannon Medical system.

In 2005, after swearing she would never marry again, she met Jack M. Todd and she married the second love of her life in 2006 at Sierra Vista United Methodist Church, where they were active members. Jack who was a retired Navy veteran, loved to travel and he found a very willing companion because "Max", as he called her, loved to see new things and it did not matter what or where. They were two very adventurous people until Jack's death in 2016. Due to the love and efforts of her step-children Pam & Kyle Box, Max moved into the Rio Concho Terrace in October of 2020 and started a new chapter in her life by adding a new group of friends in a wonderful new surroundings.
.She was preceded in death by husbands, John "W" Rutherford and Jack M. Todd; and daughter, Vickey Jay Gallagher.

She is survived by her son John R. "Bob" Rutherford and wife Marilyn of Ruidoso, NM, step-daughter Pam Box and husband Kyle of San Angelo, six grandchildren: John C. Conrad and wife Leeann of San Angelo, Susan R. Courville and husband Raymond of Abilene, Michael W. Conrad and wife Kim of Ballinger, Karen D. Haba and husband Jacques of Flower Mound, Patrick Box of San Angelo and Lindsay Beddow and husband Josh of Austin. She is also survived by ten great grandchildren and two great-great grandchildren.
MEMORIAL GATHERING
Saturday
January 29, 2022
2:00 PM
Rio Concho Terrace Apartments
403 Rio Concho Drive
San Angelo, TX 76903
Write Your Tribute