Dates

Oct 06, 1924 Jul 13, 2021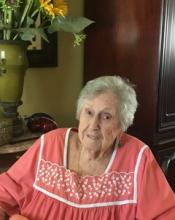 Doris Myrtle Pederson, who devoted her life to her family, passed away peacefully on July 13, 2021, at the age of 96.
She was born October 6, 1924, in Sonora, Texas to Ace Bradford and Jewel Heflin Bradford. Doris graduated from Coleman High School in 1941. She was married to Clifton Childs for a short time during which they had one son, James Clifton Childs.
In 1945, she married Weldon Ivan Anthony White of Coleman and lived in Pennsylvania until his death in 1961. They had four children: Michael Weldon White, David Anthony White, Susan Gay White, and Tammie Jo White.
After she and the children returned to Coleman, she married Rudy James Pederson of San Angelo in 1963. He had two children by a previous marriage: Karen Ann Pederson Newsom and Rena Marie Pederson Gish.
Doris and Rudy lived the rest of their lives in San Angelo apart from stays in Dar es Salaam in
Tanzania and Mandeville, Jamaica, where Rudy had postings for the U.S. Agency for International Development. Upon retirement, Doris and Rudy enjoyed time at their country retreat (Vallhalla), and summers spent at Bean Lake, Montana, with their RV camping friends.
They were active members for many years at St. Luke's Methodist Church in San Angelo and faithfully delivered Meals for the Elderly.
Doris had a keen sense of humor, which helped her navigate the ups and downs of her long life and brought a needed laugh to all who knew her. The main focus of her life remained her family — she enriched the lives of all her family with her zest for life and her total devotion to them.
She is survived by her son Michael White, son David White and wife LaFreta Pyburn White, daughter Susan White Arnold, daughter Tammie Jo White Kerley, daughter Karen Newsom and husband Mike Newsom, and daughter Rena Pederson (Gish).
Her grandchildren include Jamie Childs Klix (Keith), Jeana Childs, Karla Childs Russak (Ron), Destre Childs, Jeremy White (Sarah), Dane White, Morgan
White (Kenneth Carrell, fiancé), Jessica Arnold Kerr, Chelsea Arnold, Trevor Arnold, Brandon Newsom, Scott Newsom, Gregory Gish (Kristin), and Grant Gish (Laudan) - as well as many beloved great- grandchildren and great-great grandchildren.
The family extends a special thank you to Margaret and Haley with Comfort Keepers, and Hospice of San Angelo.
In lieu of flowers, any memorials may be sent to St. Luke Methodist Church or Meals for the Elderly. A memorial service will be held at St. Luke Methodist Church, July 24th, 2:00 p.m.