Dates

Aug 22, 1960 Jul 09, 2021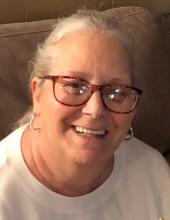 Trudy Ann Bryan started haunting us on July 9th, 2021 after successfully using 22 of her 9 lives. She was 60 years young and is survived by Todd Bryan, her husband and soul-mate of 45 years to life – depending on how you look at it. She was born on August 22, 1960 at Hill AFB, Utah to Phillip and Afton McCauslin who preceded in her death, probably to ensure the beer was ice cold upon her arrival. 

Although she would argue with you, it should be noted that Trudy was a very stubborn woman. At the age of 12, she was diagnosed with a rare kidney cancer that resulted in radiation therapy and the loss of one kidney. She was told she would never have children. Being the oldest of her six children, I think it's safe to say, she proved them wrong. 

Despite the toll the radiation treatments had on her body, Trudy had a thirst for life that was evident in everything she did. She was a dedicated Army wife, travelling the country with Todd and making every house we lived in a home. Trudy was an amazing cook and baker. She could whip up meals to feed our large family with the most basic of items and it tasted better than any restaurant meal (well, maybe not Gordan Ramsey's), but no one is perfect. When the youngest of her children started school, Trudy took it upon herself to go to college and obtain her nursing license. One might think this is her greatest accomplishment, but we'll get to that soon. She found her niche in the Labor and Delivery unit of Community Medical Center and absolutely loved her job. Trudy was an amazing nurse and if her stories are true, she helped to birth approximately two-thirds of the San Angelo population. We all know that she had a tendency to elaborate sometimes, but the fact remains that she could not go into any store, mall, movie theater or restaurant without running into someone she had cared for. 

Trudy's true legacy, her greatest accomplishment and what I believe to be the reason she survived for as long as she did, is her family. Trudy is survived by six children and fourteen grandchildren. Her favorite past times included sleep over's with the grandchildren, birthday parties for us all, spoiling her grandchildren rotten, and feeding them powdered sugar – straight from the jar. To my mom, each grandchild was like the super thick frosting on the corner piece of the cake and therefore her favorite. But it wasn't just us kids and the grandkids. Trudy was the kind of person that looked after and cared for anyone she met. If you were her friend, you were her family. 

She's probably wanting me to wrap this up, despite loving being the center of attention… I'm certain she's anxious to have us back at home in the kitchen where she loved to sit back and listen to us all when we gathered to talk, laugh, sometimes argue, but always love each other. 

Trudy – wife, mother, grandmother, nurse, and friend. No matter the role, you will be missed by us all.
Memorial Service
Monday, July 12, 2021
2:00PM
Harper Funeral Home 
2606 Southland Boulevard 
San Angelo, TX 76904
Write Your Tribute