Dates

Feb 26, 1978 Jun 18, 2021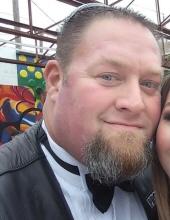 Richard "Wayne" Graham Jr. went to be with the Lord on Friday, June 18th 2021 due to injuries sustained in a motorcycle accident. He was born in San Angelo, TX on February 26, 1978 to Joni Lyn Jones and Richard Wayne Graham Sr. Growing up, Wayne was raised by his amazing grandparents Richard and Geri Womack. He was a passionate football player and member of Boy Scouts of America where he earned his Eagle at age 15. He graduated from San Angelo Central High School where he was a lineman for the Mighty Bobcat football team. Upon graduation he joined the United States Army as an Airborne Ranger and was a proud member of the Old Honor Guard at Arlington National Cemetery. He returned to San Angelo after serving in the military, got married and was blessed with three children, Kolton, Emmy and Gunner, who were his entire world. He shared his love of Scouting, camping, swimming, cooking, football, hunting & Star Wars with his babies. In the last year of his life, Wayne became a proud member of the Six Skulls Motorcycle Club. His "brothers" in the club loved and embraced him as family and they have been our pillar of support during this heartbreaking time. Wayne was proceeded in death by his parents, and his beloved Grandmother. He is survived by his grandfather Richard Womack, his children Kolton, Emmy & Gunner Graham and their mother Erren Graham, brothers Steven McDonough and Alan Karoffa, sisters, Victoria Moon, Fran Stalcup, Nakeyia Graham and Tammy Graham and numerous nieces, nephews, aunts, uncles and cousins and his beloved "brothers" in the Six Skulls Motorcycle Club. 
A celebration of Wayne's life will be held on Saturday, June 26th at 5pm in the open air art exhibit at Paintbrush Alley in the 100 block of West Twohig downtown. Motorcycles are welcome to park inside the exhibit area at the memorial. A "final ride" for Wayne will take place after the benefit for those that would like to participate.
Celebration of Life
Saturday, June 26, 2021
5:00PM
Open Air Art Exhibit at Paintbrush Alley  
100 block of West Twohig 
San Angelo, TX 76903
Write Your Tribute