Dates

Dec 14, 1944 May 24, 2021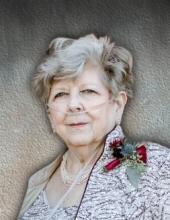 Adrienne Kathleen Daniel was born December 14, 1944 in Atlanta, Georgia to "Pete" and Ferne McCleskey. Her father was stationed all over the world during her growing up years, Japan being Kathleen's favorite.  
She was an active member of many sewing, quilting and painting groups when she retired to San Angelo. She was known to say that she didn't know how she had found time to work before retiring. She greatly enjoyed being called Grammie by all children, even the grown ones. She was an expert seamstress and made many beautiful articles of clothing including her own wedding gown. She has altered many dresses for proms and formal events. She loved going to dinner at her son and daughter-in-law's on Sunday evening when her grandsons and their friends were present.  
She had a lifelong love of dogs. Her dog, your dog, it didn't matter, they always made her smile. She was grateful for her relationship with Reverend Craig Meyers as he helped usher her into a church life. She always felt welcomed and appreciated at St Mark Presbyterian Church. 
Kathleen is survived by her son, Thomas Daniel and his wife Toni; son Timothy Daniel, brother Pete McCleskey and his wife Marsha; grandchildren Zane, Clay and wife Hannah, Dorothy Anne, and Samuel; special nieces Erin Hogan and Meghan McCleskey. 
Memorial Service
Thursday, May 27, 2021
3:00PM
St. Mark's Presbyterian Church  
2506 Johnson Street 
San Angelo, TX 76904
A memorial service will be held on Thursday, May 27 at 3:00 pm at St Mark Presbyterian Church in San Angelo. The family requests that any gifts be made to St Mark Presbyterian Church.
Write Your Tribute