Dates

Apr 25, 1924 May 10, 2021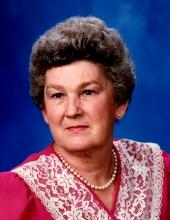 My sweet Grandmother ascended up to Heaven Monday May 10th 2021. 

Sarah was born to Sarah and Paul Crawford on April 25th 1924 in Abilene, Texas. She attended Abilene High School and business college in Abilene. 

She was preceded in death by her first husband Lt. Royce McGarr who was killed during the Korean Conflict and their only son Mark McGarr. Also her husband John Shepperson who she was married to for 41 years. 

She is survived by her step son John Shepperson and his wife Jackie. Also grandsons Alex McGarr Johnny Shepperson and granddaughter Jacklyn Shepperson.
Graveside
Saturday, May 15, 2021
10:00AM
Fairmount Cemetery 
1120 W. Ave. N 
San Angelo, TX 76901
Write Your Tribute